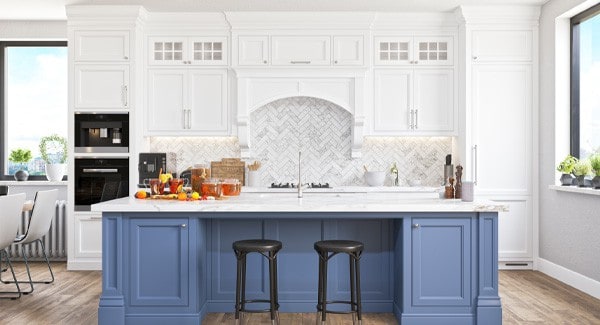 Last Updated on August 8, 2022
The latest remodeling data report shows that a major kitchen remodel costs homeowners an average of $77,770, up from $75,000 in 2021. Homeowners can expect to recoup about 53.7% of the kitchen remodel costs when it comes time to sell.
As more and more homeowners are investing significant funds into a kitchen remodel, many aim to design a more curated look for their new kitchen.
Remodeling your kitchen soon? Find out what's trending in kitchen design.
Shapely backsplashes
For a while now the trend of continuing the countertop up on the wall has been fairly popular, but now, homeowners are getting even more creative. Opting to forgo the traditional horizontal look, shapely backsplashes are majorly in, and can be seen in designer kitchens everywhere.
Mixing materials and finishes
As the main hub for entertaining, a kitchen carefully designed by mixing materials and finishes will be highly desired, designers predict.
Nothing is off limits–mixing metals, wood tones and even cabinetry colors are on the table.
Glazed tiles
Let's say bye-bye to matte and hello to glazed tiles in 2022. Many homeowners and designers alike are gravitating toward the use of the ever popular Zellige tile in the kitchen for its light reflecting properties and hand made appearance. Speaking of tile, the traditional subway shape tile is still the most popular choice, but as you can see above, the square tile is slowly making its way to both kitchens and bathrooms.
Rethinking open shelving
Open shelves have been widely used in kitchens throughout the last several years and while homeowners are still requesting shelving in kitchens, the end result might look a little different in the coming months and years.
A single shelf will replace two or three shelves in the kitchen, giving a cleaner, more uniform look.
The use of natural elements
For a while, homeowners everywhere rushed to demo their orangey-brown original kitchen cabinets. And while we firmly believe those wood tones are officially out, a new, more refined wood tone is definitely in. Expect to see natural wooden cabinets pop up in kitchens everywhere in the coming years.
In addition to wood kitchen cabinets, natural elements are popular and will be seen on barstools, shelving, and lighting options.
A focus on lighting
Beyond ready to be more than an afterthought, lighting in the kitchen is now taking center stage. Bold pendants, uplighting and recessed lighting should all work together to provide function while adding depth and drama to a space.
The color green
While white kitchens remain popular, there's an emerging trend towards color that is likely to be big in the coming years. The color green is popping up on kitchen cabinetry in a big way, as more and more gravitate away from the all-white kitchen idea.
Interestingly enough, Sherwin Williams has named it's 2022 Color of the Year, Evergreen Fog–a greenish gray moody hue that's sure to be spotted on kitchen cabinets in the near future.
Keep reading: Top bathroom remodeling trends of 2022
Visited 444 times, 1 visit(s) today