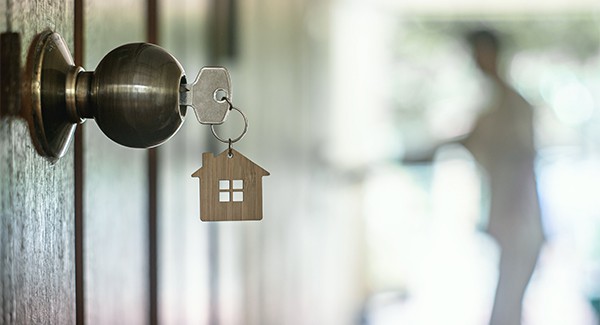 Last Updated on September 8, 2022
Chicago-based designer, Tiffany Helms is at it again; this time she's showcasing her unique design skills in the HGTV 2021 Smart Home.
Beyond the beautiful design and architectural style, the home is designed to meet the technology needs of today's buyers. In each room of the home, smart solutions–whether it be devices, technology or clever uses of space can be found.
Ready to take a proverbial look around? Here's the latest in smart home design as seen in the 2021 HGTV Smart Home.
Get smart in the kitchen
It's not the beautiful two-toned cabinetry or patterned backsplash that steals the show in this kitchen, but rather the smart countertop.
Gone are the days of having to track down charging cords for the lucky winner of this smart home, as you can simply charge any device by simply placing it on the countertops. Pure genius, if you ask us!
Beyond the countertops, you'll also find a touchless faucet–perfect for sanitizing hands when you're prepping raw foods that harbor germs.
An even smarter bathroom
Getting ready in the morning is a breeze in this technology-packed bathroom. In the shower you'll find floor to ceiling tile and programmable water settings.
The mirrors above the dual vanity are far from vain, as these smart mirrors are engineered to help prep you for your day as you get ready. You can learn what the weather is, how the traffic looks and other relevant details you'll need as you start your morning. Talk about smart!
Smart sunroof
Constructed to add more natural light and give the room an airy feeling, these sunroofs are actually smart, too! As soon as it begins to rain the sunroof will automatically close, getting rid of the annoying pelting sound the rain usually brings, allowing homeowners to get some much needed shut eye, even in the worst of storms.
Smart deliveries
Perhaps our favorite part of this whole home, a drop zone space designated for packages. In a time where everything can be ordered online, sometimes the packages can start to create clutter. The smart home solves this growing annoyance by staging an area to unbox and breakdown packages.
Smart plants
With increasing work and scheduling demands, sometimes tending to plants can be put on the back-burner. And as anyone who has killed more than their fair share of plants knows, you have to constantly maintain them. HGTV's latest smart home turns anyone's black thumb pure green by introducing a hydroponic growing space–complete with a built in growing light and an app to track plant growth.
Smart sanitation
In a time where sanitation is key, this smart home was created to be well-protected from germs. A germ-fighting mudroom features a touchless door and faucet and even a germ scanner, keeping what's going around on the outside.
The HGTV Dream Home Sweepstakes is open now through June 11. You can enter up to twice a day while the contest is open.
Keep reading:
5 design trends inspired by the HGTV 2021 Dream Home
Visited 2,779 times, 1 visit(s) today