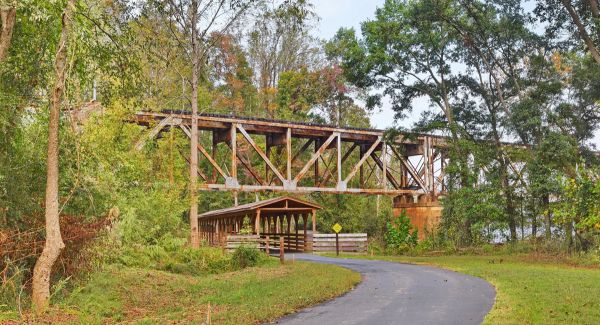 Last Updated on August 7, 2023
If you're looking for the top things to do in Rock Hill, SC this list is for you. Everyone will find something to enjoy in this attractive city, from cultural activities to outdoor excursions.
Here are some of our top recommendations for the best things to do in Rock Hill, whether you're a local or just passing through.
Best things to do in Rock Hill
Glencarin Gardens
Glencarin Gardens
is one of Rock Hill, South Carolina's most well-liked attractions. This magnificent 11-acre park, which is situated just outside of downtown, has a variety of blooming plants and trees that foster a serene ambiance.
The Japanese Garden, which features antique bridges, waterfalls, and koi ponds stocked with exotic fish, is a popular attraction for many visitors. Additionally, there is a gift shop on the property where you can get mementos of your trip to Gencarin Gardens.
Please be aware that the Gencarin Gardens' peak blooming period is in late March or early April, however the gardens are lovely all year long.
Ebenezer Park
Ebenezer Park, a lovely 26-acre outdoor haven, is situated in the center of Rock Hill, South Carolina. Everyone can find something to enjoy in this park thanks to its wide-open meadows and diverse vegetation. Ebenezer Park offers a variety of activities, whether you want to spend the day fishing at a pond or taking a leisurely stroll along the pathways. There are 66 different campsites, a dog park, picnic spots, playgrounds, and more to keep guests occupied. Ebenezer Park will undoubtedly give you an unforgettable experience, whether you wish to go on an adventure or simply unwind in the serenity of nature.
Important information: Ebenezer Park will close in the middle of September 2023 in order to undergo renovations. It will reopen 9 to 12 months later.
Fountain Park
Fountain Park, previously known as the "ugliest parking lot in Rock Hill," is a well-liked spot for both locals and tourists. The park, which is on Main Street, has a stunning fountain as its focal point. The region has a strong sense of history and reverence because to the fountain, which is among the tallest in the world. It was created to memorialize WWI veterans. Fountain Park has abundance of open green space, playgrounds, picnic tables, benches, and walking routes for visitors to enjoy. This park is a favorite among locals for a reason—it has a lovely environment and lots of amenities!
Rock Hill Fire Station Museum
In Rock Hill, South Carolina, there is a fascinating and instructive attraction called the Rock Hill Fire Station Museum. The museum gives visitors a close-up view of the history of firefighting in this region and is housed inside the iconic former fire station building. Visitors can examine how firefighters have changed over time and discover their significant contributions to society through interactive displays and vintage costumes.
Additionally, the museum offers a gift store where you may pick up mementos of your trip and contribute to the preservation of regional history. The Rock Hill Fire Station Museum is certain to deliver a great experience, whether you're searching for an adventurous day trip or simply want to learn more about this area's heritage. Hours are 8:00 a.m. to 4:00 p.m. Monday through Friday only by appointment.
The York County Museum
A wonderful location to discover and learn about the history of York County and the surrounding area is the Museum of York County, which is situated in Rock Hill, South Carolina. It's the perfect location for anyone interested in learning more about this region's rich cultural legacy thanks to its sizable collection of artifacts, interactive exhibitions, and educational activities for all ages. The museum most recently unveiled a brand-new Ice Age display.
Visitors are guaranteed to find something intriguing at the museum, which contains anything from Native American relics to natural science specimens to decorative arts from all over the world. Additionally, visitors can engage in practical activities like tracking animals or firing ceramics over traditional wood fires.
The Museum also provides additional opportunity to learn more about regional culture throughout the year through guided tours and special events. When they visit the interactive area created especially for them in Tot Town, little guests won't be left out of the excitement too.
Cat's Paw Winery
This family-run winery, which is only a short distance from the Museum of York County, has been producing wines since 2003. Cat's Paw Winery has 17 different varieties of white and sweet wines, so there is something for everyone.
Visitors can sample some of their award-winning wines in the tasting area, which has a lovely view of the vineyards, and even buy bottles to take home with them. In addition to tastings, Cat's Paw Winery also holds educational workshops on subjects like wine pairing and viticulture and live music performances in their outdoor amphitheater.
Main Street Children's Museum
The Main Street Children's Museum is a fun and engaging place for kids of all ages. The museum provides a range of interactive activities that are intended to pique children's interest and creativity. Your kids will enjoy seeing the nursery rhymes they've grown up hearing come to life thanks to artist Vernon Grant.
The Main Street Children's Museum offers activities for all ages, from using their creative sides to explore the world around them via science experiments. This museum is an attractive place for families looking for educational entertainment thanks to the seasonal special activities including story times and holiday celebrations.
Piedmont Medical Center Trail
In Rock Hill, South Carolina, there is a lovely and picturesque trail called the Piedmont Medical Center Trail. The 2.5-mile asphalt trail offers breathtaking views of the Catawba River and the surrounding countryside as it winds through the city along its banks.
The route offers a secure space to appreciate nature in an urban setting and is ideal for walking, running, biking, and rollerblading. There are numerous attractions throughout its length, including as historical landmarks, public art displays, picnic spaces, and playgrounds. This well-liked path links up with River Park Trail, which in turn links up with the Waterford Golf Course Trail. The Pumphouse, one of the best restaurants in Rock Hill South Carolina, is close to the trailhead.
Manchester Meadows Park
Beautiful Manchester Meadows Park may be found in Rock Hill, South Carolina. This recreational complex, which spans over 16 acres of lush green grass and forested areas, provides a range of activities for people of all ages to enjoy. The sports fields, playgrounds, picnic areas, walking routes, and other amenities are available for visitors to use.
The park also holds open-to-the-public special events and concerts all year round. Manchester Meadows Park has something for everyone, whether you're searching for a quiet location to eat lunch or a fun place to play with friends and family.
Catawba Cultural Center
The Catawba Cultural Center is a unique cultural institution devoted to preserving and disseminating the history, culture, and tales of the Catawba Indian Nation. It is situated in Rock Hill, South Carolina. Through interactive exhibits, artifacts, educational programs, and special events held all year long, this distinctive site gives visitors the chance to delve into the rich legacy of this Native American tribe.
Along with traditional skills like pottery-making and basket-weaving, visitors can attend talks by tribal elders on subjects including native cuisine and medicinal herbs.
Old Town Amphitheater
The Old Town Amphitheater in Rock Hill, South Carolina, is a special location that mixes the allure of a vintage theater with the beauty of nature. The venue hosts a range of events all year long, including plays, concerts, festivals, and outdoor movies.
This amphitheater, which is close to Winthrop University's campus, offers visitors breathtaking views of Rock Hill's downtown as well as quick access to eateries and stores. It's hardly surprising that the Old Town Amphitheater is one of Rock Hill's most well-liked attractions given its open-air seating configurations, comfy amenities, and convenient location.
Rock Hill Brewing Company
In Rock Hill, South Carolina, there is a craft brewery called Rock Hill Brewing Company. Three friends with a love for brewing beer founded Rock Hill, which has grown to become one of the most well-known and respected breweries in the area. Visitors to the brewery can enjoy some very distinctive flavors that have been made using only the finest ingredients available thanks to the constantly-changing assortment of brews on tap.
A unique pizza restaurant named Millstone Pizza is affiliated with the brewing business. Customers may expect to find regionally produced, farm-to-table cheeses, specially crafted meats, and Italian flour in addition to only providing the freshest foods.
There is certain to be something at Rock Hill Brewing Company that will satiate your taste buds, whether you are searching for something light and refreshing or something more strong and tasty.
Giordana Velodrome
Giordana Velodrome is a 250-meter outdoor cycling track. There are just 26 such tracks in the entire world, and this velodrome is the only one of its kind in the country. With sponsorship from USA Cycling, regional sponsors like the City of Rock Hill, and individual donations, the facility debuted in 2012. Since it opened, the track has played host to numerous national championships for cyclists of all ages as well as a variety of recreational competitions for both seasoned and novice riders. Anyone who visits or competes at this velodrome will have a thrilling experience thanks to its sharply banked curves and vast straightaways!
Canaan Zipline Canopy
With Canaan Zipline Canopy Tour, you may feel the rush of flying through the treetops of Rock Hill, South Carolina! You have a choice between two distinct zipline tours: the full tour, which will take you about 3.5 hours to complete and includes a 900-foot zip, or the bootleg trip, which takes two hours and includes five ziplines.
Canaan Zipline Canopy Tour offers a singular experience that will leave you feeling ecstatic, whether you're seeking an adrenaline rush or simply want to view nature from above!
Outdoor Center at Rock Hill
Outdoor enthusiasts of all ages and abilities should visit the Rock Hill Outdoor Center in Rock Hill, South Carolina. The facility provides a range of sports, including rock climbing, mountain biking, kayaking, and more. The Rock Hill Outdoor Center features activities for everyone, whether you're seeking for an adventure or just want to spend time in nature with your loved ones. Anyone who visits this outdoor paradise will have a ton of fun because to its beautiful scenery and spectacular views of the Catawba River Valley.
Cherry Park

Cherry Park is a 68-acre park that is lush and beautiful and gives people the chance to enjoy the outdoors and outdoor activities. The park has an 18-hole disc golf course, two sizable playgrounds, grill-equipped picnic shelters, open fields for playing sports or taking leisurely strolls, and a variety of beautiful hiking and bike trails. Cherry Park is the ideal location for family vacations or group gatherings because to its roomy layout and a variety of services like toilets and parking lots.
Carowinds
Attractions for thrill-seekers and family alike may be found at the 400-acre theme park and waterpark known as Carowinds in Rock Hill, South Carolina. There is something for everyone at Carowinds, with close to 60 rides and attractions that include roller coasters, water slides, live shows, go-karts, a designated kids' area, and more. The park offers a variety of dining options as well as shops where you may buy a few trinkets to bring home.
Catawba River

A significant river in North and South Carolina's Piedmont is the Catawba River. It begins in the western North Carolina Blue Ridge Mountains and travels over 200 miles before emptying into Lake Norman after snaking across upstate South Carolina.
Since prehistoric times, the Catawba River has been a significant supply of water for both people and wildlife. Numerous fish species, such as bass, catfish, carp, sunfish, gar, and shad, can be found in the river. Hardwood forests that line the banks provide as a home for deer, beavers, otter, and other species.
Fishing, canoeing, and kayaking have all become more popular leisure pursuits along the Catawba River in recent years. As more people have grown to appreciate it, it has also grown in value as a resource for nearby communities that depend on it for power generation from hydroelectric dams along its path or as a source of drinking water.
Ready to make Rock Hill Home? Find homes for sale near Rock Hill, SC here.
Visited 1,098 times, 1 visit(s) today