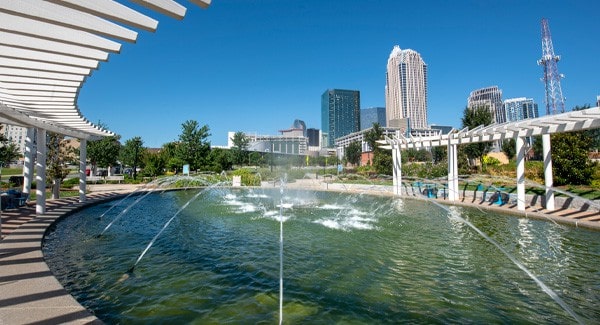 Last Updated on July 11, 2023
The sun is shining, school is out for the summer, and you finally have some extra time to enjoy the Queen City with your family. But where do you begin? Consider this list of family-friendly activities in Charlotte your go-to guide for summer fun.

Located between the Dilworth and Myers Park neighborhoods of Charlotte, this 98-acre park has a lake, paths for walking or biking, and facilities for basketball, tennis, volleyball, soccer, and baseball. When it's time for a picnic, find your perfect spot in the grass and relax. Parking is available in the park or on the streets surrounding it, and park entry is free.
Take yourselves out to a ballgame with the Charlotte Knights

They may be the triple-A affiliate of the Chicago White Sox, but catching a Knights game at Truist Field is a quintessential Charlotte experience—most of the games are even set for a 7:04pm first pitch to honor Charlotte's area code. And even if you can't make it to one of the 22 games featuring fireworks, it's stunning enough to watch the city skyline light up as the sun goes down.
Check out the new Suffolk Punch location
The new Suffolk Punch location is attached to South Park mall and is a perfect family-friendly spot for a drink, dining and relaxing. With tons of hangout areas, patio, the large indoor/outdoor feel and the proximity to the playground, this place can't be beat.
Imagine the fun you could have at Imaginon

This gem in the heart of Charlotte's cultural arts district was recently ranked by Livability.com as the number-one children's library in the U.S. Visit this unique family-friendly destination and you will easily see why. The 102,000-square-foot facility includes a library for children 11 and under, a teens-only library space, a multimedia production studio, an interactive exhibit space, four multi-use classrooms, and two state-of-the-art theatres.
The Charlotte Scavenger Hunts offered by the Let's Roam app are fun, affordable, and appropriate for all ages. Work as a team as you explore landmarks and learn about the history of the Queen City. Got some family members with a competitive streak? Show them the Charlotte leaderboard and they will be motivated to get their name on it!

This beautiful spot sometimes flies under the radar when it comes to sightseeing in Charlotte, but we highly recommend taking a family stroll through the greenhouse and gardens. Ten acres of outdoor gardens make up the largest diversity of plants in a single location in the entire Charlotte area. Summer is the perfect time to check out the carnivorous plants and outdoor tropicals in the greenhouse.

This is a budget-friendly learning experience that will make a big impact on even the youngest visitors. How often do we get to talk to the farmers who harvested our produce? Peruse the bounty of fresh fruits and vegetables, pork products, grass-fed beef, goat milk cheese, homemade jams, baked goods and more; then bring your treasures home and involve the whole family in making a meal with your finds.

This five-acre facility features interactive exhibits celebrating the history and heritage of NASCAR. There is so much fun and excitement packed into this one-of-a-kind destination, and you can have a blast whether you're old enough to drive or can't quite reach the pedals. The variety of experiences offered at the NASCAR Hall of Fame makes it the perfect place to visit when Grandma and Grandpa are in town and you're looking for something to entertain a multigenerational group.

This 1,300-acre outdoor center on the Catawba River has what it takes to keep people of all ages busy for a full day and then some. Activities include whitewater rafting, kayaking, ziplines, standup paddleboarding, rock climbing, yoga, mountain biking, hiking, and a ropes course.

This joint venture between the Mecklenburg County Park and Recreation Department and Charlotte-Mecklenburg Schools contains a waterpark, playground, and multiple recreation-based features. Voted a "Best Place to Swim" and "Best Pool/Spray Park" by Charlotte Parent Magazine, the waterpark features The Blue Comet – a three-story double figure-eight water slide, and much more.
Seek splashes and thrills at Carowinds

For more than 46 years, Carowinds has offered family fun to visitors from the Carolinas and beyond. With nearly 60 rides offering thrills for children and adults, plus the Carolina Harbor waterpark, Carowinds has it all.
Study the art of fun at the Mint Museum

The Mint Museum's Uptown and Randolph locations both offer family-friendly amusement and enrichment. The Lewis Family Gallery at Mint Museum Uptown is a hands-on space for creating, engaging, and building. The Randolph location offers mini art kits with projects suitable for all ages and inspired by museum collections. Check mintmuseum.org and social media for announcements about special programs running during the summer months.

Families now have a chance to catch Major League Soccer at Bank of America stadium right here in Charlotte. With gates opening 90 minutes before kickoff, families have time to get there early, grab one of many kid-friendly food options, and have a blast. Speaking of blast, there are loud fireworks when the home team scores (not to mention the crowd going wild). Headphones may be helpful for very young children or anyone sensitive to noise.
Restless kids can get their kicks at the Atrium Health FitZone on the 100 level concourse. Parents concerned about the crowd size can participate in the Tag-a-Kid program available through Guest Relations or the Concierge Desk. Kids get a wristband noting their seat location so they can be brought back to their seat if they get lost.

This 3.5-mile trail reaches multiple Charlotte neighborhoods including Dilworth, South End, and Uptown and it's an easy way to explore the heart of the city. Enjoy public art, discover your next favorite cafe, and relax together in this unique part of Charlotte.
Two of the four hands-on museums within the Discovery Place educational umbrella are located in Charlotte: Discovery Place Science is situated in the heart of Uptown, and Discovery Place Nature is a bit further south, adjacent to Freedom Park. Both locations are beloved spots for families in Charlotte and beyond.
Discovery Place Science features the Accenture IMAX Dome Theatre and a variety of hands-on exhibitions, labs, and live shows. While generally geared toward a younger audience, Discovery Place Nature is full of fun opportunities for everyone to get close to creatures and critters. The outdoor area is the perfect place for parents to relax while kids roam and play.


This peaceful spot in the heart of Charlotte is enjoyable for all ages, whether you want to relax with a book or play hide and seek among the beautifully manicured gardens. If you have young ones in tow, be sure to check out the SEED Wildlife and Children's Garden.
If you can't make it to the beach this summer, spending a day at Carrigan Farms might be just what you need. This natural spring-fed body of water has long been a summer destination for those looking to catch some rays. Reservations are required to swim, so make sure you plan in advance.

Have fun every day in Charlotte, NC!
Known for its charming neighborhoods, cultural attractions, successful business economy, and natural beauty, Charlotte, NC is an exceptional city to call home.
Begin your search for Charlotte homes for sale.
Visited 4,471 times, 1 visit(s) today