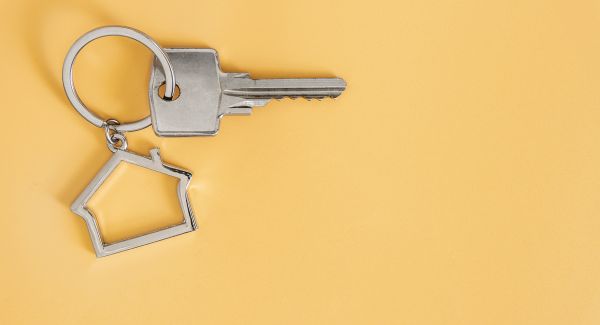 Last Updated on August 29, 2023
Nationally, there's been a shift in the real estate market since summer of 2022. We've experienced fewer offers over asking, less bidding wars and more buyer hesitation than we saw during the pandemic housing boom. But things are shifting again, as a recent report shows that for the first time since August of last year, the nationwide average sale price just exceeded 100%.
Regionally, the Carolinas have been somewhat insulated from dipping home sales prices, as in-migration, a thriving economy, and the proximity to the mountains and the beach continue to make North and South Carolina a very desirable place to live.
On the fence about listing your home right now? Here are three big reasons why you shouldn't wait.
Inventory is still low
Inventory levels are easing up from the housing frenzy we experienced in 2021 and 2022, but they are still at historically low levels. Nationally, realtor.com reports for sale inventory is half the amount it was in May 2019. In many parts of the Carolinas, we're sitting very close to three months of inventory, which indicates we're still in a seller's market. To give you a frame of reference, a six-month supply of inventory represents the shift to a buyer's market.
Homes in good condition are receiving multiple offers and selling for over asking
The statement above might have shocked you, especially if you've been reading the headlines lately. The National Association of Realtors (NAR) latest existing home sales report shows that the median home sales price for May was down 3.1% YOY. This type of report is likely confusing, and may cause you to put your plans to list your home on the back burner. Here's why reports like this don't tell the whole story:
NAR's report looks at the median home sales price. The Center for Real Estate Studies at Wichita State University explains median prices like this:
"The median sale price measures the 'middle' price of homes that sold, meaning that half of the homes sold for a higher price and half sold for less . . . For example, if more lower-priced homes have sold recently, the median sale price would decline (because the "middle" home is now a lower-priced home), even if the value of each individual home is rising."
Recent data for various areas in the Carolinas paints a more accurate picture, showing most homes are closing for listing price or above:
In the Asheville Mountain Region, a whopping 31% of homes sold over asking, while 54% sold at list price.
In the Greenville/Spartanburg area, 25% of homes sold over asking, while 27% sold at list price
In the Charlotte area, 33.8% of homes sold over asking, with hot areas reporting the Marvin community with homes closing 83% above asking, the Matthews community closing at 47% above asking, The Waxhaw community closing at 43% above asking and finally, Charlotte city limits reports homes closing at 35% over asking.
In the Rock Hill/FT. Mill/Lancaster/Clover SC area, homes are closing for an average of 26.5% over asking.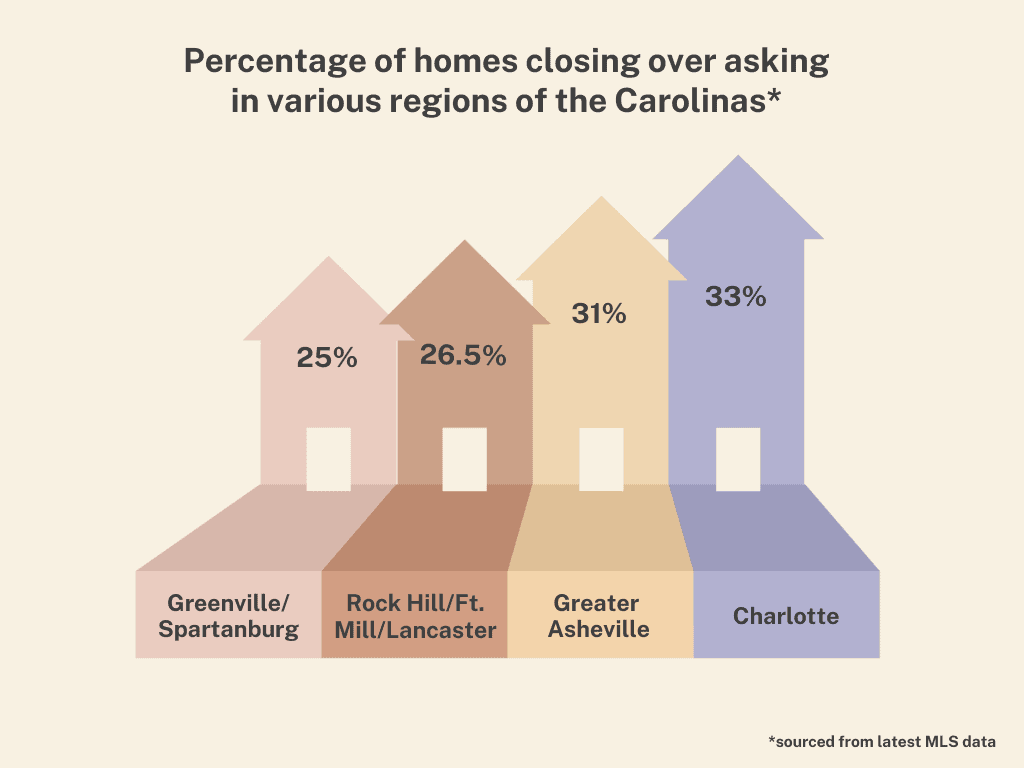 You can buy and sell at the same time
Buying and selling a home at the same time can be stressful, but with programs like Buy Before You Sell, pulling off this impressive feat is easy.
Our Buy Before You Sell (BBYS) program puts you in control. The exclusive program allows you (the seller) to purchase a home, without having to wait until you sell your current property. It applies the equity in your current home towards the down payment of your next home.

With BBYS, you can:
Shop for homes during the peak spring and summer market
Make a strong offer without a contingency for the sale of your current home
Stage your current property and show it to potential buyers without disruption
Move from one home to another easily

In addition, BBYS brings more potential buyers to your current home by removing the sales contingency for your current property.

For more information on Buy Before You Sell, contact your Howard Hanna Mortgage loan officer.
Bottom line: When supply is low, your house is going to be in the spotlight. If you've thought about selling, now's the time to make a move.
Keep reading: Home staging secrets you need to know
Visited 3,376 times, 1 visit(s) today