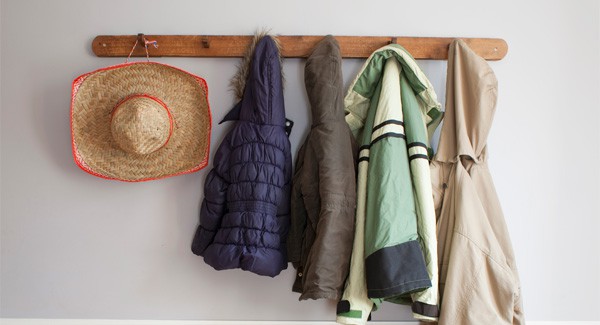 Last Updated on August 18, 2022
Overwhelmed by all the home improvement projects you want to get done? Even smaller undertakings can give new life to a lackluster room or make your house feel more like a home.
Here are 12 ideas to get you started.
Upgrade the entrance
Simple tweaks can make a world of difference when it comes to the entrance of your home. Start with the hardware on your front door. Could it use an update? It's easy to overlook the door knocker, hinges, knobs, and house numbers, especially if you routinely use a different entrance.
While you're replacing the hardware, consider giving the front door a fresh coat of paint, perhaps in a bold color. Make sure you choose a color that complements the shades of your house and shutters, and go with a paint blend made for exterior use. Finally, spruce up the front porch with some new pots and fresh, healthy flowers or plants.

Refresh a dull staircase with a runner
A durable yet elegant runner enhances a boring staircase, prevents slips and falls, adds extra comfort going up and down the stairs on bare feet, and helps control noise and echoes. With enough runner rug to cover the entire staircase, a good staple gun, and a rug pad (if desired)
you can tackle this project yourself and save quite a bit of money.

Build a raised flower bed
Nothing breaks up a monotonous yard quite as nicely as a raised garden bed. With the right tools, this project is the perfect way to catch some rays over the weekend and build yourself something you can enjoy every day.
Give dull floors new life with vinyl tile
Did you get stuck with a wood floor that's well past its prime, or a sad concrete floor begging for an upgrade? Take a weekend to give your least-favorite floor a new life with peel-and-stick vinyl tiles. Modern vinyl tile has come a long way since the 1950s. Check out the multitude of patterns, find one that works for you, and get to sticking.
Add a fire pit to your backyard
Gathering around a fire pit with friends on a Friday night is the best way to kick off the weekend. Ensure a short "commute" to your local fire pit by building one in your own backyard. As long as you have a safe spot that's far enough away from the house and free of hanging tree limbs, you
can tackle this weekend project yourself.

Construct an exterior water feature
You don't have to create a complex system of dancing fountains to enjoy the calming sound of flowing water in your yard. You don't have to spend a lot of money, either. In fact, by repurposing odds and ends that are already sitting around your house or yard, you can build a lovely DIY water feature in a single weekend.
Add a pop of color with new switch plate covers
Often overlooked when it comes to interior design, the humble switch plate cover is the perfect place to add color, enhance the vibe you're trying to achieve in a room, or add some easy elegance for very little money. Are you ready to say goodbye to boring light switches?

Give trim and moldings a fresh coat

You won't believe how a simple coat of paint on the trim and moldings will freshen up the entire room, including the walls. If you're looking for a change but don't have the time to redecorate an entire room, picking a different shade of paint for the trim and molding can work wonders.
Add character to your kitchen with a pot rack
Let rustic wood boards and your pots and pans take center stage with this DIY project that repurposes a vinyl gutter, conduit pipe, and S-hooks. The final product looks much more expensive than it really is, and it gives you an easy to reach spot for your favorite cookbooks and your beloved pots and pans.
Build an outdoor recycling center

This DIY recycling center is a true game-changer, and you can get it done in a weekend with basic building materials. These step-by-step instructions include everything from measuring your bins accurately to painting the final product.
Hang a medicine cabinet

Does one of your bathrooms suffer from a lack of storage or an absence of counter space? A surface-mount medicine cabinet is an MVP when it comes to clearing clutter from bathroom counters and organizing supplies. Because it doesn't require cutting into the drywall, the surface-mount cabinet can be installed quickly with minimal equipment.

Make over your entryway
While the entryway is usually a means to an end, it pays to give it some TLC and see where you can improve this much-used but often-overlooked area. Is clutter a constant issue in your home? This could be a symptom of an entryway that needs some attention. Make sure any storage closets are being used for your daily items.
If the closet is stuffed with winter coats that get used once a year, find a new spot for them so you can free up space for umbrellas, light jackets, shoes, and bags. Find a furniture piece that can be used for additional storage in the entryway, and provide some nice-looking "catch-all" containers or hooks for keys and other belongings that tend to cause clutter.
Visited 611 times, 1 visit(s) today