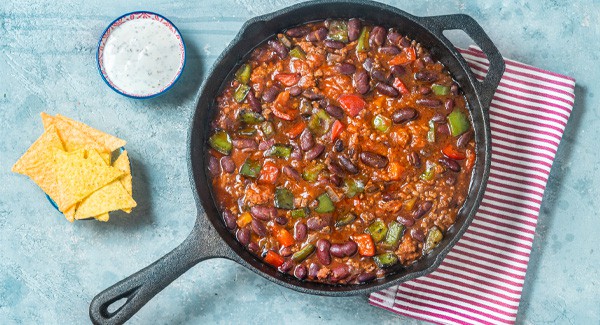 Last Updated on October 2, 2022
This roundup of the best Big Game snacks covers sweet, savory, and everything in between. With these snacks on your side, you're sure to have a winning night no matter which team gets the ring.
Sweet and sour meatballs
Serve these smoky, tangy sweet and sour BBQ meatballs with crostini and cranberry sauce for the perfect combination of flavors in party-size bites.
Chocolate peanut butter footballs
Keep Game Day simple by making these adorable little chocolate peanut butter footballs a day or two ahead. If you need to stay peanut-free, substitute with almond butter using this recipe.
Air fryer jalapeño poppers
Spice up the doldrums of winter with these vegan, gluten-free jalapeño poppers.
At the risk of mixing sports terms, we have to say that these allergy-friendly apps cover all the bases of party food: they're crispy, creamy, and spicy. Best of all, they will still be yummy if you need to substitute bell peppers for jalapeños to accommodate spice-averse eaters.
Cream cheese sausage balls
Here's another gluten-free option, and this one is also a great idea for Keto dieters. Crispy on the outside and creamy on the inside, these cream cheese sausage balls make a perfect addition to any Super Bowl snack table.
Lemon pepper chicken wings
It's time to change up your wing game with these lemon pepper chicken wings that are bursting with bright flavor and baked in the oven for that comforting crispiness we love in a wing.
Game day rice krispy treats
If baking is your happy place, this is the Super Bowl recipe for you. These Game Day Rice Krispy Treats are alive with color and team spirit.
Spicy guacamole with roasted vegetables
Warning: this guacamole might ruin all other guacamoles for anyone who eats this. But the good news is that you now have the ultimate recipe for guacamole at your fingertips. Spicy Guacamole with Roasted Vegetables combines the complexity and richness of roasted onion, tomatoes, and jalapeños with the creaminess of mashed avocado.
Caramel corn
Who doesn't love caramel corn? It's the perfect snack to satisfy the sweet tooth without going overboard. Make it party-friendly by portioning each serving into a football or party-themed container.
Spinach artichoke dip with bacon
Thirty minutes and a handful of easy-to-find ingredients are all you need to wow a crowd with this spinach bacon artichoke dip. Bagel chips or crostini are the perfect vehicle to get this dip straight into your mouth where it belongs!
Visited 1,854 times, 1 visit(s) today