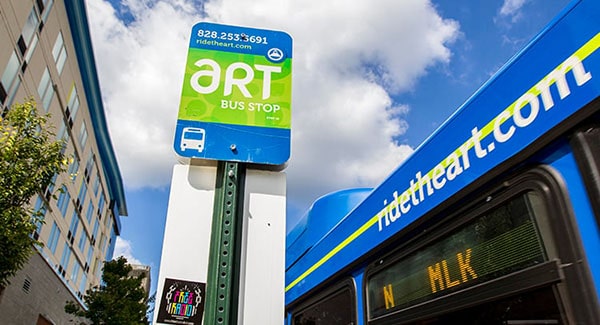 Last Updated on April 26, 2023
Alas, the dreams of the Jetsons have not yet come to fruition. We must still wait for flying cars, jet packs, and human-sized vacuum tubes that instantly ferry you from building to building.
But across Western North Carolina, there are more ways to get around than you would think.
Sure, we're still a (regular, ground-based) car-centric community. And those without vehicles of their own can rely on taxis, ride shares, and car services or rentals. But in Western North Carolina, there are so many more options to be had!
Check out the many transportation options available in Asheville and surrounding areas of WNC. Here's how people travel in the mountains.
Planes into and across WNC
Asheville Regional Airport (AVL)
Believe it or not, the history of aviation in Asheville goes back as far as 1925. The Asheville Regional Airport opened on June 7, 1961 to serve residents and visitors across the region. Today, it's one of the fastest growing airports in the country. The airport recently completed expansions to their parking options. According to a recent press release:
"The terminal building and aircraft operating areas are also getting a major expansion, with construction slated to begin in 2023. This project will be the biggest and most significant in the airport's history and will result in a terminal building twice the size of the current airport, and more aircraft operating area to accommodate future growth."
AIRLINES
Allegiant: Nonstop year round to Austin (AUS); Fort Lauderdale (FLL); Houston (HOU); Key West (EYW); Las Vegas (LAS); Minneapolis (MSP); Newark (EWR); Orlando/Sanford (SFB); West Palm Beach (PBI); Ft. Myers/Punta Gorda (PGD); Sarasota (SRQ); Clearwater-St. Pete (PIE)
American Airlines: Nonstop year round to Charlotte (CLT); Dallas/Ft. Worth (DFW); New York (LGA); Washington, D.C. (DCA)
Delta: Nonstop year round to Atlanta (ATL); LaGuardia (LGA); Minneapolis (MSP)
Sun Country Airlines: Nonstop year round to Minneapolis (MSP)
United: Nonstop year round to Chicago (ORD)
61 Terminal Drive, Fletcher
Airport Authority: (828) 684-2226 | Guest Services: (828) 209-3660
Asheville Airport Shuttle
Flight delayed? This company offers shuttle services from Asheville Regional Airport to nearby airports in Charlotte, NC and Greenville, SC. Other destinations include locations along the Appalachian Trail. Check the site for current scheduling, fees, and pickup points.
(828) 231-1053 | ashevilleairportshuttle.com
Trains into and around WNC
According to NCbytrain.com, North Carolina has 3,384 miles of railroad track and 14 passenger trains serving 16 cities daily. However, none of those routes currently serve as transportation options around WNC. In 2001, NCDOT adopted a phased plan to extend passenger rail service through WNC to Asheville. At the present, those plans have not come to fruition. However, recent news suggests a feasibility study is in the works.
Travelers interested in train travel must first travel to nearby stations in Greenville, SC or Salisbury, NC. From there, Amtrak lines run across the Southeast to destinations ranging from Washington, DC to Miami to New Orleans and beyond.
Buses into and around WNC
Asheville Redefines Transit (ART)
Asheville's city transit system provides bus service throughout the City of Asheville and to the Town of Black Mountain. ART routes run 6:00 AM–9:30 PM from Monday–Friday, 7:00 AM–9:30 PM on Saturday, and on Sundays and holidays from 8:30 AM–5:30 PM. The ART Station terminal is conveniently located in the heart of downtown and provides restrooms, indoor and outdoor seating, and an on-duty information assistant. Download the transit mobile app for real time locations of the buses closest to you.
49 Coxe Avenue, Asheville | (828) 253-5691
ashevillenc.gov/services/bikes-buses-cars/transit-services
Apple Country Transit (Hendersonville)
Apple Country Transit, Hendersonville's public bus service, provides transportation throughout the the City of Hendersonville, Town of Fletcher, and community of Laurel Park. Three fixed bus routes run from 6:30 AM–6:30 PM Monday–Friday. Passengers traveling from Asheville to Hendersonville and vice versa can connect with the ART routes at the Asheville Regional Airport.
Hendersonville Planning Department, 100 N King Street, Hendersonville | (828) 697-4819
hendersoncountync.gov/planning/page/apple-country-transit
Haywood Public Transit
Haywood County has long offered services that range from emergency management transportation and services for the elderly to poor-weather pickups and emergency food deliveries. In addition, Haywood Public Transit now offers regular, daily bus routes through the core of Haywood County, serving both Clyde and Canton to the east and Hazelwood and Waynesville on the west route.
50 Armory Road, Clyde | (828) 565-0362
Jackson County Transit
Jackson County Transit is a fully coordinated, public transportation system servicing human service agencies, the elderly, persons with disabilities, and the general public of Jackson County. A deviated fixed-route, paratransit service, as well as a demand response service, are offered 7:00 AM–5:00 PM Monday–Friday, except holidays. With one week's advance notice, limited service is also available to Asheville, Waynesville, Franklin, and Bryson City.
1148 Haywood Road, Sylva | (828) 586-0233
Transylvania in Motion
Transylvania in Motion provides transportation for a variety of programs servicing Transylvania County citizens, including medical and senior adult transportation. The general public may ride the county's white buses at a cost on weekdays if appointments are made a day in advance. A new, affordable fixed-route bus service connects Rosman to Brevard to Pisgah Forest.
106 East Morgan Street, Suite 205, Brevard | (828) 884-3203
transylvaniacounty.org/departments/transportation
Polk County HHSA
Polk County's public shuttle bus offers safe, reliable, door-to-door service inside the county and around the region to Rutherfordton, Spindale, Hendersonville, Asheville, Spartanburg, SC, and Greenville, SC. Every other Friday, a shopping shuttle runs to shops within a two-mile radius of the Walmart in Hendersonville. Call the day before by 10:00 AM for door-to-door service inside the county. Call ahead three business days for travel outside the county.
County Annex, Gibson and Ward Streets, Columbus | (828) 894-8203
Madison County Transportation Authority (MCTA)
Madison County Transportation Authority (MCTA) provides transport services Monday–Friday, 8:00 AM–4:30 PM. MCTA provides daily transportation services to all citizens of Madison County to medical facilities, post offices, senior centers, grocery stores, and other related sites. Appointments should be scheduled in advance. Transportation is free for seniors (60+), veterans, and those using the service for employment purposes.
387 Long Branch Road, ​​​Marshall | (828) 649-2219
madisoncountync.gov/transportation-authority.html
Yancey County Transportation Authority
Yancey County Transportation Authority (YCTA) passenger vans provide safe, reliable, courteous, cost effective, and fully accessible public transit services. Same-day shuttle services are offered Monday–Friday, 7:30 AM–4:30 PM for those within city limits. Trips extending outside city limits require 24–48 hours' notice. Rates are very affordable, and may be free if you qualify.
503 Medical Campus Drive, Burnsville | (828) 682-6144
yanceycountync.gov/departments/transportation-authority
Cherokee Transit
Cherokee Transit serves residents and visitors of the Town of Cherokee and the Qualla Boundary from Monday–Friday, 6:45 AM–11:30 PM. Two downtown loops each service Harrah's Cherokee Casino, and three additional routes branch out into the surrounding community. Cherokee Transit tokens are accepted for fares. Each token equals $1.00 in fare.
680 Acquoni Road, Cherokee | (828) 359-6300
Greyhound Buslines
Travel in comfort and style to more than 3,800 stops across the United States, Mexico, and Canada. Track your bus to see where it is in real time, earn rewards, and enjoy premium amenities, including free wifi, power outlets, and extra legroom.
605 Swannanoa River Road, Asheville (bus stop only) | (800) 231-2222
Other WNC transportation options to consider
Hotel shuttles
Depending on the hotel you book, shuttles may be available to and around downtown Asheville and/or to the Asheville Regional Airport. Check with your hotel for scheduling and drop off points.
RV rentals
Why rent a car and reserve a hotel room when you can kill two birds with one recreational vehicle? Sites like outdoorsy.com and rvshare.com allow you to match with an RV rental in an area near you.
What are your preferred transportation options in WNC? Let us know in the comments.
Visited 55 times, 1 visit(s) today