Last Updated on March 30, 2023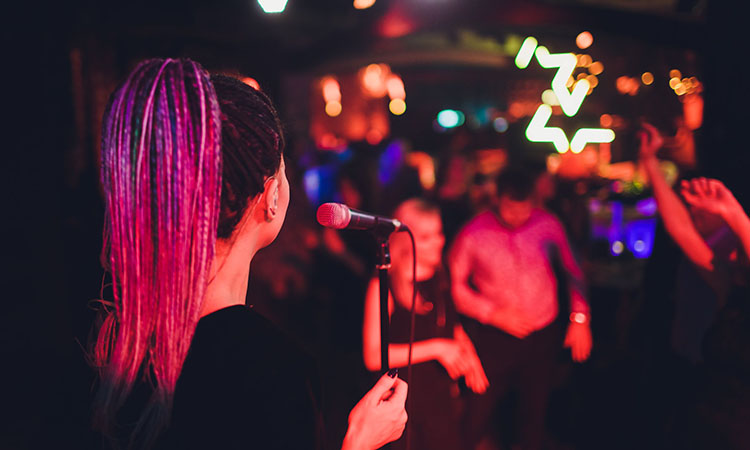 Western North Carolina's music tradition goes back to our earliest days. In fact, the Blue Ridge Music Trails of North Carolina encompasses 29 counties to preserve, interpret, and promote the rich pockets of sound and dance that originated here. Today, every town in the region is still home to regular live music, acoustic jams, and even "music Bingo". And Waynesville is no exception.
But where should you go when you're ready to take your songs from backyard jam sessions among friends to the stage? Perhaps the best way to test your mettle and show off your skills is at an open mic night.
Here are three fun places to go for open mic night in Waynesville, NC.
Quirky Birds Treehouse & Bistro
Tuesdays, 7:00–9:00 PM
Woman-owned Quirky Birds Treehouse & Bistro is best known as a full bar and bistro with a soulful flare. Part of what gives them soul is the regular live music infusing the place. Bring your quirky sounds and your soulful ballads to share with the bistros patrons; open mic night is each Tuesday from 7:00–9:00PM. While you're there, enjoy your favorite menu items from Front Street Takeout, like Slawchos or the award-winning "Winner! Winner! Chicken Dinner!" sandwich. Quirky Birds shares a kitchen with the popular Dillsboro restaurant.
148 Front Street, Dillsboro | (828) 586-1717 | restaurantji.com/nc/dillsboro/quirky-birds-treehouse-and-bistro-
Mountain Layers Brewing Company
Wednesdays, 6:00–9:00 PM
Need to venture a little farther away from home to find your voice? Check out Mountain Layers Brewing Company in Bryson City. From the natural vistas around the region to the depth of community and culture, Mountain Layers Brewing takes its name from its surroundings. The award-winning microbrewery is focused on offering Southern hospitality and great handcrafted beer in a setting that welcomes everyone in the community. Join them on Wednesday evenings from 6:00–9:00PM for some fun with host and local musician Ivor Sparks. The Rice Wagon Food Truck is open out back until 8:00PM.
90 Everett Street, Bryson City | (828) 538-0115 | mountainlayersbrewingcompany.com
Boojum Brewing Company
Thursdays, 9:00 PM–12:00 AM
Located in the middle of Main Street, Boojum Brewing takes its name from a local mountain legend. You could spend all day in the taproom sampling their delicious beer and pub grub, including tasty burgers, shareables, and daily specials. But don't fill up too much before you take the stage! Downstairs, the Gem Bar features Boojum beer, wine, and a full liquor bar. It's also where they host Open Mic Night weekly on Thursdays, as well as a great hangout space with bar games, including pool, darts, shuffleboard, and foosball.
50 N Main Street, Waynesville | (828) 246-0350 | boojumbrewing.com
Live Abundantly in Waynesville, NC!
It's easy to discover new outdoor adventures in Waynesville every day. High peaks surround the town, once billed as the Gateway to the Smokies and now the seat of Haywood County. But Waynesville's proximity to Asheville offers residents the best amenities of a larger city while still holding on to its small-town atmosphere. For instance, the recently restored Frog Level Historic District is now home to a collection of small galleries, a coffee roastery, and a microbrewery. From outdoor adventures to cozy spots downtown, Waynesville, NC welcomes people from many different backgrounds to visit and stay for life.
Does that sound like the perfect lifestyle for you? Find a great home in Waynesville now!
Where is your favorite place to go for open mic night in Waynesville? Share it with us in the comments!
Visited 87 times, 1 visit(s) today