Last Updated on April 25, 2023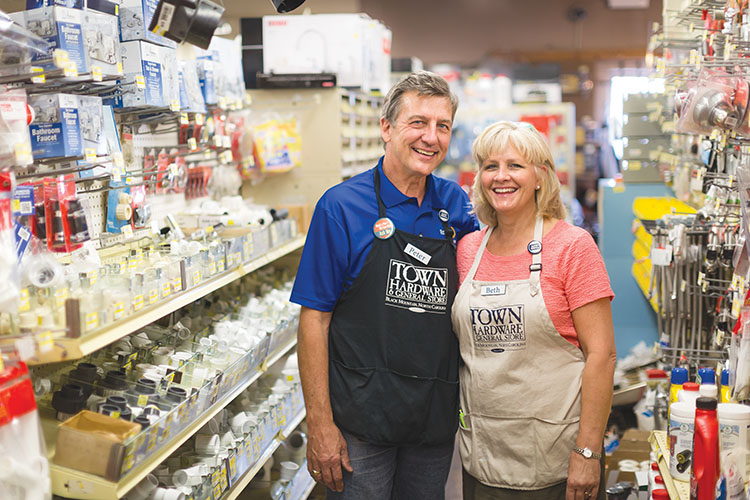 Sitting in their office atop the Town Hardware & General Store in downtown Black Mountain, owners Peter and Beth Ballhaussen expressed gratitude for being a part of the community they serve.
"We like to tell folks that we have everything you need, and you'll find that to be true if you walk through the store," Peter chuckled. "That's who we are. We consider ourselves an iconic part of this community."
The store celebrates its 90th year of operation in 2018. It is not only a space where one takes a step back in time—amid endless shelves and aisles of toys, tools, and truly everything under the sun. It's also a social hub, a crossroads of the small mountain community.
"Being able to celebrate our 90th anniversary says we have had what customers were looking for and the town has supported us for 90 years," Peter said. "We cater to locals and to visitors from out of town, and we really need both of them to survive. We also have customer traffic because of the activities that are offered here in this region, whether it's vacation rentals, daytrippers or campers."
"And we have great employees with experience in the real world, who know and understand how to do a variety of things," Beth added. "People come to them for advice, and they're very approachable, whereas in some big box stores it's hard to even find a person, much less somebody who has experience."
Though the idea of a "local hardware store" may seem more the exception than the norm these days, loyal customers of the business (and those curiously wandering in) find a sense of place. They find a comforting familiarity when they hear the tinkling bell at the front door and walk on the creaky wooden floors, well aged by those who traversed them in search of whatever it would take to start or finish a project, or put a smile on a face with a simple gift or token of gratitude.
"We have people that have been coming to the store for decades," Peter noted. "We have some back steps that the locals usually come up. [One day], I heard two gentlemen coming up the steps, and one guy said to the other, 'You know, I've been walking up these steps for 70 years, used to be a whole lot easier than it is now.' He was probably in his 80s."
While living in the Hickory area, the Ballhaussens planned on retiring to Black Mountain.
"For a small town, we're blessed to be in a [place] that attracts a lot of folks. You've got good food and shopping options, lots of galleries, not to mention Asheville [nearby]," Peter said.
Owning a decades-old small business was something out of left field for the couple. In 2013, when the previous owners were looking to retire, themselves, the Ballhaussens jumped at the opportunity to launch the next chapter of Town Hardware & General Store. The store now has become a centerpiece in their personal and professional lives.
"I just hope that it continues to be a vital part of the community," Peter said. "Just in the five years here, the store has evolved, but we've tried to keep the character. We'll continue to strive to make this place meet the needs of our customers—that's what has made us successful for 90 years."
When asked just what makes Town Hardware so special and one of a kind, Beth paused for a moment before responding.
"Regardless of how much technology changes and increases, it's the human factor," she smiled. "That's what we offer here."
This post is adapted from our annual Welcome to Western North Carolina magazine. Request your own copy today.
---
Build a home in Black Mountain, NC
Nestled at the eastern edge of Buncombe County, locals are quick to explain everything you need to know about Black Mountain. For instance, did you know that the town is colloquially known as the "Front Porch of Western North Carolina"? This Swannanoa Valley community has long welcomed travelers into the region who climb over the Swannanoa Pass into WNC. Today, the historic small town still prides itself on its sense of community and friendly atmosphere.
Does that sound like the perfect lifestyle for you? Begin your search for Black Mountain, NC homes for sale!
Visited 22 times, 1 visit(s) today