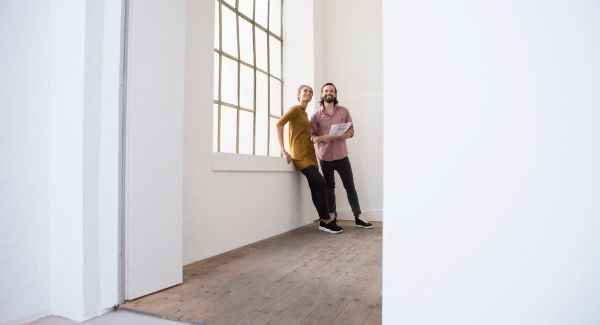 Last Updated on June 28, 2023
Navigating the process of buying your first home can be cumbersome– from figuring out the financing to finding the right one, it can be challenging. Fortunately for you, that's where we come in.
Here's the answers to all of your burning home buying questions.
What should I do first?
Browsing homes for sale online is everyone's favorite part of the home buying experience, but is it the first thing you should be doing?
Unfortunately, it's not. You'll get to that part of the process soon enough, but to make sure you're set up for success down the road, the first thing you need to do is to figure out how much you can afford.
Next, you'll want to meet with a mortgage lender to get pre-approved for a loan. Ideally, your pre-approval needs to be completed before you even reach out to a Realtor, and before you tour homes for sale. After all, it's no fun to fall in love with a home you can't qualify for.
Next up, find the perfect realtor to help you purchase your first home. Ask around– it's likely your friends and family have a Realtor they can recommend.
After you find a Realtor, sit down and make a needs versus wants list. This will help you narrow down search criteria and dissuade you from falling in love with a home that doesn't meet your criteria.
Finally, it's time to tour homes in person. Make sure to reference your needs/wants list as you walk through each property and don't be discouraged if you have to view multiple homes before you find 'the one.'
Just to recap, here's your to-do list:
Figure out how much you can afford
Get pre-approved
Find a realtor
Think about needs/wants
Start visiting homes
How much will I need for a down payment?
Despite what you may have heard, you don't need to put 20% down. When it comes to down payment options, first time buyers need not worry– there's a loan program out there that will fit your budget.
Here's a quick glance at the most common first time home buyer loan options:
Conventional loans: 3% down
Available through Fannie Mae and Freddie Mac, these government-backed loans offer borrowers some pretty appealing mortgage options. Qualified buyers can purchase a home with as little as 3 percent down.
FHA loans: 3.5% down
FHA loans are often the best option for first-time buyers. Less than stellar credit and not a lot of cash up front? FHA loans are your saving grace. Home buyers that go through FHA to finance their home are able to do so with as little as 3.5 percent down.
VA loans: 0 down
For members of the military, veterans, reservists and National Guard, loans backed by Veterans Affairs can be obtained without any down payment. PMI or private mortgage insurance that is typically required for loans obtained without a minimum down payment of 20 percent is not required with VA loans— another huge plus.
USDA loans: 0 down
Backed by the United States Department of Agriculture, eligible rural and suburban home buyers can qualify for zero down payment loans with low interest rates. If the hustle and bustle of big city living has never been your scene, sit down with a lender to check and see if the home you're interested in meets USDA criteria.
Besides the down payment, what else will I need to pay for?
Beyond your down payment, you'll need to come to the closing table with a check for your closing costs. Ranging from 2-5% of the total purchase price of your loan, closing costs cover items like attorney's fees, title fees, pre-paids and escrow, just to name a few.
I've heard that the market is tough and I may get caught in a bidding war, how can I best prepare for that?
In a market where there are more buyers than there are homes available, it's possible that several buyers may make an offer on the same home; this is what's called a multiple offer situation.
Don't worry– there are many things you can do to make your offer stand out:
First, make sure you're pre-approved before you submit an offer. If you were following the to-do list we outlined at the beginning, you can go ahead and check this off your list.
Next, make sure to submit a "clean offer," free from too many contingencies. If you're not sure what's too much to ask a seller, consult with your Realtor. They've got a good pulse on the market at all times and will be able to guide you in the right direction.
Finally, make sure you present the best offer possible initially. Again, if you're not sure of what might be competitive, talk with your Realtor. They'll be equipped with comparable market data and will be able to guide you as you arrive at a number you're comfortable with.
Keep reading
Visited 1,061 times, 1 visit(s) today