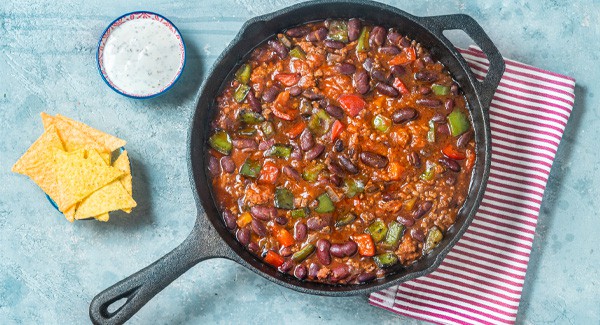 Last Updated on October 13, 2022
Charlotte is undoubtedly a foodie haven! It seems like every month there is another acclaimed eatery opening its doors. Regardless of what you're craving — Southern, Asian or hearty brunch cuisine — you'll be able to find a restaurant that does it well in the area. But it's barbecue that really put Charlotte on the food map in the first place.
North Carolina actually boasts two different styles of barbecue. Firstly, Lexington (sometimes referred to as Western) includes a red sauce seasoned with ketchup, pepper, vinegar and other spices doused over a hearty chunk of slow-roasted pork shoulder. Eastern, on the other hand, features every part of the pig, and the sauce is made with just vinegar and pepper to truly showcase the flavors of the meat.
We serve these styles by the plateful in our friendly and welcoming barbecue joints, but you can also find styles from all over the country (and the world)! See for yourself by ducking into one of these incredible local spots around town — each guaranteed to serve a memorable and supremely flavorful meal.
2900 Wilkinson Boulevard, Charlotte
If you're looking for the ultimate curbside experience, look no further than Bar-B-Q King in Ashley Park. This historic hole in the wall has been serving mouthwatering barbecue sandwiches since 1959, and it hasn't lost any of its old-timey charm. The house-made sauce is unlike anything else in the area and the crispy onion rings will bring you back time and time again.
5524 South Boulevard, Charlotte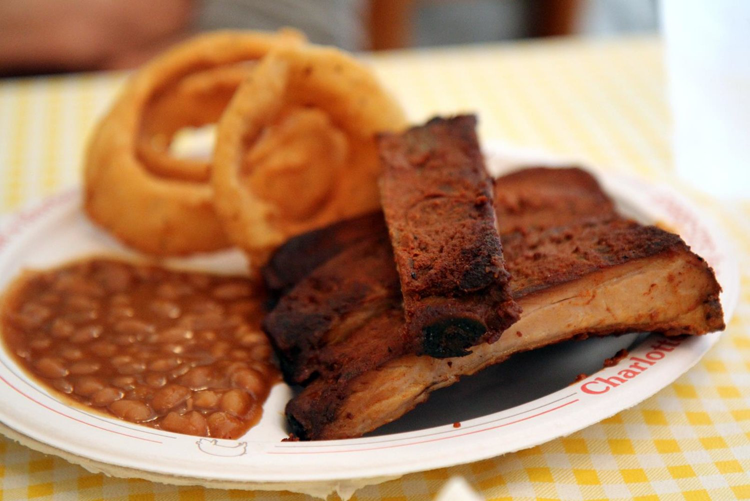 Photo courtesy of Bill Spoon's Barbecue
Bill Spoon's Barbecue is undoubtedly a Charlotte staple, having served barbecue aficionados in the area for more than 50 years! The welcoming joint is currently operated by the grandson of Bill Spoon, and the family recipes have been passed down from generation to generation. Come here to find Eastern-style barbecue that is hearty and flavorful with just the right amount of tang. And don't forget to get a side of the mustard-based coleslaw and made-from-scratch hushpuppies!
The team at Bubba's Barbecue goes above and beyond with their hog-roasting process, using a 33-hour process to slow-cook the meat until almost all of the fat is gone. The result is 100% lean meat that is lightly seasoned with salt, crushed pepper and vinegar. As all barbecue experts know — that's really all you need when the meat is cooked to perfection!
110 South Sharon Amity Road, Charlotte
The Improper Pig has garnered a bit of fame over the years due to its three different spotlights on the Food Network's Diners, Drive-ins & Dives — but the attention hasn't compromised the restaurant's quality. The team is passionate about creating incredible, Carolina-style barbecue with personal twists, and about creating a fun, relaxing and memorable experience for the customer. You'll find a few globally-inspired items on the menu (think: pork rolls, ahi tuna, twice-baked jalapeños with chorizo, and Asian slaw), but the slow-cooked, flavorful meat is definitely the star of the show.
2414 Sandy Porter Road, Charlotte AND seven more locations here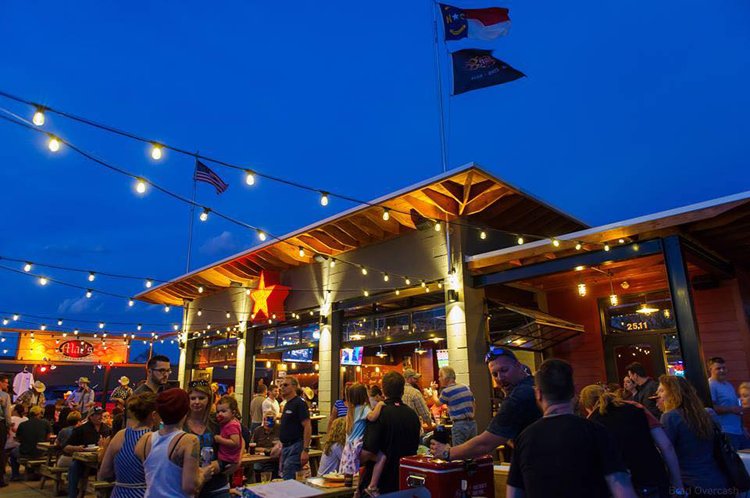 Photo courtesy of Mac's Speed Shop
Part beer club, part bike shop and part bbq joint, Mac's Speed Shop is unlike anywhere else on earth. Inside you'll find a cozy bar with beer on tap, and outside, you'll find a festive patio with twinkle lights and live music on the weekends. It might have a rough-around-the-edges feel to it, but the website boasts that anyone is welcome: "white collar, blue collar, no collar." As long as you're hungry for some mouthwatering 'cue, you'll find a home at Mac's. Our menu pick is the Carolina hickory smoked beef brisket sandwich, which comes open-faced on Texas toast with grilled onions — mmm mmm good.
4620 Old Pineville Road, Charlotte
Wings, pulled pork, chicken, mac-n-cheese, fried okra — oh my! You'll find all of these and more at McKoy's Smokehouse and Saloon. This beloved, family-owned spot prides itself on its friendly atmosphere and tried-and-true barbecue recipe, and promises to deliver "good times, good food and good friends."
540 Brandywine Road, Charlotte AND 4 more locations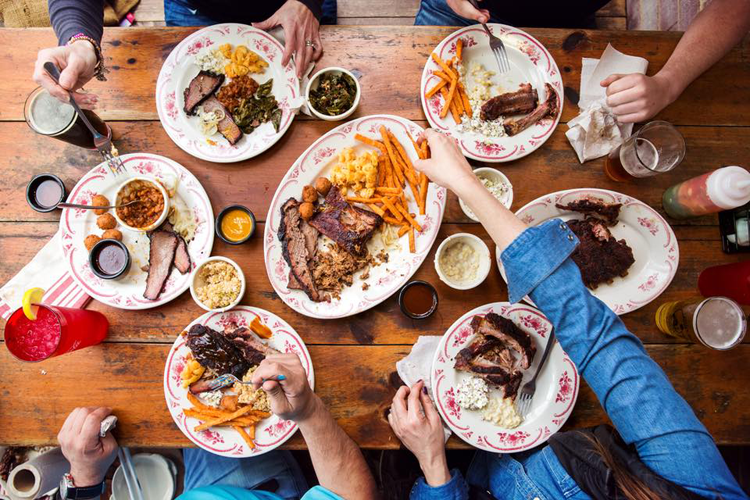 Photo courtesy of the Plaid Penguin via Midwood Smokehouse
Midwood Smokehouse, which opened its doors in 2011, is one of the newer barbecue establishments in Charlotte. But in its seven years of service, it has already cemented its status as a local favorite! Using an all-wood smoker, Midwood Smokehouse burns hickory logs 24 hours a day to produce that incredible and oh-so-rare slow-smoked taste. Don't miss out on the brisket here — the melt-in-your-mouth quality is what put this place on the map!
225 East 6th Street, Charlotte
Queen City Q (fondly referred to as simply, "The Q"), has brought together the best of eastern North Carolina, western North Carolina and South Carolina styles to create a menu that is truly representative of our region — and truly delicious! You'll find fall-off-the-bone meats that are cooked low and slow and served with homemade sauces on the side. That way, the barbecue can really be the star of the show!
The Lexington-style barbecue at Sauceman's is slow-smoked for more than 12 hours over a mix of local hickory and oak to emphasize the flavors that made North Carolina famous for its 'cue. We recommend getting a sampler plate for the full experience! The Pitmaster experience is perfect for two people, allowing you to pick four meats, four sides and four hushpuppies. It's an experience that will bring you back time and time again — but don't just take our word for it. Sauceman's scooped the BBQ Pitmasters award for "Best BBQ in North Carolina" back in 2013.
796 Concord Parkway North, Concord and two more locations
While not technically in Charlotte, The Smoke Pit has several locations in the city's suburbs, and it's definitely worth the 20-mile trek to the original location in Concord. This is your typical country eatery — featuring a welcoming vibe and checkered tablecloths — but the food is anything but typical. It opened its doors in 2014, but quickly expanded its customer base from just 30 people a day to well over 700. We highly recommend you try to be one of those 700, and don't even think about leaving without a heaping serving of the hickory-smoked pulled pork. It's some of the best in the region.
Enjoy your meal!
Where is your favorite place to find great Carolina-style barbecue in Charlotte? Share your recommendations with us in the comments!
Visited 124 times, 1 visit(s) today