Last Updated on April 25, 2023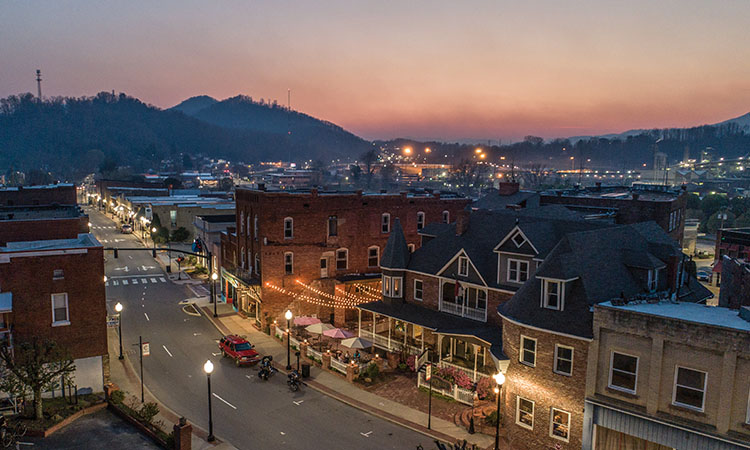 Ten years ago, the downtown corridor of Canton was relatively desolate: Abandoned building after abandoned building. Empty parking lots. Folks only passing through town in search of a gas station on the way to somewhere else.

But, in an effort to save the downtown district, a handful of businesses have recently popped up. Two of these cornerstone establishments include BearWaters Brewing Company on one end of downtown and the Southern Porch Kitchen & Drink on the other.

Opened in the spring of 2016, Southern Porch is truly a family affair. The restaurant is owned by Nathan Lowe and his wife, Michaela. Her mother, Cindi Layman, and stepfather, Dave Grant, are also co-owners. And Grant is the head chef, as well.

"One of our goals with opening this restaurant was to get the ball rolling in Canton," Nathan said. "And since we've been here, there's been about 15 or so new businesses that have either opened or relocated to downtown."

Housed in the historic Imperial Hotel, the Southern Porch resides on a large commercial property, one with an extended patio where troves of locals and tourists sit in the shade. There, they enjoy a meal and perhaps some live music, which is offered outside upwards of three nights a week in the summer.

"Whether we have music or not, people love sitting out on the patio," Nathan said. "But, we see the value in live music. We want to support local artists because that is their profession, and it's a great way for us to draw more people in."

Quite literally the biggest comeback story in Western North Carolina, Canton is growing rapidly. The housing market has returned, and so have people into downtown, with parking spaces at a premium these days. All of this puts a smile on Nathan's face.

"Canton is proud of our football team and of the paper mill," he said. "And the last piece of that puzzle is to once again be proud of our downtown. That's a reality now. People are loyal in this town—to their family, friends, and local businesses. We're one big family here."

The restaurant is focused on Southern comfort dishes like shrimp and grits, fried green tomatoes, and fresh trout. However, the menu does rotate each season depending on what's in season and what ingredients are available from local farmers, like meat and produce.

In the main taproom, you can browse a large selection of local and regional craft beers, and you can simply sit and immerse yourself in the friendly nature of the space.

"People always refer to our bar as having a 'Cheers' atmosphere," Nathan said. "I never thought I would have made so many new friends from people I didn't know before I started this business—people who walk in and sit down for a meal or a beverage."

For the Southern Porch, reaching the one-year milestone was a big deal. But, now closing in on year three, they feel like they're only getting started.

"It's quite a feat, but we haven't arrived by any means," Nathan modestly stated. "Our first goal was to make it a year. The next goal was to make it three years. It's an accomplishment, and we'll keep working hard to see this survive."

Of the new additions to the property, the Southern Porch opened The Post Office next door. Formerly the historic post office, it's now an event space able to hold upwards of 150 people.

"We have all kinds of wedding rehearsals and receptions in there, with plans to do live music in the wintertime," Nathan said. "I feel a sense of accomplishment when I walk in the Southern Porch and it's busy. It says that we're doing something right and that our community supports us."
This post is adapted from our annual Welcome to Western North Carolina magazine. Request your free copy today.
---
Live in Canton, NC
Canton is a snapshot of a classic mill town, with many of the unique bungalows and beautiful buildings once built for mill workers and managers still intact. Historic murals add an artistic touch to the downtown district, which is listed on the National Register of Historic Places. It's easy to stroll down Main Street, enjoy a meal or shop at the street's small businesses, and be received as a local. Quality of life truly is key in Canton.
Does that sound like the perfect lifestyle for you? Begin your search for Canton, NC homes for sale!
Visited 23 times, 1 visit(s) today