Last Updated on March 23, 2023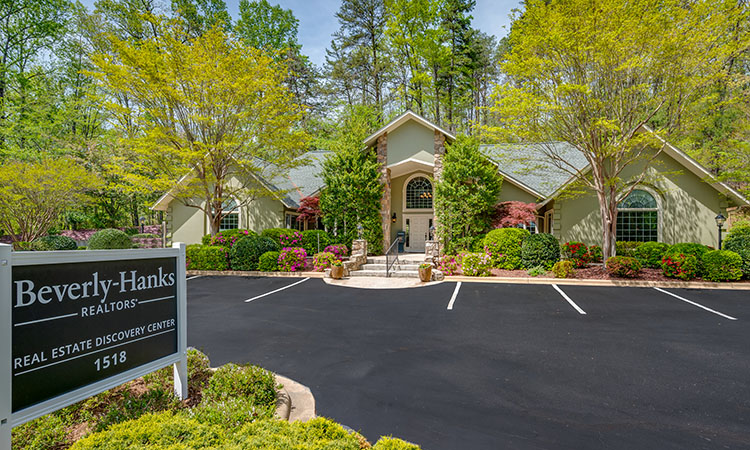 FOR IMMEDIATE RELEASE:
Grand Opening of Lake Lure Real Estate Office on Memorial Highway
Beverly-Hanks opens a Real Estate Discovery Center in Lake Lure.
May 18, 2022 (Lake Lure, NC)—Regional real estate leader Beverly-Hanks, REALTORSⓇ will be celebrating the grand opening of a new office and Discovery Center at 1518 Memorial Highway, Lake Lure on Thursday, May 19, 2022 from 4:00–6:00PM. The company will be collecting non-perishable food items during the event to benefit Hickory Nut Gorge Outreach.
"Beverly-Hanks has had a longstanding presence in this special mountain community," said Lyn Weaver, Beverly-Hanks Lake Lure broker in charge. "We're proud and excited that residents—and future residents—will have a Real Estate Discovery Center to support and inspire their real estate needs. We hope everyone can come out to officially celebrate this grand opening with us."
In addition to clients and friends, Beverly-Hanks has invited the local community to attend the office grand opening. Lake Lure's mayor, Carol Pritchett, will be present to facilitate the ribbon cutting ceremony. The drop-in event will feature refreshments and live music by Americana musicians Walter Finley and April Dawn.
"Knowledgeable, local real estate agents are key to navigating the complexities of today's dynamic real estate marketplace," says Neal Hanks, Jr., president of Beverly-Hanks. "Beverly-Hanks has deep community ties and more than 45 years as the trusted, full-service real estate company for Western North Carolina residents."
Beverly-Hanks has had a presence in Lake Lure, specifically in Rumbling Bald, since 2010. In 2021, the firm was the Lake Lure real estate market leader, participating in 21.4% of sales with a sales volume of $72.2 million. To date, Beverly-Hanks manages 14 full-time real estate agents in two offices. Lyn Weaver is the broker in charge of Beverly-Hanks' newest office and Discovery Center at 1518 Memorial Highway. Greg Lightcap is the broker in charge at Rumbling Bald on Lake Lure.
Attendees of the office grand opening celebration are invited to help Hickory Nut Gorge Outreach eliminate hunger and provide emergency services to Lake Lure neighbors in need by bringing non-perishable food items to the event. Most needed items include canned goods, peanut butter, jelly, individual juices, and condiments.
As a local leader with global reach, Beverly-Hanks is uniquely positioned to help both local and out-of-the-area real estate buyers and sellers. For more information about successfully buying or selling a home in Lake Lure and across WNC, experts at Beverly-Hanks are available to help you Live Abundantly in WNC. Speak with a Beverly-Hanks real estate agent in Lake Lure today at (828) 436-5120.
About Beverly-Hanks, REALTORSⓇ
The luxury market leader in Western North Carolina, Beverly-Hanks is a full-service real estate firm offering residential and commercial sales, marketing, and consulting services across the region. In addition to these core business platforms, Beverly-Hanks has strategic partnerships in several related industry ventures, including mortgage and title insurance.
For more information, visit beverly-hanks.com.
XXX
Visited 41 times, 1 visit(s) today