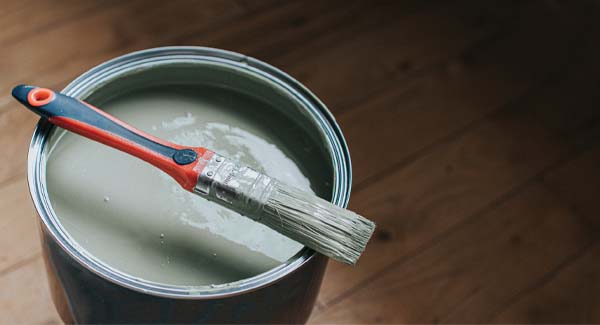 Last Updated on September 2, 2022
Paint is the cheapest and most effective way to dramatically change the look of a space. A fresh coat of paint can breathe new life into a tired old room, and can drastically improve the look of dated cabinets, vanities or trim.
If you're thinking about selling your home in the future, it's a good idea to pay attention to paint choices and how they might influence buyers' decisions.
Not sure where to start? Here's our list of the best paint color choices to sell your home quicker.
Walls
Buyers want to envision themselves living in your home when they first walk through it, which isn't an easy task if your walls are dark red. To win over buyers and sell your home faster, opt for neutral paint color choices in the following paint color families:
Greige
A greige paint color is a cross between beige and gray, and has quickly become one of the most popular choices among homeowners today. Greige wall colors tend to complement a wide variety of furnishings and style preferences, thanks to their neutral blend of gray and beige. In this category, try paint color favorites like Revere Pewter, Agreeable Gray or Accessible Beige.
White
White walls have quickly escalated to popularity in the last few years and many buyers are delighted with this new trend. Aim for a soft white with creamy undertones to satisfy most buyers' preferences. Look to warm white color choices like Alabaster, White Dove and White Duck.
Earth tones
In less common spaces like bonus rooms, laundry rooms, offices or even powder rooms, you can experiment with more color. Using earth tones allows you to step out of the box with color without getting too drastic. Try greenish gray shades like Soft Fern or Liveable Green, or experiment with some soft bluish gray paint colors like Waterloo or Nimbus Gray.
Related reading: The 2020 pantone color of the year
Cabinets
Refacing your cabinets or old vanity doors with new paint is an excellent decision, especially when it comes to resale value. Most buyers these days are in search of an all-white kitchen so try shades like Simply White or Chantilly Lace.
If white isn't quite what would work best with your kitchen, you can opt for other neutral choices like Accessible Beige or Krypton– which is a beautiful shade of pale blue with gray undertones.
Front door
Most buyers agree, beyond a stained wood door, the favorite paint color for front doors is navy blue. If blue works well for your home and you'd like to make a change, try Hale Navy or Blue Note.
Besides navy, buyers also like rich hues like black. Try Tricorn Black or Onyx for the truest black paint choice without too many purple or gray undertones.
Exterior
The ever popular greige color family is at the top of the list in terms of the most popular color choices for exteriors. If your home is a dated brown or tan, consider repainting for a more updated look. You can try Mindful Gray or even Repose Gray on your home's exterior for best results.
Keep reading: Top design trends to follow in 2020
Visited 438 times, 1 visit(s) today