Last Updated on April 26, 2023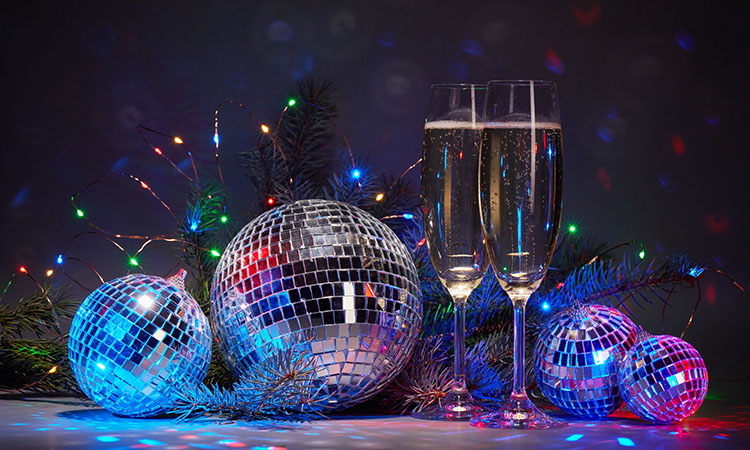 What are your goals for 2023 and the months ahead? Are they to try something new, get out more, and enjoy life? If so, we know how to start off the new year right!
Here are more than a dozen local events across Western North Carolina to help you ring in 2023, along with some organized to help you start January off right!
Know of any other New Year's Eve events? Let us know and we'll add them to the list!
Shadrack's Christmas Wonderland Light Show
November 17–January 1, 2023 | TIEC, Tryon
Stay in the comfort of your vehicle to experience hundreds of thousands of lights animated to music. This is an unforgettable family experience to enjoy this holiday season, with tickets available by the carload. Then, check out Tryon Resort's new Ice Skating Rink, offered in the famed Tryon Stadium with skate rentals available by the hour. Bring the whole family to enjoy ice skating, see festive light displays, eat delicious food, and shop—all in one magical destination!
Learn more: tryon.com
Winter Lights at the NC Arboretum
November 19–December 31, 2022 | Asheville
If you haven't been by yet, don't miss this year's elaborate Winter Lights show at the North Carolina Arboretum! The event welcomes members and guests into the gardens for a spectacular outdoor open-air walk-through. Enjoy the famous 50-foot lighted tree and the Quilt Garden. And spot popular arrangements throughout the gardens that mingle with ones never seen before. You can also time your entry to enjoy live music and storytime! Pets are not allowed. Tickets required.
Learn more: ncarboretum.org/winter-lights
All That Glitters Is Grove Park
December 26, 2022–January 2, 2023 | Asheville
Welcome 2023 at The Omni Grove Park Inn with their two-night Blue Ridge New Year's Package. Enjoy New Year's Eve dinner for two at Blue Ridge Dining Room. Ring in the new year at their New Year's Eve Party, All That Glitters is Grove Park, where you'll enter a celebration of the Age of Golden Hollywood. (Admission is limited to registered guests 21+ with a valid ticket/wristband.) And laugh your way into 2023 with two tickets to Sunday night's comedy show.
Learn more: omnihotels.com
2023 New Year's Eve "Apple Rise" Celebration
December 31 @ 5:00–7:00 PM | Hendersonville
Want to celebrate 2023 with your entire family, without busting the kids' bedtime routine? Henderson County Parks and Recreation hosts a family celebration of the new year at the Historic Courthouse. This family-oriented event will begin at 5:00 PM with a countdown and "Apple Rise" at 7:00 PM. Families will enjoy children's crafts and activities, hot beverages, NYE party favors, and a DJ dance party.
Learn more: hendersoncountync.gov
THE POLAR EXPRESS™ Train Ride
December 31 @ 5:30 or 7:05 PM | Bryson City
All aboard THE POLAR EXPRESS™ Train Ride! This memorable journey will take you on an incredible 75-minute round trip ride! From the Bryson City depot, journey through the quiet wilderness for a special visit to the North Pole. Set to the sounds of the motion picture soundtrack, you can enjoy warm cocoa and a treat while listening and reading along with the magical story. Children's faces show the magic of the season when the train arrives at the North Pole to find Santa Claus waiting. Santa will board THE POLAR EXPRESS™, greeting each child and presenting them with a special gift as in the story, their own silver sleigh bell. Sing Christmas carols as you return back to the Bryson City Depot. Tickets required.
Learn more: gsmr.com
New Year's Eve Dinner Party
December 31 @ 6:30 PM–12:30 AM | Lake Lure
It's been a year in the making. Ring in the new year with family and friends at Rumbling Bald's New Year's Eve Dinner Party at Legends on the Lake. Enjoy music, dancing, and a champagne toast at midnight. Members can RSVP via the Member's Website or App. For all other reservations, email jboggs@rumblingbald.com.
Learn more: rumblingbald.com
Oskar Blues' 10th Annual NYE Hootenanny
December 31 @ 7:00 PM | Brevard
The Oskar Blues NYE Hootenanny is a WNC tradition, complete with foot stompin' music and Brevard-brewed beers! Celebrate another trip around the sun on the heated patio, with food trucks on site and beer flowing all night. Enjoy live music from Spalding McIntosh & the Lionhearts, Ten Toe Turbo, and The Get Right Band. This event is FREE and open to the public.
Learn more: facebook.com
New Year's Eve Party!
December 31 @ 7:00 PM–12:30 AM | Lake Lure
It's party time at the Riverside Event Center! Enjoy dinner, dancing, party favors, and a champagne toast at midnight. Oh! And did we mention live music from The "Dirty South" Band? Get your tickets for the whole evening. Or skip dinner, come late, and still catch the band and midnight toast.
Learn more: hickorynutchamber.org
New Year's Eve with 007
December 31 @ 8:00 PM | Thomas Wolfe Auditorium, Asheville
It's Bond, James Bond, and your Asheville Symphony! Ring in the new year with powerhouse vocalists backed by your Symphony and dreams of martinis (shaken, not stirred), Aston Martins, custom watches from Q, and the beloved MI6 agent. With hits from Bond movie favorites like Goldfinger, Skyfall, and more, start the new year in style by unleashing your inner Bond (or Bond girl). Tickets required.
Learn more: ashevillesymphony.org
New Years Eve at Catawba Brewing
December 31 @ 8:00 PM | South Slope, Asheville
Welcome 2023 on Asheville's South Slope at Catawba Brewing! Enjoy a performance by world-famous DJ Jut Rut. The party kicks off at 8:00 PM and will party down 'til closing time. Free admission.
Learn more: facebook.com
NYE Roaring Twenties at Grove Arcade
December 31 @ 8:00 PM–1:00 AM | South Slope, Asheville
Usher in the next year by stepping back a century. If you celebrated at last year's Grove Arcade NYE party, then you already know the deal. This New Years Eve, head downtown for a speakeasy-style soirée in the historic halls of the Grove Arcade—just as E.W. intended! There will be live music, a photobooth, games, hors d'oeuvres, and a full-service bar. And of course, 1920s decor and theme. Come dressed in your finest and enjoy a champagne toast at midnight. Ages 21+.
Learn more: nye.grovearcade.com
NYE Dance Party
December 31 @ 8:00 PM–2:00 AM | Asheville
As the clock ticks down, the anticipation at the Getaway River Bar is palpable! Starting at 8:00 PM, DJ Blind Date will spin an electrifying mix of beats, guaranteed to get everyone on the dance floor. Later, DJ La Cia will keep the music pumping from 10:00 PM on as everyone enjoys delicious drinks, games, and more. This party benefits Asheville FM, the community radio station that provides a vital link to the city's vibrant music, local news, and arts scene. Ages 21+.
Learn more: getawayontheriver.com
Annual Gold Nugget Drop
December 31 @ 8:30 PM–12:30 AM | Marion
What's better than the New York City Times Square ball drop to welcome in the new year? Head to the small town of Marion to watch a six-foot, 80-pound gold nugget drop into a pot of gold! This free, fun, quirky celebration also includes a cosplay costume contest, wagon rides, and more! Music, food, and craft vendors will be scattered throughout the 310 District of Downtown Marion. The beer and wine garden will feature many nearby wineries and breweries.
Learn more: romanticasheville.com/nugget-drop
Thirsty Monk's 7th Annual Keg Drop
December 31, 10:00 PM–1:30 AM | Biltmore Park
New York City drops a ball, Atlanta drops a peach, and Miami drops an orange. In Asheville, Thirsty Monk drops a keg! Ring in the New Year at the annual New Year's Eve Keg Drop Celebration at Thirsty Monk's Biltmore Park location. Their two-story golden keg will be lit up and glowing on New Year's Eve, descending at midnight as they tap a fresh keg to toast the New Year! Free to attend.
Learn more: thirsty-monk-brewery.square.site
First Day Hike or Bike for 2023 "Year of the Trail"
January 1, 2023 @ 8:00–10:00 AM | Chimney Rock
Kick off 2023, "the Year of the Trail," with this First Day Hike in Chimney Rock State Park! A park ranger will offer an informative discussion about the park's history while the group strolls, hikes, or bikes up to the 3.2-mile entrance road. Usually restricted only to motor vehicle traffic, there will be no cars in your way at this special, early morning hike. The park will provide shuttle transportation back down to your vehicles in Chimney Rock Village. Hike participants can return to Chimney Rock access for the same day at no charge. Free.
Learn more: ncparks.gov
9th Annual New Year's Resolution Run
January 1, 2023 @ 10:00 AM–12:00 PM | Asheville
Say goodbye 2022 and welcome 2023 with new goals at the 9th Annual Resolution Run in Downtown Asheville. This annual in-person running event has assigned wave start times beginning at 10:00 AM, so you can watch the ball drop and still get up in time to kick off the first day of the year on the right foot. Families and participants of all ages are welcome to run or crawl their way to completing their first resolution!
Learn more: idaph.net/resolution-run
New Year's Day Hangover Brunch
January 1, 2023 @ 10:00 AM–3:00 PM | Downtown Asheville
There's no better way to start off 2023 than by visiting Bold Rock Hard Cider's downtown taproom for a Hangover Brunch. Enjoy a featured brunch menu on top of their Bluegrass Brunch, discounted cocktails such as Bloody Mary's and mimosas, live music, and more!
Learn more: boldrock.com
Run in 2023 5K
January 1, 2023 @ 11:00 AM | Cullhowee
Happy New Year! Enjoy one of our favorite annual 5K races with the Jackson County Parks & Recreation Department. And kick off your resolutions on a positive note. Run in 2023 kicks off at 11:00 AM on New Year's Day. Shirts are guaranteed to the first 100 to pre-register. Early registration is $20.
Learn more: runsignup.com
We'd love to see your New Year's Eve selfies! Tag us on Instagram at @AllenTate_BeverlyHanks.
Visited 182 times, 1 visit(s) today