Last Updated on May 10, 2023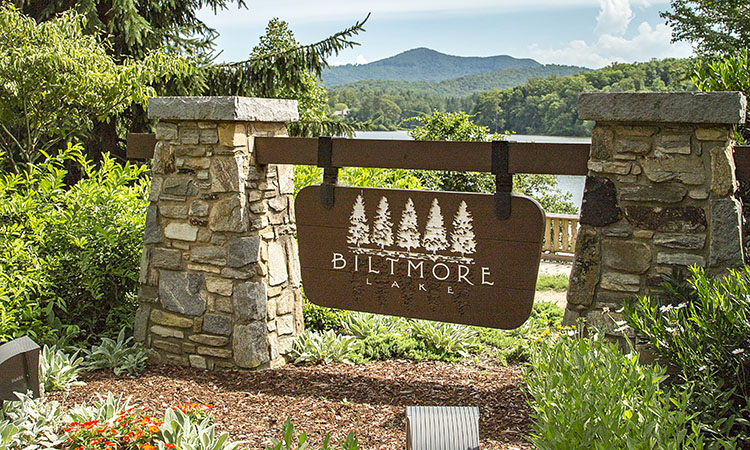 Does your home offer all the benefits of a safe refuge while encouraging engagement with and exploration of the world around you? If that sounds like a contradiction, we have just the community for you. One that offers homes with woven-in efficiencies that support active lifestyles of wellness and discovery.
Living at Biltmore Lake is like a continuous escape from the world at large. It's a place where being with friends and neighbors preempts, well, pretty much anything else. Here are just five of the many ways there are to Live Abundantly in Biltmore Lake.
Live the lake life in Biltmore Lake
Life at Biltmore Lake quite literally centers around the 62 acres of shimmering waters at the heart of this community. Biltmore Lake's access to water sports and more sets up an open invitation to enjoy the natural environment. Residents test the waters using cedar strip canoes, kayaks, paddle boats, and sunfish sailboats available at the community boathouse. Fishing is such a regular pastime, many of the streets in the neighborhood are named after lures. For those who prefer dry land, a sandy beach invites readers, sunbathers, and swimmers edging toward the water line. In addition, its shoreline trail system beckons joggers and strollers.
Live the outdoor life in Biltmore Lake
From the namesake lake, four miles of connecting trails radiate throughout adjoining neighborhoods and up Scott's Ridge. These shady, dog-friendly pathways give residents a chance to experience an ever-unfolding natural world at their own pace, including hardwood forests and rhododendron groves. What's more, several campsites alongside the trail system give residents an opportunity to sleep under the stars. Short on camping gear? Simply reserve equipment at the recreation director's office.
Biltmore Lake backs up to Pisgah National Forest. Residents can access these 500,000 protected acres by bike trails, which take them as far as the NC Arboretum in Bent Creek.
Live the club life in Biltmore Lake
Biltmore Lake's waterfront clubhouse provides a welcoming venue for gathering with neighbors and friends. Year-round, you can curl up in front of the fireplace with a book from the exchange library, experience the beauty of a sunset over the mountains, play a game of pickup basketball, enjoy free wireless internet, or simply meet a friend to catch up on recent news. Two hard surface tennis courts are available for new and experienced players alike. And the Pickleball Players group is also quite popular. From Friday evening socials to making memories with your kids on the playground, activities make community life at Biltmore Lake a celebration of friends and place.
Live the historical life in Biltmore Lake
In 1928, the American Enka Corporation, a major Dutch textile firm, set up shop on the land where Biltmore Lake now resides. At its height, the company employed several thousand people across WNC, many of whom built homes in historic Enka Village. As of 2001, the land has been managed and developed by Biltmore Farms. Once devoted to growing things on the estate of its founder, George W. Vanderbilt, today Biltmore Farms carries on a tradition of quality, stewardship, and sustainable growth. The result at Biltmore Lake and elsewhere are communities grown with care, heart, and an eye to tomorrow. 
Live the Asheville life in Biltmore Lake
It is truly a rare and precious opportunity to live on a mountain lake so close to one of the South's most charming small cities. With a population of 90,000+, Asheville is the largest city in both Buncombe County and Western North Carolina. Asheville serves as the area's economic and cultural nerve center in many ways, including as a hub for education, health care, local arts and crafts, entertainment, and innovative food and drink. From your home, Downtown Asheville's art, architecture, shopping, dining, and entertainment are just minutes away. 
Live Abundantly in Biltmore Lake
Biltmore Lake is a thriving master-planned community in Western North Carolina. Set within more than 1,000 sustainably designed acres, residents enjoy miles of well-kept trails, campsites, fishing, non-motorized boating, and recreational areas, as well as 62 acres of shimmering mountain lake, right in the neighborhood. It's easy to see why so many residents are content to stay home on the weekends. But for those who venture outside the gates, all the amenities of Asheville are just minutes away.
The community was awarded the 2009 Association of the Year Award by the North Carolina Chapter of the Community Association Institute (CAI).
Does that sound like the perfect lifestyle for you? Find your dream home in Biltmore Lake now!
Visited 93 times, 1 visit(s) today