Last Updated on April 7, 2023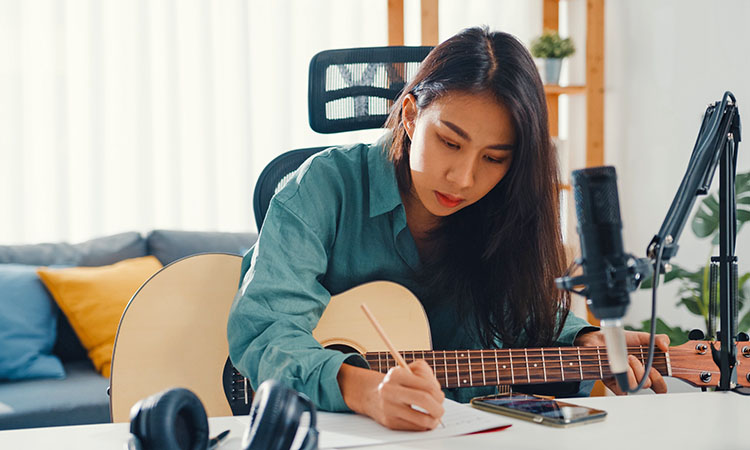 If you're like us, you've created a slew of goals for the coming year, including resolutions for your home. But about now, you're wondering how long you'll be able to keep up the pace on the path toward meeting them.
Don't worry! We know you can meet every goal this year because there are local businesses throughout town designed to help you do exactly that!
Here are five businesses in Hendersonville, NC that are designed to help you meet your new year's goals.
Exercise more: Strong Hand Fitness
At Allen Tate/Beverly-Hanks, we always support those who want to stay fit. Hendersonville is a hub for healthy living and is home to some of our favorite indoor and outdoor workout spots. One location that has caught our eye is Strong Hand Fitness, located near Sullivan Park. This gym is locally owned and operated by Navy veteran and competitive powerlifter Ian McKay. He has built a "gym family" in addition to a well-equipped gym facility. Their goal is not only to build strength for athletes or non-athletes, but also prevent injuries in the future. Take advantage of their personal trainers and YouTube videos. Day Pass pricing means you can check out the space before becoming a member.
713 Ray Avenue, Hendersonville | (828) 513-5040 | stronghandfitness.com
Eat healthier: Roots Smoothie & Juice Bar
In our region, it's easy to cheat on your New Year's diet. Luckily, it's also easy to stay on track and eat healthy throughout the year by eating smart. Never Blue is known for their healthy portions. And restaurants like Three Chopt Sandwich Shop and Arabella are among our favorites for vegetarian options that everyone loves. But for quick and healthy options on the go, check out Roots Smoothie & Juice Bar. They make healthy living a delicious endeavor with a nutritious and diverse menu that includes gourmet toasts, hearty sandwiches, fresh salads, smoothie bowls, and a variety of fresh-pressed juices. Order online for delivery or pick up.
1620 Brevard Road, Hendersonville | (828) 595-2378 | rootssmoothieandjuicebarnc.getsauce.com
Save money: The Bee Hive Resale Shop
Ladies of Hendersonville, delete all your online shopping apps off your phone! 2023 is going to be the year of saving money. It's easy to dress fashionably and comfortably all year long at The Bee Hive. From classic to cutting edge, The Bee Hive offers big-city fashion at small-town prices. Conveniently located on Main Street next to McCarter Gallery, The Bee Hive features a wide variety of clothes, shoes, purses, jewelry, and more, seasonally and throughout the year. Supplement your shopping by bringing in gently worn items for consignment.
449 N Main Street, Hendersonville | (828) 692-8882 | facebook.com/thebeehiveresaleshop
Spend time with family: Appalachian Pinball Museum
The holidays may be over, but your days of spending more time with your family have just begun! Hendersonville is home to many attractions for kids of all ages. We love visiting Laura E. Corn Mini-Golf Course located off Main Street at Boyd Park. Each hole is themed for attractions around WNC! After your game, walk to the nearby Appalachian Pinball Museum for even more family fun. Formerly a ballroom and a theater, the picturesque building is now home to dozens upon dozens of rare and vintage pinball machines. For a flat fee, you can spend all day trying their collection of pinball machines and retro video games. It's a great time for youngsters and the young at heart.
538 N Main Street, Hendersonville | (828) 702-9277 | appalachianpinballmuseum.com
Learn a new skill: Jim Beaver's School of Music
We love seeing live classical, traditional, and contemporary music at Hendersonville's many music venues throughout the year! But are you tired of being lost among the crowd? If you're ready to be on stage, we know just the place to help tune up your skills. Jim Beaver's School of Music is one of the state's largest music schools. Musicians ages three to 103 go there to learn bass, drums, guitar, mandolin, piano, ukulele, violin, and more. The school also offers voice and singing lessons, plus songwriting and composition lessons from accomplished songwriters. Take an online tour of their facilities, and start your journey to stardom today!
576 Upward Road #7, Flat Rock | (828) 693-4056 | jimbeaversschoolofmusic.com
BONUS! Find your dream home: Allen Tate/Beverly-Hanks
If one of your goals for 2023 is to find the home of your dreams, we can help with that!
Distinguished by an almost perfect climate, beautiful surroundings, great eateries, and recreational variety, Hendersonville, NC is known as the City of Four Seasons. The town's many tranquil neighborhoods and housing developments all surround a sturdy core. It's a place where you can be as active or idle as you wish. No wonder Hendersonville has attracted hundreds of residents looking for ample recreation and a friendly atmosphere.
Does that sound like the perfect lifestyle for you? Find your dream home in Hendersonville now!
Visited 84 times, 2 visit(s) today