Last Updated on June 7, 2023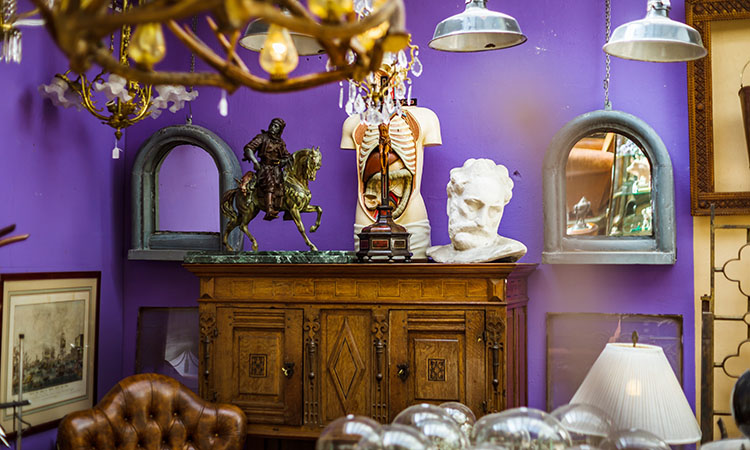 Did another piece of particle board furniture break on you?
It's not just you. It's true when they say that quality used to be better. Of course, there's always been a range in quality furniture and home decor—some is certainly always better than others. But if you enjoy the hunt, it's still possible to discover topnotch treasures from the past at your local antiques stores.
Hendersonville is abundant with antiques stores of all sizes and levels of curation. But if you're new to antiquing, it's easy to feel overwhelmed. Here are a handful of useful tips for antiquing in Hendersonville, NC.
Know what you want
Before you even leave your home, you should know what your motivation is for antiquing in Hendersonville today. Are you shopping for a specific item you need or would like to find? Or are you on "the hunt"? Knowing that you specifically need a framed mirror within a certain set of dimensions is the best way to focus your efforts. Wanting to find something perfect to sit in a place of prominence on your mantel is more vague, but it still keeps you from getting distracted by, say, floor lamps and footstools. But if you're just "searching for treasure"—you'll know it when you see it—you may want to set a few guidelines. The best way to do that is to set a cap on your spending limit for the day, or only bring cash.
Do your research
Unless you're a Kardashian-level celebrity, you probably want to make sure you're not tossing money at a purchase just because you like it. As they say in the business, "good looking junk is still junk." And many booths or vendors inflate their prices because they expect shoppers to haggle. If you like designs from a certain period, do a little research before you shop. By becoming familiar with period pieces, you start to recognize finer details and nuances. That can help you determine if the price set for an item is fair and accurate, or if you should try to haggle it down. And who knows—maybe you'll discover a new favorite designer or line along the way.
Ask questions
With smartphones, it's easy to do research on an item even while you're in the store. But another great way to learn about what's for sale is to ask. If you don't know what an item is or what it's used for, ask. Vendors and shop owners get into the business because they love it, and they're ready and willing to answer your questions. Many times, they may also know the story behind an item—not just its age and origins, but who owned it, for how long, and where it came from.
Plus, unless an item is marked "FIRM," it's acceptable to ask for wiggle room with the price. Even antique shops with multiple vendors often have systems in place so they don't have to reach out to the booth owner every time there's a request for a better price. Worst case scenario, the price on the label is the price for the sale. But at least you asked.
Get creative
There are oodles of shows and blogs and YouTube channels and DIY tutorials and Pinterest boards about upcycling old items into something new. If you're on the hunt for, say, a coffee table, there are certainly many coffee tables to be found. But you can also buy something else—a credenza, an apple crate, a sewing table, etc.—and with a little elbow grease, transform it into the perfect coffee table for you. Even while you're shopping for something specific, don't forget to appraise every item you come across. With a little creativity, a surprise item could be exactly what you're looking for!
Take a second lap
Walking through most antique stores is a good way to overload the senses. There are items everywhere, and it's easy to lose a whole day exploring them. If you weren't successful on your first trip through a store, walk through it again—ideally from the other direction. You'll be amazed by all the things you didn't notice the first time through!
Live Abundantly in Hendersonville, NC!
Distinguished by an almost perfect climate, beautiful surroundings, great shopping, tasty eateries, and recreational variety, Hendersonville, NC is known as the City of Four Seasons. The town's many tranquil neighborhoods and housing developments all surround a sturdy core. It's a place where you can be as active or idle as you wish. No wonder Hendersonville has attracted hundreds of residents looking for a gilded life topped with ample recreation and a friendly atmosphere. 
Does that sound like the perfect lifestyle for you? Find homes in Hendersonville now!
Where's your favorite spot for antiquing in Hendersonville, NC? Let us know in the comments!
Visited 32 times, 1 visit(s) today