Last Updated on May 4, 2023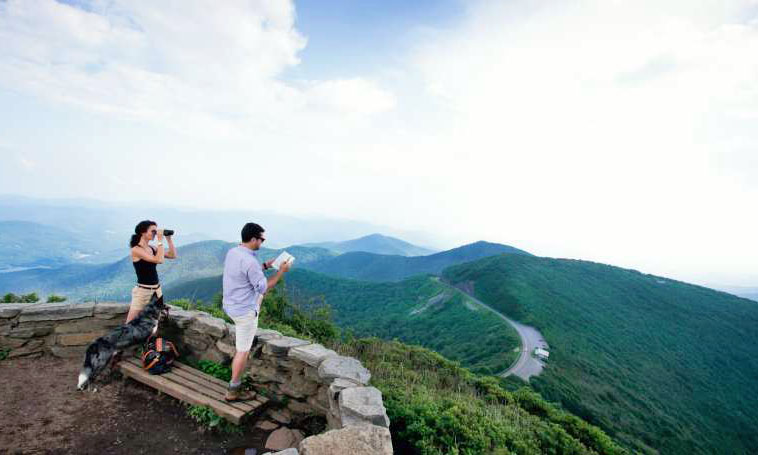 Entirely surrounded by the Blue Ridge Mountains, Western North Carolina provides an outdoor setting like no other. With the highest peaks in the east and what seems like thousands of miles of well-managed trails, locals enjoy the outdoor playgrounds they find right in their backyards.

Take time to explore the Blue Ridge and breathe in our fresh mountain air! Learn more about what attracts people to the mountains and where to find the right trail for you.

---
---
What makes hiking WNC special?
In WNC, you can hike your entire life and still find something new! The diversity of our landscape brings explorers to our region from all over the world.

"I've been hiking since I could walk," says Chris Neumann. In 2008, he founded the Asheville Hiking Group, which now has more than 9,500 members. "I've led over 700 hikes, and we've got members everywhere from Eastern Tennessee to the Piedmont of North Carolina to South Carolina. We even have some in Virginia."

One of the reasons for the abundance of protected land in the area is because of conservation easements. These proactive measures bring people from far and wide to live, work, and play in our mountains.

"Asheville is surrounded completely by national forest," said Ben Dickert, outdoor specialist at Mast General Store. "You've got the Blue Ridge Parkway, and then the Mountains to Sea Trail, which parallels the Parkway. So, that offers close-by hiking year round … Overall, it's just pretty. People are nice, the culture is nice, and overall [WNC is] just a fun place to live."

3 Popular hikes in WNC
So, where do locals like to hike when they're in the mood? Sometimes spending time with an old friend is the perfect way to pass a warm summer afternoon. Here are a few classic hikes to consider if you don't mind sharing a well worn mountain path with a few other folks.
Craggy Gardens
BRP Milepost: 361.2
Length: 0.9 miles, round trip
Difficulty: Easy

Craggy Gardens is perfect on an early morning with a cup of coffee. The short 1.4-mile hike offers visitors unrivaled views to the east. It's also recognized by the state of North Carolina as a National Heritage Area. Craggy Gardens is home to a multitude of rare plants and wildlife, and it's easily accessible from the Blue Ridge Parkway.
Graveyard Fields
BRP Milepost: 418.8
Length: 3.4 miles
Difficulty: Easy to Moderate

This is a popular hike thanks to its beauty and ease. The Graveyard Fields trail leads to Lower Falls, as well as through open, grassy areas and past nice wading pools that are perfect on a hot summer day. There's also no better place to pick mountaintop blueberries in late summer. You'll need to get there just as they ripen because hundreds of your fellow berry hunters will be joining you for this Sound of Music experience.
Mount Pisgah
BRP Milepost: 407.6
Length: 2.6 miles
Difficulty: Moderate

This trail is known for its commanding views of surrounding Buncombe, Henderson, and Haywood Counties. The 5,721-foot Mount Pisgah is clearly visible from around the region, and hiking to its summit even includes a beautiful drive up the Blue Ridge Parkway.

3 Lesser known hikes in WNC
If you are ready for a slightly more adventurous jaunt, here's where you can enjoy the wild side of WNC. Many of these hikes are strenuous and require good backcountry skills—please be careful!
Green River Gorge
Length: 16 miles
Difficulty: Moderate to Difficult
The remote Green River Gorge, southeast of Hendersonville, is a rugged landscape of steep ravines, coves, and old-growth forests. The gorge also boasts some of the most popular whitewater rapids in the eastern U.S. At its most impressive point, the Green River drops 400 feet in a distance of one and a half miles and runs through a six-foot-wide crevice known as the Narrows. It's an incredible experience if you are prepared to navigate the steep and rugged trail that includes a few stream crossings.
Panthertown Gorge
Length: 0.31–5.5 miles
Difficulty: Moderate to Difficult

At least eight major waterfalls live in the streams around Panthertown Gorge. You'll also find hikes that take you to cliff top views of the surrounding mountains or to sandy banks along deep, clear swimming holes. This area is not for the unadventurous—it's a confusing network of trails branching off with few signs or blazes. Hiking here requires you to be competent with a map and a compass, and may require an unexpected evening under the stars. But, if you are looking for one of those unique places that are well revered by hiking and outdoor enthusiasts, as well as by ecologists, Panthertown Gorge is the cats meow.
Art Loeb Trail
BRP Milepost: 420.2
Length: 30.1 miles
Difficulty: Difficult

The Art Loeb Trail is one of the longer and more difficult trails in the state. It's also one of the more popular. This trail is a memorial to Art Loeb, an activist from the Carolina Mountain Club. Traveling mainly along peaks and ridges, it skirts along the southwestern rim of the Davidson River valley, then skips across some of the highest peaks in the area before descending Cold Mountain, the peak that inspired the bestselling book and movie.

Learn more about hiking WNC
Allen Tate/Beverly-Hanks agents are some of the most knowledgeable people around Asheville, Hendersonville, Waynesville, and beyond. They're very open to sharing their knowledge of the region, including their favorite hiking trails across WNC.

If you'd like to learn more about hiking Western North Carolina, contact us today.

Visited 98 times, 1 visit(s) today