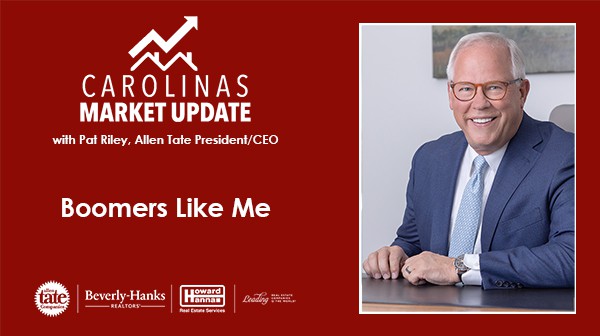 Last Updated on May 26, 2023
Allen Tate Companies President & CEO Pat Riley offers personal advice
In recent years, the dominant homebuying demographic was the Millennials – people between the ages of 24 and 42, many buying their first homes.
But last year, the Baby Boomers surpassed the Millennials as the largest homebuying generation, representing 39% of all buyers, according to the National Association of Realtors®. The Boomers also remained the largest home selling generation, representing 52% of all sellers in 2022.
"Boomers were not downsizing as they have done historically; they were actually making trades for same-size properties or even opting for larger dream homes last year," said Allen Tate Companies President and CEO Pat Riley in the May edition of Carolinas Market Update.
"Because they have equity built up from previous homeownership, it was easy for Boomers to move to a different home. Millennials, on the other hand, found homeownership less attainable because of higher interest rates, home price appreciation and yes, Boomer competition for the same properties," said Riley.
Until the past decade or so, Boomers decided in their early 60's that it was time to move to a smaller home. The kids were grown and gone, retirement was near, they didn't need all that space, or they wanted to move to a community of same-age adults.
"Today, Boomers are delaying downsizing until age 74 or 75. We are healthier and more active, and many of us have a home with a primary suite downstairs, so no steps to worry about. We're staying put longer, because we're simply not ready to move to the next stage of our lives," Riley said. "And when we finally decide to make a move, that might mean buying a different home, but not necessarily a smaller one."
While Boomers are finally moving, they are struggling to sell homes that are outdated, cluttered or simply not desirable to today's buyers, Riley said.
"Most of us Boomers need a Home Physical. That's one of the homeownership resources we provide as Realtors. We'll help you take a closer look at your home, and make a list of things you must do, things you should do, and things that can probably wait a bit," Riley said.
"Think of it in small bites; do a little each year. Then you'll be ready when the time comes when you want or need to sell, and you won't leave your children with a large problem to manage."
Carolinas Market Update is targeted to consumers in the Charlotte, Triad, Research Triangle, High Country, Highlands/Cashiers, Asheville/Mountain, and Upstate S.C. regions. It is produced every other month by the Allen Tate Companies and features information, statistics, trends, and predictions about the real estate market in North and South Carolina.
Allen Tate is the Carolinas' largest real estate company based on closed sales volume, with 71 offices in the Charlotte, Triad, Triangle, High Country, Highlands/Cashiers and Asheville/Mountain regions of North Carolina and the Upstate of South Carolina. Allen Tate offers the advantage of hometown service with international capabilities and the latest in real estate technology and maximum marketing exposure. Visit www.allentate.com for more information.
(Visited 624 times, 1 visits today)