Last Updated on June 20, 2023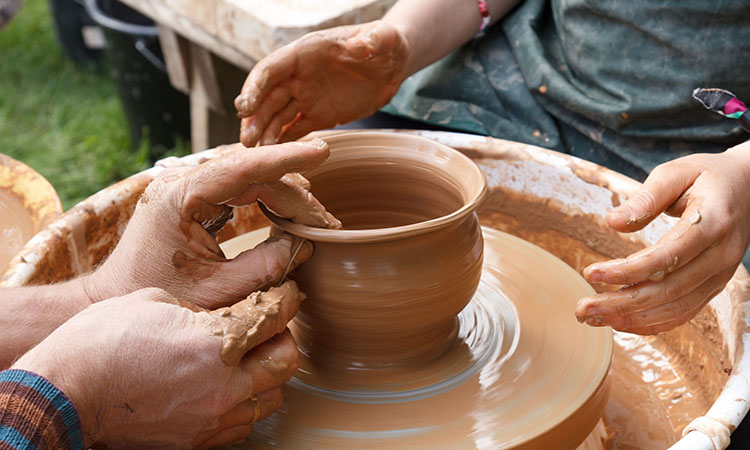 Across Western North Carolina, we've seen art spaces add new life and a sense of identity to our neighborhoods. For many of our mountain communities, the arts have led the way in the revitalization of downtown centers and community camaraderie.

From traditional Appalachian craftworks to shows at the North Carolina state theatre, there are as many outlets for creative expression as there are personalities to inspire them. If you love local art as much as we do, there are many ways to expand and refine your skills. Here are five local art classes you can check out in and around Brevard, NC. 
ArtLab
ArtLab is a place to discover, create, and experiment with a wide variety of ways to display your artistic expression. They offer classes and events related to a wide variety of creative endeavors for all ages, with no experience required. Past classes have included Mixed Media Quilt Blocks, Intro to Visual Journaling, Knitting for Beginners, and West Coast Swing. If you're interested in learning some new skills, even if "you aren't an artist," ArtLab is for you.

156 S Broad Street, Brevard | (828) 877-2785 | artlabnc.com

Blue Ridge Community College
Sometimes art isn't about production, it's about personal enrichment. At BRCC, Personal Enrichment classes offer the opportunity for learning experiences as diverse as oil painting, line dancing, wire jewelry making, or motorcycle safety. Their arts courses are great for all who want to brush up on their fundamentals. Hand lettering and calligraphy can be used on everything from journaling to illuminated manuscripts. Additional crafts courses cover topics including rubber stamping, stained glass, and quilting.

Transylvania County Campus | 45 Oak Park Drive, Brevard | (828) 883-2520 | blueridge.edu

Mountain Roots, Inc.
The nonprofit Mountain Roots is a great resource for those inspired by the outdoors. Their outdoor education programs, retreats, and camps focus on environmentally responsible and community centered living. Children and teens can get a little dirty at Pottery Camp. Women of all ages can also enjoy an inspirational art and nature retreat designed to put you in touch with your natural surroundings and the community of other creative women.

P.O. Box 248, Cedar Mountain | (828) 384-4629 | mountainroots.org

Sun Dragon Art & Fiber
Sun Dragon Art & Fiber offers instruction and supplies in yarn, knitting, and crochet notions, as well as paint, origami, papercrafts, adult coloring books, and other artful forms of expression. They are currently offering outside lesson help on Wednesdays and Fridays. These $15 sessions are held outside with masks, and a staffer will assist with an ongoing project, diagnose errors, answer questions, or help you start a new project. Virtual knit nights and Facebook Live knit/crochet afternoons are also available.

35 S Broad Street, Brevard | (828) 877-3550 | sundragonartandfiber.com

Transylvania Community Arts Council
Transylvania Community Arts Council provides arts education to the community. In light of restrictions and guidelines for children's programs during the COVID-19 pandemic, their regularly scheduled children's summer art and pottery camps are cancelled this season. However, adult pottery courses are scheduled to resume by late July. The center also offers private pottery classes and parties at $60 an hour. Create your own artistic adventure for a group of friends who want to learn and play together.

349 S Caldwell Street, Brevard | (828) 884-2787 | tcarts.org

Find your positive space in Brevard, NC!
In addition to offering a variety of interactive art classes, Brevard, NC has distinguished itself as an epicenter for outdoor adventures, education, and music. Tucked along the edge of the Pisgah National Forest, Brevard is a hotspot for eclectic in-town living and big mountain views. Downtown is a vibrant and walkable hub of independent shops, boutiques, galleries, pubs, and eateries. And Brevard is rich in regular annual events and festivals.

Does that sound like the perfect lifestyle for you? Find homes in Brevard now!

Visited 5 times, 1 visit(s) today