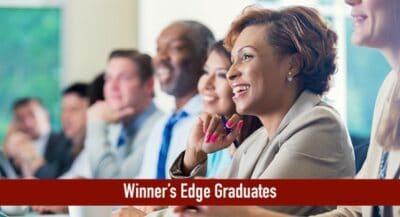 Last Updated on September 29, 2022
Allen Tate Companies, the Carolinas' leading real estate company, has announced that the following individuals have graduated from the company's Winner's Edge program:
CHARLOTTE REGION
Lynda Jewett – Charlotte-Ballantyne
Diane Eller – Charlotte-SouthPark
June Kim – Charlotte-University City
Garrett Cox – Gastonia
Chris NeSmith, Tim Turnbull – Indian Land-Doby's Bridge
Matt Gery, Yasmin Loft – Lake Norman
Josie Roth – Lake Wylie
Ruth Ippolito – Matthews/Mint Hill
Lea Wagner – Wesley Chapel
TRIAD REGION
Smedes Lindner – High Point
Shanda Adkins, Kayla McDowell – Winston-Salem
TRIANGLE REGION
Kelly Kuo – Cary
Judy Johnson – Wake Forest/Rolesville
UPSTATE REGION
Adrian McGee – Greer
John Fair, Sarah Peloquin – Lake Keowee West
Exclusively for Allen Tate Realtors, Winner's Edge is a required, comprehensive real estate training program. The curriculum includes the latest in national real estate trends, technology, license law, sales and marketing techniques, integrated with detailed information about the local real estate market. As a result of this intensive course of study, Realtors are equipped with the latest tools in the industry in order to serve their clients in a knowledgeable, caring and professional manner.
Since 1957, Allen Tate Realtors has focused on the needs of consumers by providing one-stop shopping with choices in branches located in communities throughout the Carolinas.
Visited 320 times, 1 visit(s) today