Last Updated on May 24, 2023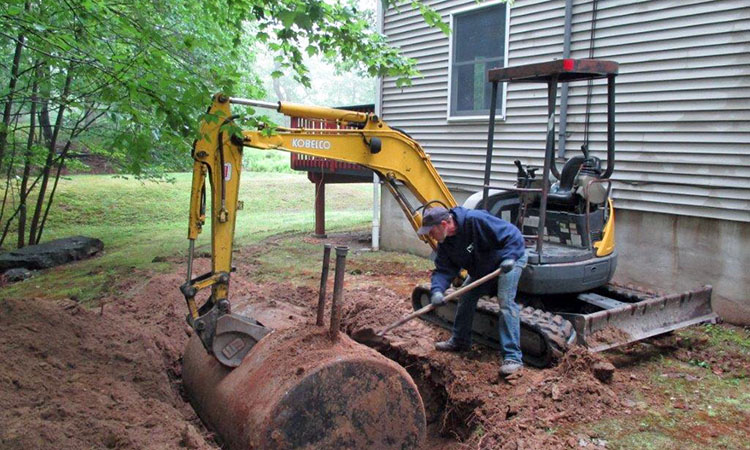 Out of sight, out of mind.
Underground storage tanks are something you've probably rarely thought about, if ever at all. Compared to marble countertops, walk-in closets, and outdoor patios, USTs rarely factor into a home buyer's decision making process. But if you ever have trouble with one, your UST will quickly become one of the more expensive features of your home to replace.
Don't get caught off guard. Learn about residential underground storage tanks now, and be prepared should you ever need to replace one. Here are six questions about USTs and the answers you need to know:
1. What is an underground storage tank?
According to the EPA, "an underground storage tank system (UST) is a tank and any underground piping connected to the tank that has at least 10% of its combined volume underground."
There are more than 553,000 USTs in the United States that store petroleum or hazardous substances. While many of them are used for commercial purposes, the quality of both commercial and residential USTs is of public interest. "The greatest potential threat from a leaking UST is contamination of groundwater, the source of drinking water for nearly half of all Americans," says the EPA.
2. Do I need to worry about UST leaks?
Before 1988, most USTs were made of bare steel. When exposed to moisture and time, bare steel would corrode and cause the USTs to leak. Leaking petroleum (or other chemicals) could contaminate local groundwater sources. It could also be a fire or explosion hazard.
Since then, EPA regulations have required UST owners to locate, upgrade, remove, or replace underground storage tanks. Corrosion control and tank monitoring systems were used to upgrade many USTs. Thousands of other USTs were removed without replacement.
Today, most Americans are safe from potential groundwater contamination by USTs, such as those at nearby gas stations.
3. Does the EPA regulate my home UST?
If your home's heating oil is stored in an underground storage tank, you are more than likely not subject to federal EPA regulations.
EPA regulations specifically target large, commercial USTs, such as automobile filling stations and non marketers who use tanks solely for their own needs (such as fleet service operators and local governments). EPA regulations do not directly apply to:
Farm and residential tanks of 1,100 gallons or less capacity holding motor fuel used for noncommercial purposes.
Tanks storing heating oil used on the premises where it is stored.
Tanks on or above the floor of underground areas, such as basements or tunnels.
Septic tanks and systems for collecting stormwater and wastewater.
Flow-through process tanks.
Tanks of 110 gallons or less capacity.
Emergency spill and overfill tanks.
So, regular homeowners do not need to worry about meeting EPA regulations. However, some state and local regulatory authorities have their own regulations for these types of tanks. It's important to check with authorities where your USTs are located.
4. How do I know if my residential UST leaks?
Just because your home's oil tank isn't regulated by the EPA, that doesn't mean it couldn't be dangerous. Compared to Aboveground Storage Tanks (ASTs), it's difficult to tell if your UST is leaking. If your tank leaks into your property's soil, it could contaminate your land and groundwater, and even neighboring properties.
If you suspect a UST leak, check for any of these signals:
Smell of petroleum.
Stains on the soil or an oily sheen on water near the tank.
Gas vapors in the basement.
Water that tastes or smells like petroleum.
Erratic behavior of your heating system.
5. What do I do if my residential UST leaks?
If you discover signs of a leak, spill, or soil contamination, you are required to contact the North Carolina Department of Environment and Natural Resources (NCDENR) regional office at:
2090 U.S. Highway 70, Swannanoa
(828) 296-4500 | deq.nc.gov/contact/regional-offices/asheville
In the case of an oil leak, soil and groundwater samples may need to be taken to determine how much contamination is present. These samples must be analyzed by a certified laboratory to ensure that the sampling is completed according to NCDENR guidelines.
If the UST has been used since November 8, 1984, then you are considered the tank owner. There is no longer state financial assistance for you as the tank owner, and EPA funding does not apply for residential tanks. You are solely responsible for the costs of cleanup, attorney fees, tank removal cost, and additional work necessary to meet state cleanup guidelines.
6. What questions should I ask about USTs as a home buyer?
Since North Carolina no longer financially assists residential UST owners with cleanups in the case of a tank leak, home buyers are better off acting proactively. Here are a few questions to consider during your home buying process:
What is the age of the house?
Many homes built before the late 1970s had underground storage tanks installed. In addition to inquiring about lead paint and the state of the home's wiring, ask if older homes had a UST and if it's still on the premises.
Has there been a petroleum leak in the past?
If cleanup was handled properly, older leaks pose little to no threat to current residents. However, if there was a leak, it's important to know how big it was and how much soil was removed and replaced.
What if I don't want to use the heating oil tank?
If you choose not to use the heating tank at your new home, you are advised to empty it in order to limit the chances of a release. You're not required to remove the tank, but remember that having an unused UST on the property may limit your ability to resell the property later.
Do you have even more questions?
Before you invest your hard-earned down payment on a property, make sure you know exactly what you're getting. If you still have questions about USTs, our Allen Tate/Beverly-Hanks professionals are here to help. Contact your agent today for more information about what to do when buying a home with a UST.
All real estate is local. In order to make confident real estate decisions, we believe it is important for you to have timely and neighborhood-specific information. If you would like more information about the concerns that come with buying older homes, our experts at Allen Tate/Beverly-Hanks are here to help. Contact us today to speak with an Allen Tate/Beverly-Hanks real estate agent about buying homes and land in Western North Carolina.
Photo from Combined Energy Services
Visited 193 times, 1 visit(s) today