Last Updated on August 15, 2018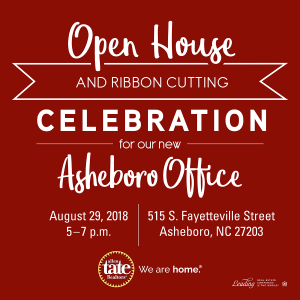 Allen Tate Realtors® will host a grand opening celebration and ribbon cutting at the company's Asheboro office on August 29, 2018, from 5 to 7 p.m. The office is located in the heart of Asheboro's business district at 515 S. Fayetteville Street.
The drop-in event is open to the public. Attendees are invited to tour the office, meet Allen Tate Realtors, enjoy refreshments and register to win prizes. Entertainment will be provide by High Cotton, a country vocalist with acoustic guitar. A ribbon cutting by the Asheboro/Randolph Chamber of Commerce will be held at 5:30 p.m.
"We love our new home in Asheboro and we look forward to welcoming our clients, business colleagues and friends to our new office," said Janet Parris-Gray, Allen Tate Asheboro branch leader.
Allen Tate has served the Asheboro area since 2009 and moved to its new location in June.
Allen Tate Realtors is the Carolinas' largest real estate company, leading in listings and sales volume. Allen Tate Company operates 47 branches in the Charlotte, Triad, Triangle and Upstate South Carolina regions.
No RSVP is required. For more information or directions, call 336-633-1333.
Visited 36 times, 1 visit(s) today