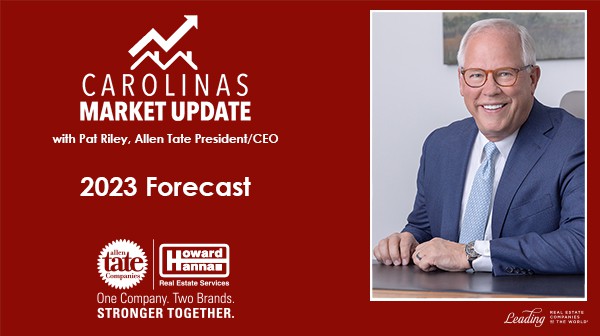 Last Updated on January 4, 2023
Allen Tate President & CEO Pat Riley says market "normalization" is healthy, sustainable
Interest rates, supply issues, appreciation, affordability – and yes, a housing recession – will all impact real estate in 2023.
"These things are part of a housing market normalization, and that's a good thing that is sustainable," said Allen Tate Companies President and CEO Pat Riley in the January edition of Carolinas Market Update.
After a record 2021 and a strong start to 2022, market dynamics began to shift, Riley said.
The Federal Reserve took steps to curb inflation, which resulted in an increase in the mortgage rate to more than 7%. Riley expects to see rates drop to 5-6% in 2023, which is below the historic average of 7% since World War II.
"Currently, 64% of homeowners have an interest rate below 4%, and 32% have a rate below 3%. Any decision to move will mean giving up a low rate that may never repeat," Riley said.
It will be a bit easier to find a home in 2023, as inventory of existing homes increases, and homes stay on the market a bit longer. But lack of new construction, combined with housing demand from in-migration to the Carolinas and sellers aging in place will keep it a seller's market. Appreciation will drop to 8-10% annually (down from 13-15% in 2022) but will remain higher than the historic norm of 3.8% per year.
"Homes are not depreciating; they are just not appreciating as fast as they did in 2020 and 2021. Sellers must understand that they will still get a good price, but not the price their neighbor achieved during those two outlier years," Riley said.
Are we headed for a recession?
"Yes, housing-wise, across the country. But it will be a recession with a small "r" – short-term and moderate, not like the capital "R" recession that began a four-year downturn in 2007," Riley said.
"In a recession, housing is one of the first sectors to slow – and one of the first to rebound," he added.
Housing affordability will keep first-time buyers in the rental market longer, Riley said, with only 25% of homes sold in 2022 priced under $300,000. With salaries not keeping pace with home appreciation, younger buyers are increasingly relying on family to help with down payment assistance or as co-signers.
Investors looking to turn a quick profit by flipping homes will decrease in 2023, but those looking for a return in the form of rental income will continue to buy as the cap rates remain very favorable.
"The market has been spoiled with nearly perfect conditions of low, low rates and amazing appreciation in recent years. We're just getting back to normal," Riley said.
"While the dream of homeownership may look a little different, it remains strong in the Carolinas."
Carolinas Market Update is targeted to consumers in the Charlotte, Triad, Research Triangle, High Country, Highlands/Cashiers, Asheville/Mountain, and Upstate S.C. regions. It is produced every other month by the Allen Tate Companies and features information, statistics, trends, and predictions about the real estate market in North and South Carolina.
(Visited 2,938 times, 1 visits today)