Last Updated on April 26, 2023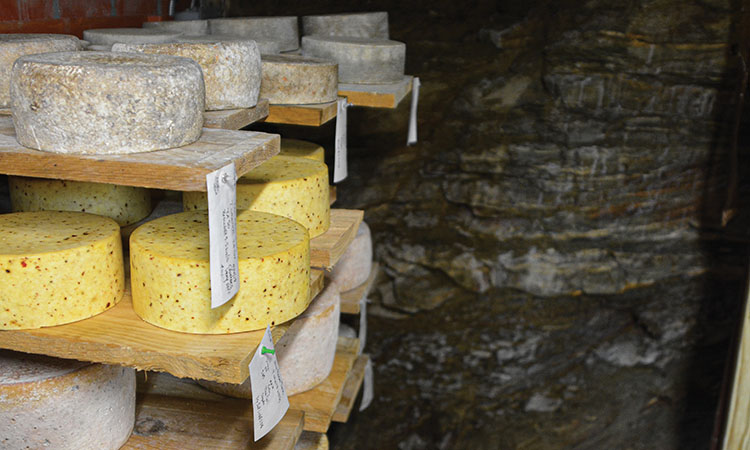 Travel to the outskirts of the towns and cities across Western North Carolina and you'll find picturesque, rural areas that are home to many small farms. From apple orchards and veggie producers to hop growers and flower farms, our mountain slopes supply a bounty of produce year round! In fact, some of our favorite pastimes are visiting local farm stands and farmers markets.
Here, local food production is not a trend. It has been and continues to be a way of life.
But there's another farm product that WNC locals think is "grate". Well over a dozen farms and cheesemakers across greater WNC are devoted to cheese production. And you can visit them by traveling the WNC Cheese Trail. Here's a quick introduction to the trail and how it works to promote cheese production across the region.
---
Explore the WNC Cheese Trail in this video playlist:
---
What is the WNC Cheese Trail?
Sixteen locally owned farms and cheesemakers currently make up the WNC Cheese Trail, which was founded in 2012. The Trail's award-winning cheesemakers range from new operations to pioneers in the artisan cheese movement. They also include both goat milk and cow milk cheesemakers.
At its core, the trail directly connects consumers like you with these cheesemakers. Along the Trail, you see where your favorite cheeses are crafted and buy straight from the producers. The Trail operates as a nonprofit cooperative to promote these farms and cheesemakers, as well as the production and sale of area artisan cheeses.
"People in Western North Carolina love their local food. And they understand the importance of purchasing things that are locally made and locally produced. So, the cheesemakers here provide a wonderful opportunity for people to interact with them at their farms and purchase products that are handmade right here in Western North Carolina."

Katie Moore, former Executive Director of the WNC Cheese Trail
The WNC Cheese Trail is fun for consumers and cheesemakers
Local food is a staple of our area, and the WNC Cheese Trail is one way the region supports this vital growing industry. As a nonprofit, their mission is also to educate the community about cheese making as much as it is to promote sales. For the last few years, the Trail has hosted the annual Carolina Mountain Cheese Festival to do just that.
"Another goal of coming together and creating the Trail is to educate consumers. Not only about locally made food, but the artisanal and traditional role that happens in regard to making cheese. Rarely do we eat cheese alone. We usually do things like eat it with bread, and crackers and charcuterie, and preserves, and mustards. All of those things are made right here in Western North Carolina, so there's a vibrant, sustainable industry here."

Katie Moore
Interacting with customers on the trail adds to the cheesemakers' experience, as well. After all, cheesemakers love what they do and love sharing their products and knowledge with the community.
"It's a lot of fun because we're kinda solitary people. You know, we're here, we're making cheese, or you're on the farm and you're milking your cows or goats. And if you don't get off the farm, you don't get to see people. [So participating in the Trail is] fun!"

Victor Chiarizia, Blue Ridge Mountain Creamery in Fairview
WNC is a perfect location for a cheese trail
Outside of town centers, WNC is a quilt of beautiful rural areas that are home to many small farms. The farms that participate in the WNC Cheese Trail have a symbiotic relationship with both the land and their clients: The land itself delivers the products that the farms then sell to the cheesemakers. And this mutual collaboration preserves the authentic rural lifestyle that draws so many to the area.
"You need good milk to make good cheese. In Western North Carolina, you have a lot of farmland out here, you have a lot of strong animals that are producing amazing milk. Having that connection with the animals and the land, which play a really important role in making good cheese—it's important to be in a setting where you can do that.

"And if you need to be in a rural setting, this is one of the best places because of the beauty of the mountains and the hills, the water. There's so many attractions that I think bring people here, but certainly for cheesemakers, a really important one is that connection to the land."

Katie Moore
Have a gouda time on the WNC Cheese Trail today!
Like your love of cheese, there is no beginning or end to the WNC Cheese Trail. Spend an afternoon or a weekend soaking in the beauty of Western North Carolina and sampling some of the best artisan cheese being made in the South.
Use the map at WNCcheesetrail.org to plan your route. Remember that each business is independently owned, and not all stops offer farm tours. Visit their website before planning your visit.
Visited 61 times, 1 visit(s) today