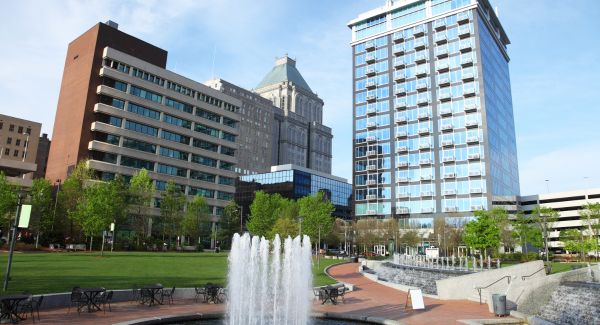 Last Updated on August 30, 2023
Named for the three largest cities in the area—Greensboro, Winston-Salem, and High Point, the Triad is centrally located in North Carolina. Home to a plethora of activities and sight-seeing, as you're looking for weekend activities, we invite you to consider visiting some of the best things to do and see in the Triad.
Jump to navigation
NC Folk Festival
Spanning over three days and featuring 300 artists, the NC Folk Festival is a free event held each September in downtown Greensboro. Held September 8-10 this year, you can expect an experience rich in cultural heritage through music, dance, crafts, food, and fun. As one of the fastest-growing free festivals in the Southeast, you'll be glad you came out to this eclectic event. As part of our initiative to support arts and culture in our communities, Allen Tate has been a proud sponsor of the Folk Festival since 2018.
Greensboro Science Center
What started out as a humble nature center at County Park has grown exponentially through the years and is now one of the top things to do in Greensboro, NC. If you've never been to the Greensboro Science Center, you're in for a trifecta of fun, as the science center is technically home to a museum, zoo, and aquarium. Spy on the sloths, travel to new heights in the outdoor treehouse canopy experience, pet a stingray, and see T-Rex up-close when you visit this museum. In terms of value, especially if you have kids, the Greensboro Science Center cannot be beat!
International Civil Rights Center and Museum
Located in Greensboro, NC, the International Civil Rights Center & Museum (ICRCM) is dedicated to the preservation of civil rights history and culture by providing educational resources to individuals from all walks of life. Founded in 2004, ICRCM stands as a monument to those who fought and sacrificed for human rights during the civil rights movement.
The museum is home to a variety of exhibits, including the historic lunch counter sit-ins in Greensboro and artifacts from the civil rights era. It also features an interactive multimedia timeline that traces the history of civil rights from 1776 to the present day. Additionally, the museum offers educational programs such as seminars, lectures, and workshops to educate visitors on current issues surrounding civil rights.
Greensboro Arboretum
If peace and tranquility are what you're searching for, you'll find your zen on this 17-acre site featuring 14 different plant collections and special display gardens. The Greensboro Arboretum is open year-round and is free to the public.
Old Salem Museums & Gardens
Old Salem Museums & Gardens is a living history museum located in Winston-Salem, North Carolina. It's a great spot for visitors to experience the 18th and 19th centuries through its historic buildings, artifacts, gardens, and more! Here you can explore the architecture, culture, and history of the early Moravian settlers who settled in the area.
As one of the most comprehensive historical attractions, Old Salem features historic buildings to explore, including a boys' school and the Miksch House. Visitors can also explore Moravian craft workshops, such as the pottery shop and tinsmith. Additionally, Old Salem has a variety of artifacts to view, including silver items, furniture, tools, ceramics, and textiles.
Reynolda House Museum of American Art
Art aficionados will delight in the Reynolda, as they have the opportunity to take in a unique collection of world-renowned American art and curated exhibitions onsite in the former home of Katharine and R.J. Reynolds's bungalow. Completed in 1917, the home of Katharine and R.J. Reynolds stretches more than 34,000 square feet and is the centerpiece of a 1,067-acre estate. Visitors to the estate will take in more than 6,000 historical objects along with an extensive art collection spanning over 250 years and featuring artists such as Georgia O'Keeffe, Frederic Edwin Church, Alexander Calder, Romare Bearden, Lee Krasner, Stuart Davis, Martin Johnson Heade, Jacob Lawrence, John Singer Sargent, Andy Warhol and Grant Wood.
Kaleideum North
Kaleideum is an experiential learning museum where little learners can easily spend 2-3 hours exploring the many interactive exhibits found in the museum, including By Design, In Motion, Digital Dome, Our Nature, Storytelling, and Wonders of Water. In the museum's newest exhibit, Dino Discovery, little visitors will become paleontologists for a day, where they'll have the opportunity to come face-to-face with animatronic dinosaur models, examine real and replica fossils, and explore the digital fossil dig.
Visit furniture stores
You can't come to High Point, NC without shopping for home furnishings. Known as the Home Furnishings Capital of the World, if you're in need of furniture, you'll find more than 100 furniture stores and outlets in High Point. If you're not sure where to start, stop by Furnitureland South first, which is dubbed the world's largest furniture store with over 1 million square feet of furniture. Speaking of furniture, don't forget to stop by the larger-than-life Chest of Drawers for a photo-op.
Nido & Mariana Qubein Children's Museum
Recently clinching the title of North Carolina's Visitor Attraction of the Year by the NC Tourism Industry Association, children will love this museum as they challenge their climbing, step into the upside down world of ginormous, get lost in space in the Mars Academy, and more! Tickets frequently sell out, so it's best to plan ahead and reserve tickets ahead of time.
Visited 1,029 times, 1 visit(s) today