Last Updated on June 6, 2023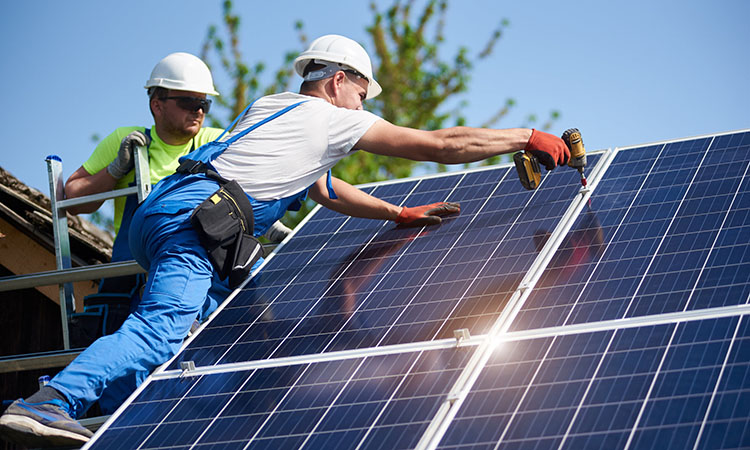 Have you been hearing more about solar energy recently? It's not your imagination. The Solarize Asheville-Buncombe program is offering locals great group rates for solar energy, battery storage, and other clean energy technologies. In addition, there's currently a 26% federal tax credit available for homeowners installing solar PV systems. Whether you're a homeowner, local nonprofit, small business, or interested in turning your land into a solar farm, there's never been a better time to get started with solar!
If you think moving to solar energy is a bright idea, here are 14 local companies that can help you make the switch.
Asheville Solar Company LLC
Asheville Solar Company is a small, family-run business specializing in solar PV and solar thermal installations. They aim to be Asheville's affordable and accessible answer to sustainable energy by using a holistic approach to renewable energy production.
39 American Way, Fletcher | (828) 552-4851 | ashevillesolarcompany.com
Blue Raven Solar
Blue Raven Solar is one of the fastest growing solar companies in the nation. They are a full-service in-house solar provider promising a speedy installation—one to two months in most cases—and superior customer service for you.
8210 University Executive Park Drive, Suite #160, Charlotte | (855) 826-4948 | blueravensolar.com/north-carolina/asheville
Brio Energy
Brio makes going solar easy, from the consultation and design process through permitting and installation. This Utah-based company has more than 2,000 installs under their belt generating more than 15 million kWh of energy. Brio has a team located in Asheville.
60 N Market Street c200, Asheville | (801) 783-5959 | briosolarenergy.com
Encōr Solar
With active locations across 18 states, Encōr Solar is obsessed with quality work. They take care of it all, from single-day installation to financing. So you can simply switch your utility payment with your solar loan payments and start saving money and the earth.
90 Southside Avenue #300, Asheville | (828) 552-4573 | encorsolar.com
HAYNES Solar
HAYNES Solar offers free energy assessments and innovative ideas to help you find the best fit for your energy needs. They install and service energy equipment, and can advise on rebates, tax incentives, and solar energy production. HAYNES Solar always has tomorrow in mind.
187 Deaverview Road, Asheville | (828) 254-6141 | mbhaynes.com/solar-3/
Innovative Solar Systems, LLC
Founded in 2011 in Asheville, Innovative Solar Systems has become one of the nation's top developers under the leadership of brothers John and Richard Green. ISS has thus far developed 2.4GW of sustainable solar farms, harnessing enough energy to power more than 1.5 million homes.
1095 Hendersonville Road, Asheville | (828) 424-7884 | innovativesolarsystemsllc.com
Rhino Renewables Solar & Electric
At Rhino, you will find a team of experienced solar professionals who are ready to make your solar goals a reality. They are Asheville and WNC's full-service solar design, installation, and electrical contractor. Ask about solar PV, battery backup, generators, EV chargers, and electrical contracting.
(828) 214-5126 | rhinorenewableswnc.com
Riverside Solar LLC
Riverside Solar works with landowners, businesses, and organizations to develop solar farms on their properties. From the seed of an idea to a permitted, ready-to-construct project, they simplify the process of going solar so that you can generate reliable long-term revenue from your land.
20 Battery Park Avenue, Asheville | (828) 575-3486 | riversidesolar.com
Roof and Solar Solutions
Roof and Solar Solutions uses a civil engineering background and years of experience in the roofing and solar industry for your benefit. They can answer all your solar power questions, and help you make the right decisions—at no additional cost to you.
5 Sunwashed Way, Asheville | (828) 707-1393 | roofandsolarsolutions.com
SolFarm Solar Co.
Live sustainably and radically reduce your electric bill with SolFarm Solar. Their residential and commercial services include turnkey installation, battery backup and off-grid power, Tesla powerwalls, and EV charging stations. They are with you at every step of the installation process and beyond.
75 Glendale Avenue, Asheville | (828) 332-3003 | solfarm.com
Sugar Hollow Solar
Sugar Hollow Solar is about powering your life in a thoughtful way. Everything they offer is designed to bring you more comfort, security, and savings—all while lowering your carbon footprint. They work with homeowners, nonprofits, and businesses in Asheville and the surrounding area.
2 Miller Road E, Asheville | (828) 776-9161 | sugarhollowsolar.com
Sundance Power Systems Inc
With 22+ years of experience and more than a thousand residential, commercial, and institutional projects throughout the Southeast, Sundance Power Systems is a leading renewable energy company in the region. They work to make the process seamless.
11 Salem Hill Road, Weaverville | (828) 645-2080 | sundancepower.com
Thermacraft Energy Services LLC
Thermacraft Solar Solutions has specialized in the design, installation, and repair of solar electric (grid-tied and stand-alone), solar hot water, and radiant floor heating systems since 1988. They are the area's oldest and most reputable of the solar energy companies.
306 Elk Park Drive, Asheville | (828) 712-5470
Are you considering the switch to solar power? Let us know which of these solar energy companies in Asheville you would use in the comments below!
Visited 43 times, 1 visit(s) today