Last Updated on May 31, 2023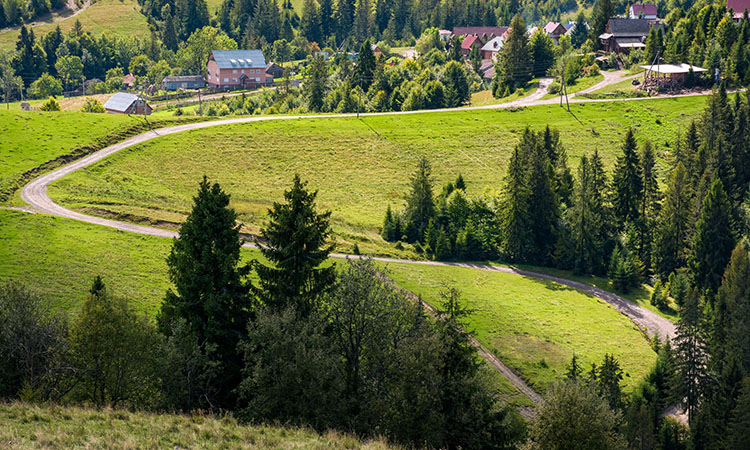 In today's fast-paced and crowded world, we understand the appeal of an isolated mountain home at the end of a private road. But don't trade in your car for something with four-wheel drive just yet!

There can be many complications with living on a private road. Between easements and agreements and the requirements of your home loan, there's a lot you need to  have in place before finalizing your purchase. Luckily, your Allen Tate/Beverly-Hanks REALTORⓇ is here to help steer you through the process.

Here are six important things you need to know about living on a private road.

What is a private road?
Private roads are roads "owned and maintained by a private individual, organization, or company rather than by a government." You may be picturing rural country roads leading to a single ranch home, but homeowners associations within subdivisions, housing co-ops, and other groups of homeowners could also be responsible for maintaining private roads. Private roads, especially through subdivisions, have become increasingly common since the turn of the century.

What is an easement?
An easement serves as a legal right of way that allows for the construction and use of a shared private road. When reviewing easements during your home purchase, it's important to understand their scope. To whom does the easement give access to the road and who is responsible for maintaining it?
What questions should I ask when building a private shared road?
Whether building a private road on raw land or reviewing existing easements, it's important to know the answers to these questions:
Who has access into the development and to the lot I want to buy? Does an existing road provide access?
Is an existing road maintenance agreement in place, and if not, who maintains the road?
How much will it cost each landowner to maintain the shared private road, and is there a reserve account dedicated to these needs?
Do the existing residents adhere to the agreement as it is written, and what are the legal repercussions it they do not?
Who is responsible for private road maintenance?
Neighbors who share a private road share in the cost of its maintenance and repair. In most cases, neighbors share their responsibilities equitably without issue. However, across North Carolina, the absence of written private road maintenance agreements have cost individual property owners thousands of dollars to make their roads passable for both private vehicles and for school buses and emergency vehicles.

A lack of a written road maintenance agreement can also cause issues for buyers pursuing certain types of home loans.

What is a road maintenance agreement?
At its core, a road maintenance agreement stipulates the details of shared road maintenance. In ideal cases, those stipulations are set up in advance by the developer and enforced by the homeowners association.

When no existing road maintenance agreement is in place, it is possible for home buyers to create one. However, all homeowners between the public road and the house being purchased must sign the new agreement. Any neighbor not interested in signing can present problems for the buyer.

Is a road maintenance agreement required by my mortgage loan?
Mortgage lenders vary in their requirements, and the condition of a private road maintenance agreement is no exception. All loans require your private road or street to be an all-weather surface. An all-weather surface is one on which emergency and typical passenger cars can pass at all times.

In addition, it's possible that you may need a road maintenance agreement in order to be approved for a mortgage loan. Freddie Mac and FHA loans typically do not require a private road maintenance agreement. However, agreements are required for Fannie Mae and VA loans. USDA loans are determined on a case-by-case basis.

Switching mortgage products late in the process can halt your closing date or cost you more in closing costs. Don't get caught off guard. Whatever loans you're pursuing, your loan officer will be able to clarify the specific mortgage requirements for you.

Do you still have questions about living on a private road?
All real estate is local. In order to make confident real estate decisions, we believe it is important for you to have timely and neighborhood-specific information. If you would like more information about living on a private road, our experts at Allen Tate/Beverly-Hanks are here to help. 

Contact us today to speak with a Allen Tate/Beverly-Hanks real estate agent about buying homes and land on private roads in Western North Carolina.

Visited 6,682 times, 19 visit(s) today