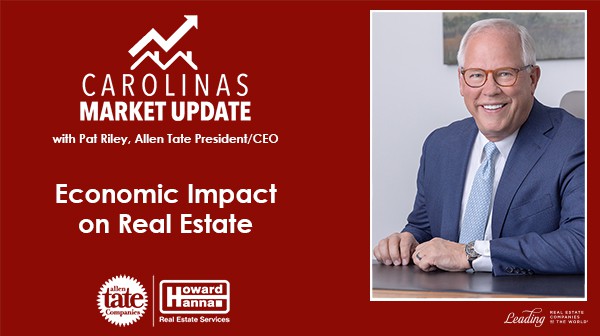 Last Updated on August 25, 2022
Allen Tate President & CEO Pat Riley says interest rates, appreciation will continue to rise
The changing dynamics of the economy have left us asking questions about what this means for residential real estate.

"No one has all the answers, but we can look at history and other factors to gain some understanding and insight," said Allen Tate Companies President and CEO Pat Riley in the July/August edition of Carolinas Market Update.
How high will interest rates go? "With 60 percent of mortgages below 4 percent and 40 percent below 3 percent, we're in a scenario that we've never experienced before. Interest rates have averaged 7 to 7.5 percent since World War II, so 7 percent is where buyers will begin to tap the breaks," Riley said.

Will appreciation continue?
In 2021, Allen Tate closed 20,000 transactions with an average appreciation rate of 13.3 percent, with appreciation moving up to more than 15 percent in the first half of 2022.

"While appreciation will begin to cool, it will be a long time until appreciation returns to the historic average of 3.5 percent. Only in the recession of 2007-2010 did homes depreciate in value," Riley said.

Investors will continue to show interest in the residential market, but less flipping and more focus on adding rental properties to their portfolio. New construction will continue to lag as faces the challenges of land and development costs, infrastructure and labor and supply chain
hiccups, Riley added.
"Boomers continue to hold the key to home inventory. They are holding out because they are healthier, and they are not bringing their homes up to today's standards," Riley said.

Are we heading for a recession?
"In many ways, we are already there. We've had a big reset. In an election year, it isunlikely that any sitting administration wants a recession on their hands. In the Carolinas, we will continue to see in-migration that will help insulate us," Riley said.

Carolinas Market Update is targeted to consumers in the Charlotte, Triad, Research Triangle, High Country, Highlands/Cashiers, Asheville/Mountain, and Upstate S.C. regions. It is produced every other month by the Allen Tate Companies and features information, statistics, trends, and predictions about the real estate market in North and South Carolina.
Allen Tate is the Carolinas' largest real estate company based on closed sales volume, with 70 offices in the Charlotte, Triad, Triangle, High Country, Highlands/Cashiers and Asheville/Mountain regions of North Carolina and the Upstate of South Carolina. Allen Tate offers the advantage of hometown service with international capabilities and the latest in real estate technology and maximum marketing exposure. Visit www.allentate.com for more information.
(Visited 85 times, 1 visits today)