Last Updated on May 14, 2018
Lake Norman-area Allen Tate Realtors® support local arts organization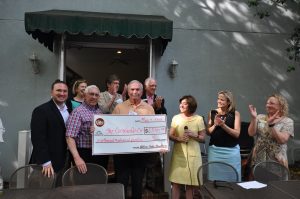 Northern Mecklenburg and Lake Norman residents are one step closer to enjoying professional dance, theater and visual arts close to home, thanks to the Allen Tate Companies.
Allen Tate recently presented a check for $6,345 to the Cornelius Arts Center (CAC), a planned arts and cultural facility in downtown Cornelius. The gift was part of funds raised by Allen Tate Realtors® and employees in its Lake Norman, Davidson and Huntersville offices through the company's annual Tate Cares giving campaign, which benefits arts and culture and United Way organizations.
The check was presented May 3 at Allen Tate's Annual Porch Party, on the patio adjacent to the Allen Tate office in downtown Davidson. The event celebrates the company's commitment to its local communities and honors Tate Cares recipient organizations chosen by agents who work in the greater Lake Norman region. The Ada Jenkins Center was also honored as a Tate Cares recipient.
Davidson Mayor Rusty Knox, an Allen Tate Realtor, provided acoustic guitar music for the event.
"We are fortunate to have such a strong partner in Allen Tate Realtors," said Greg Wessling, Cornelius Arts Center president and board chairman.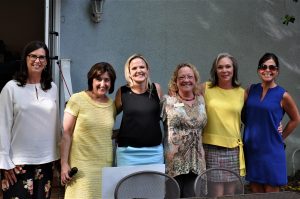 "Allen Tate's investment in the Cornelius Arts Center furthers our commitment to the greater Lake Norman community through the building of our new arts facility and the subsequent programming, entertainment and education we will provide for this broad audience," he said.
Justin Dionne, CAC executive director, also attended the event, along with members of the organization's board of directors: Cornelius Mayor Woody Washam, Town Commissioner Denis Bilodeau, Kate Gaither, Jim Duke, Donna Johnson, and Carroll Gray.
"Tate Cares supports a broad spectrum of organizations that impact the quality of life in our local communities," said Stephanie Gossett, Allen Tate regional vice president and 2018 Tate Cares chairperson. "A vibrant arts community helps drive people to the region, improving cultural and economic life at the same time."
As part of the Tate Cares campaign, Dionne shared the CAC's mission and future plans with three Allen Tate offices, including a presentation at the Old Town Public House, next to the future home of the CAC.
In 2013, Cornelius residents approved a $4 million bond project for downtown redevelopment, and funds were used to purchase 1.85 acres adjacent to the police station in downtown Cornelius for a future arts center. In 2017, Cornelius Arts Center was established as a 501 (c)(3), Dionne was hired as executive director, and two architectural firms were named to execute the center's vision.
For more information or to support the CAC project, visit www.corneliusarts.org or contact Anita Overcash at aovercash@corneliusarts.org.
Visited 55 times, 1 visit(s) today