Last Updated on April 7, 2023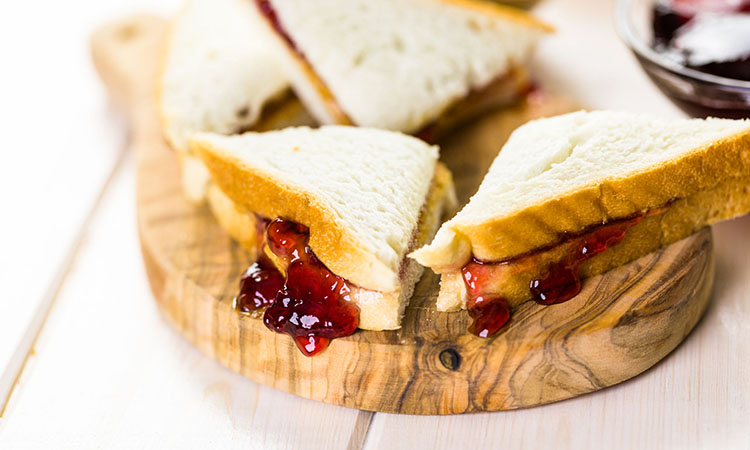 From National Pizza Day (February 9) to National Pumpkin Cheesecake Day (October 21), there are a lot of "national" occasions to celebrate your favorite foods. Yes, we're not entirely sure where many of these "holidays" originated. However, we're always happy to pay homage to the splendor of tacos (October 4), nachos (November 6), popcorn (January 19), and more!
It's a rare town that's home to an equal number of barbecue joints and Asian restaurants—and just as many ice cream parlors. But Brevard, NC is not just any town. If you're going to celebrate a series of food-based holidays, this is your place!
Here are five food holidays you should celebrate in Brevard this April.
Grilled Cheese Month, April 1–30
WHAT IS IT? – During rainy spring days, nothing hits the spot quite like a warm, gooey grilled cheese sandwich. Are we right? Sure, it may sound like a ridiculous holiday. But if you ask us, the audacity is not in giving this melty, velvety comfort food a day (or month) of its own. It's in not giving ovation to the majesty of a quality grilled cheese sandwich every day of the year!
BONUS: Celebrate National Grilled Cheese Day on April 12.
CELEBRATE @ MAYBERRY'S – Mayberry's serves good food like grandma used to make, but with an unexpected twist. Everything is made in house, including the classic grilled cheese made with two slices of white American cheese. But if you're craving a twist, we suggest the beef BBQ grilled cheese served on Texas toast. You won't regret it!
30 W Main Street, Brevard | (828) 862-8646 | mayberrys.co
PB&J Day, April 2
WHAT IS IT? – If grilled cheese didn't resonate as a classic, throwback lunch from your childhood, PB&J Day certainly will! According to the internet, "The average American will have eaten over 2,000 peanut butter and jelly sandwiches by the time they graduate from high school." But who said anything about only sandwiches? You can also celebrate with PB&J cookies, pancakes, ice cream, and more!
CELEBRATE @ ROCKY'S GRILL – Rocky's Grill and Soda Shop has been a hub of classic Americana since 1942. They still serve all your favorites, from flat-top burgers and hot dogs to famous milkshakes, malts, and egg creams. And PB&J sandwiches, too, of course! Enjoy creamy peanut butter and jelly on buttermilk bread—and try it grilled for a more decadent treat.
50 S Broad Street, Brevard | (828) 877-5375 | rockysnc.com
National Tea Day, April 21
WHAT IS IT? – Technically, this is a British national holiday. But if you're also a fan of the world's most popular beverage (second only to water), you should celebrate, too! By taking a day to "brew more, do more", you can cultivate more special moments on this day, and hopefully on many more days throughout the year.
CELEBRATE @ QUOTATIONS COFFEE CAFE – Voted the best coffee and sweets in Brevard, Quotations offers exceptional beverages in a comfortable and cozy setting on Main Street. But it's not just coffee that's available. Their hot and iced tea beverages are also carefully selected to meet the most discriminating tea lover's taste. While you're there, enjoy free wifi and a homemade pastry or dessert.
147 E Main Street, Brevard | (828) 883-8966 | quotationscafe.com
National Picnic Day, April 23
WHAT IS IT? – After a long, dreary winter, nothing feels better than packing up a tasty lunch and taking it outdoors! People have been eating meals outside in the beauty of nature for centuries. Enjoy the wonders of the Blue Ridge Mountains with a picnic excursion on this day. Get as formal or as fancy as you like. Stay in town, or take a hike to one of the area's many stunning waterfalls.
CELEBRATE @ PISGAH NATIONAL FOREST – With more than 500,000 acres of hardwood forest, Pisgah National Forest is a true natural wonder. Locals enjoy the mile-high mountain peaks, whitewater rivers, thundering waterfalls, and hundreds of miles of hiking trails all year round. Pack a basket of your favorite, locally made finger foods and explore a new trail. Just be sure to leave no trace!
Kentucky Derby, April 24–May 1
WHAT IS IT? – Widely regarded as "The Greatest Two Minutes in Sports," the Kentucky Derby is the most infamous event in horse racing. The races during Derby Week comprise the first leg of the American Triple Crown, followed by the Preakness Stakes, and then the Belmont Stakes. Of the three Triple Crown races, the Kentucky Derby had the distinction of having been run uninterrupted for 144 years previous to 2020.
CELEBRATE @ 185 KING STREET – The Derby is as much known for high fashion and strong cocktails as it is for the quality of the horses in the race. Celebrate with other local equestrians at Brevard's premier sports bar and music venue! Watch the race on the 125-inch screen and enjoy a selection of pub snacks, flatbreads, and sandwiches. Get into the spirit of the Derby with a mint julep or Kentucky mule.
185 King Street, Brevard | (828) 877-1850 | 185kingst.com
Live Abundantly in Brevard, NC!
If you love great food year round, you'll love living in Brevard, NC! Tucked along the edge of the Pisgah National Forest, Brevard is a hotspot for eclectic in-town living and big mountain views. Downtown is a vibrant and walkable hub of independent shops, boutiques, galleries, pubs, and eateries. The town has distinguished itself as an epicenter for outdoor adventures, education, art, and music. And Brevard is rich in year-round events and festivals.
Does that sound like the perfect lifestyle for you? Find your dream home in Brevard now!
Visited 15 times, 1 visit(s) today