Last Updated on June 6, 2023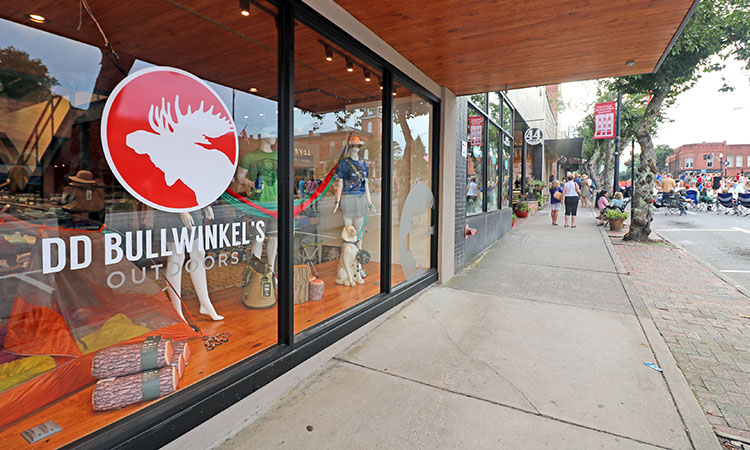 Even small towns can offer some of the finest charms Western North Carolina has to offer. Just ask the 7,800 residents of Brevard, the seat of Transylvania County. The town has distinguished itself as an epicenter for nearby outdoor adventures, education, art, and music. And those eclectic features make it an excellent location to #ShopLocal for the holidays.

If you still need gifts for everyone in the family, there are few places more varied and of better quality than these. Here's our guide to the best holiday shopping in Brevard, NC.

Brevard Clay: If you're shopping for an interactive, all-ages experience
Do you like to buy gifts or make them? Brevard Clay offers the unique combination of a professional art gallery and an interactive arts experience! Discover original stoneware pottery from resident potter Stuart Howe, as well as a curated collection of functional, affordable ceramics and other local crafts. Or make something beautiful to gift to a loved one. Brevard Clay is also a great place to take an all-ages group of friends or family for a creative gathering.

16 W Main Street, Brevard | (828) 884-2529 | brevardclay.com

Brevard Hemp: If you're shopping for CBD and wellness
We love supporting women-owned businesses, and Brevard Hemp is one of our favorite newer shops. If you're new to CBD products, there's no reason to be nervous. Brevard Hemp sells all USA made, quality CBD products. All farms, vendors, and producers represented have been carefully vetted to bring you the purest and most effective products available on the market. Shop for different symptoms and conditions for everyone on your list—even pets!

19 N Caldwell Street, Brevard | (828) 884-8420 | brevardhemp.com

Broad Street Wines: If you're shopping for the adults in the room
Located in the center of downtown, Broad Street Wines combines a superb selection of wines and beer with knowledgeable and friendly service—all in a cozy neighborhood atmosphere. Find high quality, hand-chosen products at a great value, as well as individualized service that will exceed your expectations. From award-winning small production wines to unique brewery favorites and quality cigars, you'll find something for every taste and budget.

30 S Broad Street, Brevard | (828) 883-2101 | broadstreetwines.com

D.D. Bullwinkel's: If you're shopping for outdoor adventures
D.D. Bullwinkel's loves the outdoors, just like you do. As Brevard's premier outdoor retailer, they are committed to providing the best items and supplies the outdoor industry has to offer. You'll find affordable clothing, footwear, and gear, rich in quality and design. And you'll meet knowledgeable staff to help you find it, tell you all about it, and teach you how to use it. D.D. Bullwinkel's is locally owned and independent.

60 E Main Street, Brevard | (828) 862-4700 | ddbullwinkels.com

Diamond Rush: If you're shopping for that special someone
In 1995, Ed and Sally Wright founded Diamond Rush Jewelers. Over the years, the business has remained anchored in strong faith and family ties and values. In fact, they treat you as family from the moment you step into one of their stores. Diamond Rush provides a complete array of services, ranging from jewelry repair and design to re-stringing, watch repair, and custom orders. Not sure what you want? They have a Gift Ideas section on their website!

24 S Broad Street, Brevard | (828) 883-4312 | diamondrushjewelers.com

The Grateful Dog: If you're shopping for man's best friend
Your furballs deserve a happy holiday, too! The Grateful Dog was created in 2014 to help animals and their owners. Their goal is to bring only the best in nutrition to the animals of Transylvania County. The business supports local rescues and shelters, and works actively with them to place homeless animals in loving forever homes. They're a great location for food, treats, and supplements your dog or cat will love.

277 N Broad Street, Brevard | (828) 883-4383 | gratefuldognc.com

Gravy: If you're shopping for your artsy friends
Buy great gifts and give back at Gravy. This artisan retail market features 70+ dealers, many of them local artists. Whether you're looking for art and jewelry, antiques, children's gifts, home goods, accessories, fresh plants, local jams and honey, or more, they have what you need. And you can feel doubly good about all your purchases. 100% of profits from community donated items in their Flea Market Booth benefit the Cindy Platt Boys & Girls Club of Transylvania County!

17 W Main Street, Brevard | (828) 862-4900 | facebook.com/Gravy

Headwaters Outfitters: If you're shopping for outdoor experiences
The headwaters of the French Broad River, one of the oldest rivers in the world, are located near Brevard. A few miles west of town, master guides at Headwaters Outfitters help residents and visitors alike take advantage of all the river has to offer. Their family-friendly outings are designed to get everyone out in the water, whether you like fly fishing, paddling, or tubing. Pre-order a trip for next spring, or shop stocking stuffers, clothing, and gear for him and her.

25 Parkway Road, Rosman | (828) 877-3106 | headwatersoutfitters.com

Highland Books: If you're shopping for your imagination
Highland Books has provided an independent bookstore experience to readers in Brevard since 1976. Find new books, classic books, big books, small books, and books we all know and love. Highland also carries Fair Trade gift items and has the best selection of cards in town. Ask about their Staff Picks, or play it safe and grab a gift card for the reader in your life. Many regional books and books by local authors are not for sale through the website, but can be ordered by calling the store directly.

36 W Main Street, Brevard | (828) 884-2424 | highlandbooksonline.com

Mud Dabbers: If you're shopping for treasures
Mud Dabbers Pottery of Brevard offers one of the largest selections of locally produced pottery around. Originally established as a family business in 1988, the store now features the works of over 25 local potters. Regular shoppers love checking out their "tired and flawed" section where you can find discount pots that have been around too long or are slightly flawed. Many treasures are found on these shelves! Shipping and curbside delivery are available.

3623 Greenville Highway, Brevard | (828) 884-5131 | muddabbers.com

O.P. Taylor's: If you're shopping for your inner child
You can't spend a day shopping in Brevard, NC without at least poking your nose into O.P. Taylor's toy store. It's more than 6,000 square feet of hands-on fun and excitement! From dolls and marbles to board games, puzzles, and Lego kits, it's no wonder it's the number one toy store in the South! It's a great place to shop for kids and kids at heart. We double dare you to leave without blowing your budget.

16 S Broad Street, Brevard | (828) 883-2309 | optaylors.com

Poplar & Ash: If you're shopping for the ladies
Take a detour from shopping Main Street in Brevard, NC and discover Poplar & Ash one block over, on Jordan Street. This shop is our go-to location for women's apparel and accessories. From tops to bottoms, to outerwear and shoes, they have the latest fashions for any taste. They also carry beauty and wellness products, and a few items for Baby, too. Be bold and gift a velvet turban to the special woman in your life, or play it safe and pick up a gift card.

22 W Jordan Street, Brevard | (219) 588-2968 | poplarash.com

Theophilus: If you're shopping for your favorite things
Raindrops on roses and whiskers on kittens. If you're shopping for a few of your favorite things, you're sure to find them at Theophilus! Housed in a charming, 100-year-old brick building, this shop is sure to delight. Theophilus brings a metropolitan flair to the relaxed mountain lifestyle. Stop in to browse apparel, accessories, shoes, gifts, home decor, and more. Enjoy a peaceful hour of uninterrupted browsing, or get the help you need as soon as you walk through the door.

66 E Main Street, Brevard | (828) 884-2994 | theophilusnc.com

Play the Brevard 2020 Shop Local Holiday Giveaway!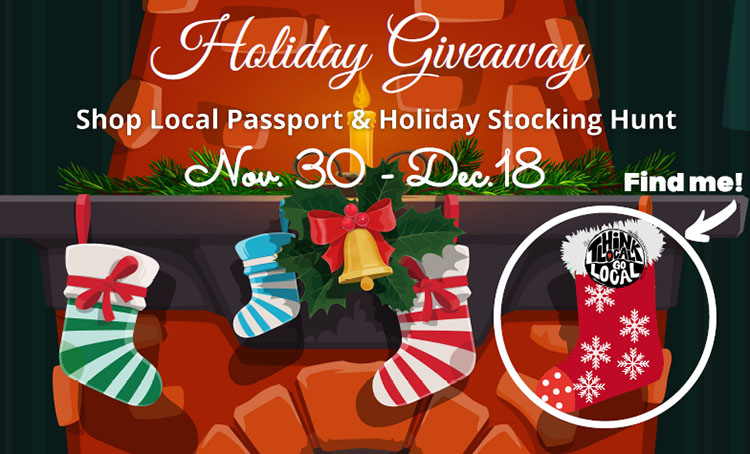 If you're doing all this local shopping in Brevard, NC, you deserve something in return! The Brevard/Transylvania Chamber of Commerce is offering two ways to win prizes totaling $1,250. All you have to do is visit and shop participating Transylvania County businesses this holiday season. Fill a Shop Local Passport with stamps from participating businesses. Or participate in the Holiday Stocking Hunt. But hurry!—Time is running out!

Learn more about the Brevard 2020 Shop Local Holiday Giveaway: brevardncchamber.org/2020-shop-local-holiday-giveaway.

Shop for your perfect home in Brevard!
In addition to shopping for some of the best gifts around, Brevard, NC is a great place to find an amazing home. Tucked along the edge of the Pisgah National Forest, Brevard is a hotspot for eclectic in-town living and big mountain views. Downtown is a vibrant and walkable hub of independent shops, boutiques, galleries, pubs, and eateries. The town has distinguished itself as an epicenter for outdoor adventures, education, art, and music. And Brevard is rich in year-round events and festivals.

Does that sound like the perfect lifestyle for you? Find homes in Brevard now!

Where's your favorite place for holiday shopping in Brevard, NC? Let us know in the comments!
Visited 63 times, 1 visit(s) today