Last Updated on June 15, 2023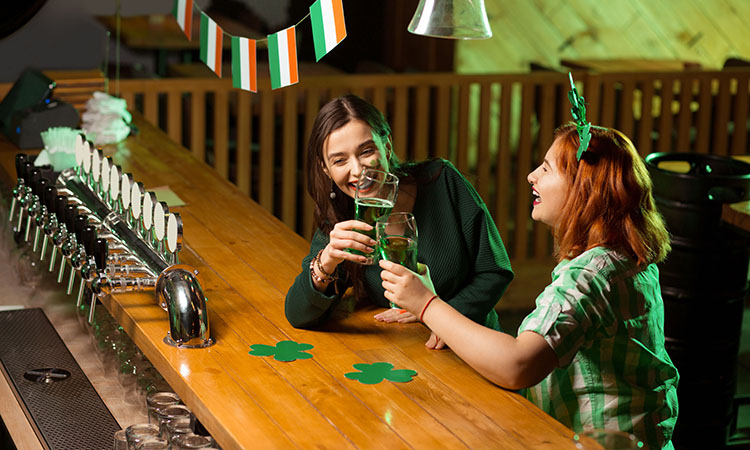 They say that everyone is a little Irish on St. Patty's Day. With the revered saint's day just around the bend, we thought we'd put that saying to the test. And you know what? We think it's right!
Here are four ways that everyone is a little Irish—on St. Patrick's Day and year round—in Brevard, NC.
We love green!
Everywhere you look in Brevard, you see green! Remarkably, more than half of the land in Transylvania County is publicly owned and protected. This includes 88,000 acres of Pisgah National Forest, the 10,000-acre DuPont State Recreational Forest, and the 7,600-acre Georges State Park. Together, these lands offer myriad opportunities for biking, camping, climbing, hiking, paddling, and sightseeing.
The headwaters of the French Broad River, one of the oldest rivers in the world, are also located near Brevard. And as "The Land of Waterfalls," some 250 waterfalls exist in the county. The waters in and around Brevard are a hot spot for tubing, canoeing, kayaking, and fly fishing. Whether you're interested in horseback riding or stargazing, there's something for everyone outdoors in Brevard, NC!
We love a good pint!
After all that playing outside, you're bound to be thirsty! And just like Ireland, home to one of the world's oldest operational breweries (Smithwick's, opened 1710), locals in Brevard love their beer. But you won't find cheap, artificially colored beer here.
Brevard Brewing Company is a family-owned business on Main Street, specializing in handcrafted lagers. In 2012, they were the first brewery to open in Transylvania County. Ecusta Brewing is located at the entrance to the Pisgah National Forest with outdoor seating next to the beautiful Davidson River. If you ask us, that makes it the perfect place to grab a beer after a hike or ride. Just outside of town, Colorado-based Oskar Blues' East Coast brewery is one of the largest beer producers in the region. 
For a more authentic Irish experience, don't miss Dugan's Pub. This warm and friendly Irish pub offers 20 beers on tap and a variety of bourbon and whiskey options. If you prefer to mix your liquids with solids, we know you will love their tasty food menu, too. We're partial to the Guinness meatloaf, fish and chips, and housemade sliders. 
We love a good meal!
It's a rare town that can boast of an equal number of barbecue joints and Asian restaurants—and just as many ice cream parlors—but in Brevard, it's true. For good or ill, the Irish are known for their potato-rich diet. And if you like spuds, you can certainly find them here. But just as real Irish cuisine is made up of more than one ingredient, so is Brevard's culinary scene.
There are some great bakeries in Brevard, but for a hearty breakfast, we recommend Sunrise Cafe. Since day one, they've offered breakfast and lunch options designed to satisfy any craving. For lunch, try Rocky's Grill and Soda Shop, a hub of classic Americana since 1942. They still serve all your favorites, from flat-top burgers and hot dogs to famous milkshakes, malts, and egg creams. And you would be remiss to visit Brevard without sitting down at the Square Root. Tucked into a quiet alley in downtown, the Square Root is as well known for its ambiance as it is for its food. Or after a long day on the trail, why not have your dinner delivered?
We're lucky … to live in Brevard, NC!
No four-leaf clovers needed here! For all the reasons above and more, Brevard, NC is a great place to find an amazing home. Tucked along the edge of the Pisgah National Forest, Brevard is a hotspot for eclectic in-town living and big mountain views. Downtown is a vibrant and walkable hub of independent shops, boutiques, galleries, pubs, and eateries. The town has distinguished itself as an epicenter for outdoor adventures, education, art, and music. And Brevard is rich in year-round events and festivals.
Does that sound like the perfect lifestyle for you? Find homes in Brevard now!
Visited 2 times, 1 visit(s) today