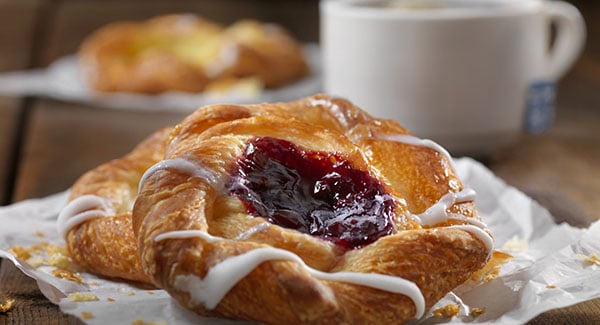 Last Updated on November 16, 2023
It's a rare Appalachian town that can boast of an equal number of barbecue joints and Asian restaurants—and just as many ice cream parlors—but in Brevard it's true. This small mountain town is big on options. And when it comes to satisfying your sweet tooth, it definitely doesn't disappoint!
No matter what you're looking for, Brevard has just the treat you seek! Here is your guide to the best sweets in Brevard.

For a taste of the mountains: Blue Ridge Bakery
You always feel welcome at Blue Ridge Bakery! Their cakes, pies, cookies, pastries, and lunches are made fresh daily using regional homestyle recipes and local, natural ingredients. Whatever the occasion, this is your place to buy a really good, from-scratch, decorated-to-your-specifications cake. Find them on Main Street, across the street from the Coed Movie Theater and Harris Ace Hardware. Pop by on Thursdays for their weekly blue plate special!
86 W Main Street, Brevard | (828) 883-8444 | blueridgebakery.com 

For a continental treat: Bracken Mountain Bakery
If you're looking for the best sweets in Brevard, this is a great place to start! Bracken Mountain Bakery specializes in crusty European-style breads and pastries, as well as American regional favorites. The bakery uses organic flours and many other organic ingredients in their made-from-scratch products each morning. Start your day with a sweet treat and a large coffee roasted by neighboring Brown Bean Coffee Roasters. Bracken Mountain Bakery was recently voted #7 on a Southern Living list of the best bakeries in the South.
42 S Broad Street, Brevard | (828) 883-4034 | brackenmountainbakery.weebly.com

For something "simply exquisite": Cup & Saucer
Opened in 2018, Cup & Saucer serves specialty coffee and fresh, house-made baked goods. This mobile coffee cart turned brick-and-mortar business has all your favorites, prepared from ethically sourced and roasted beans from Methodical Coffee, located down the road in Greenville, SC. Not in the mood for coffee? Enjoy a hot chocolate, golden milk latte, or more with your fresh coffee cake muffin, scone, or cinnamon knot with cream cheese glaze. Yum! Or join them for dinner Wednesday–Saturday from Brevard Pizza Works.
36 E Main Street A, Brevard | (828) 884-2877 | cupandsaucernc.com

For a family favorite: Dolly's Dairy Bar & Gift Shop
Dolly's Ice Cream (a.k.a. Dolly's Dairy Bar) has been a local favorite for decades. Their homemade flavors run the gamut, and so do their flavor names. Enjoy classics like vanilla, peach, or rainbow sherbet. Or try one of Dolly's Exciting Camp Flavors, uniquely designed by local summer camps each season. If you ask us, Pisgah Perfection lives up to its name! Dolly's is located at the entrance to Pisgah National Forest, making it a popular spot to cool off after a long day outdoors. Call ahead for their seasonal hours.

128 Pisgah Highway, Pisgah Forest | (828) 862-6610
For something to talk about: Quotations Coffee Cafe
Looking for exceptional coffee and a frozen delight in a comfortable and cozy setting on Main Street? Quotations Coffee Cafe makes the perfect starting point for your day. It's a warm, welcoming place you never want to leave. Enjoy free wifi with your coffee, homemade pastry, or dessert. We're partial to the Will Rogers, a caramel and white chocolate mocha frozen drink. Come to work, study, pass the time, or simply enjoy the warm and welcoming environment. Their free community meeting room is perfect for small groups, like book clubs and study groups.

147 E Main Street, Suite 200, Brevard | (828) 883-8966 | quotationscafe.com
For a taste of the past: Rocky's Corner Market
If you're feeling nostalgic, look no further than the candy counter at Rocky's Corner Market! They have all your childhood favorites, from Bit-O-Honey and wax lips to Big League Chew. It's also a great location to shop for various gifts and sundries. After you load up, wander through to the adjacent shops. D.D. Bullwinkel's offers the Southern charm of an old-fashioned general store served with a twist. Their footwear division, Moose Tracks, carries a wide variety of casual and stylish footwear, as well as some great travel gear.
50 S Broad Street, Brevard | (828) 862-4577 | facebook.com/rockyscornermarket
For a boost before your hike: The Velvet Cup Coffee Truck
If you're heading out on a trail, make a pit stop at the Velvet Cup Coffee Truck. They are located outside The Hub and Pisgah Tavern at the entrance to Pisgah National Forest. The Velvet Cup's entire menu is sourced locally and features all your caffeinated favorites, plus smoothies, protein shakes, and hot, fresh doughnuts! For a special treat on a cool mountain morning, we recommend their signature beverage, the Velvet Revolver. It's a blended concoction of freshly brewed, organic, Fair Trade espresso; organic MCT coconut oil; and organic grass-fed butter, served hot. The Velvet Cup now has a second truck outside Cedar Mountain Moonshine and Studio 276 in Cedar Mountain.
11 Mama's Place, Pisgah Forest | (828) 565-1252 | thevelvetcupcoffeetruck.com

Make Brevard your home, sweet home!
In addition to satisfying your sweet tooth, Brevard, NC has distinguished itself as an epicenter for outdoor adventures, education, art, and music. Tucked along the edge of the Pisgah National Forest, Brevard is a hotspot for eclectic in-town living and big mountain views. Downtown is a vibrant and walkable hub of independent shops, boutiques, galleries, pubs, and eateries. And Brevard is rich in year-round events and festivals.
Does that sound like the perfect lifestyle for you? Find homes in Brevard now!
Who do you think offers the best sweets in Brevard, NC? Let us know in the comments!
Visited 727 times, 1 visit(s) today