Last Updated on October 17, 2016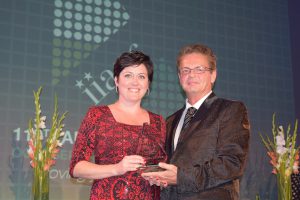 Anna Bailey, vice president of operations for Allen Tate Insurance, has been named Young Agent of the Year by the Independent Insurance Agents of North Carolina (IIANC).
Bailey was presented with the award at the 119th IIANC Annual Convention held October 2-4, 2016 in Myrtle Beach, S.C. by IIANC chairman Jim Mozingo.
The award, voted on by IIANC members, recognizes an outstanding young agent for his or her contributions and achievements in the community, profession and association.
"Anna is an outstanding young professional who continues to distinguish herself both within the insurance industry and in the community," said Robin Price, president, Allen Tate Insurance. "She is very deserving of this honor."
Bailey has worked in the insurance industry for 14 years. She has held positions including sales associate, customer service manager and vice president. She hold the Certified Insurance Counselor (CIC) and Certified Insurance Service Representative (CISR) professional designations.
An active industry and community citizen, Bailey serves as project director for the Independent Insurance Agents of Charlotte-Mecklenburg (IIACM) and serves on Independent Insurance Agents of North Carolina (IIANC) committees for Events, Political Action and Young Agents. In addition, she volunteers with the Ronald McDonald House and Make a Wish Foundation.
This spring, she helped lead the IIANC First Annual Young Agents Charity Golf Tournament, which raised $40,000 for Make-A-Wish. She recently completed the Make-A-Wish Trailblaze Challenge, trekking 28.3 miles across the Appalachian Foothills Trail and raising more than $2,500 for the charity.
Bailey and her husband, Ben, live in Charlotte. They have two children, Olivia and Spencer and two dogs. She enjoys reading, hiking and spending time with family.
Visited 66 times, 1 visit(s) today