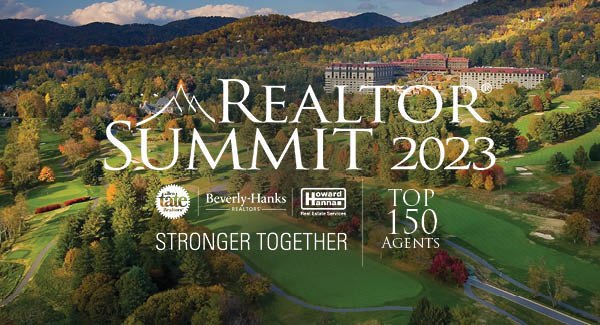 Last Updated on March 14, 2023
More than 175 Allen Tate Realtors® and members of the Allen Tate Companies leadership team will attend Realtor Summit 2023 from March 14-16, 2023, at The Omni Grove Park Inn in Asheville, N.C.
The annual event honors the company's Top 150 qualifying agents based on production during a designed time and features professional enrichment from national speakers and networking opportunities.
"What an exceptional group of Realtors. I am so pleased to welcome them to this year's Realtor Summit, including our newest family members, Allen Tate/Beverly-Hanks. The opportunity for these top agents and leaders to come together, learn together and build lasting relationships will benefit each individual and the entire Allen Tate organization for years into the future," said Gary Scott, president, Allen Tate Realtors.
The following top-producing Allen Tate Realtors qualified for and were invited to attend the Realtor Summit 2023:
ASHEVILLE/MOUNTAIN REGION
Asheville-Biltmore Avenue – William Coin, Scott Mills
Asheville-Biltmore Park – Leslie Elliott, Christina Gallegos, Gaia Goldman, Debra Rose Hrncir, Clary McCall, Renee Miller, Ann Skoglund, Vivien Snyder, James Turner
Asheville-North – Eddie Delaney, Heidi DuBose Fore, Kelly Frady
Asheville/Fletcher – Billy Taylor
Asheville-Walnut Cove Realty – Kyle Olinger, Josh Smith, Lee Swing
Brevard-Downtown – Billy Harris
Brevard-South – Raymond Rainey
Downtown Asheville – Todd Kaderabek, Bunny Morris, Julie Smith
Hendersonville – Margo Barbee, Christopher Battista, Heather Chambers, Steven Dozier, Richard Merrill, Jr., JJ Murphy, Gina Nicholson, Diane Ward
NAI Beverly-Hanks Commercial – Jim Davis, Debbie Lane, Mark Morris, Karl Nelson
The Ramble at Biltmore Forest – Mark Taylor
Waynesville – Rachel Ellege, Michelle McElroy, Brian Noland, Catherine Proben, Pamela Williams
CHARLOTTE REGION
Charlotte-Ballantyne – Terri Alfero, Donna Kelly, Marie Lorimer, Steve Lorimer, Mary McCloskey, Ellen Milano, Carin Miller, Carl Richmond
Charlotte-Center City – Nadine Morgan, Elizabeth Phares
Charlotte-Providence@485/Union County – Chris McGowan, Lori McGowan, Brittany Osborne, Jeremy Ordan, Madiha Qureshi, Jesse Samples
Charlotte-SouthPark – Jean Benham, Lauren Campbell, Bryan Criminger, Anthony Frantilla, Susan Hill, David Huss, Marlyn Jamison, Amy Peterson, Shelley Spencer, Kim Trouten, James Webb
Charlotte-Steele Creek – Melissa Baker, Lauren Fox, Dorthe Havmoeller, Erin Sumner
Charlotte-University City – Amy Baker
Concord – Margaret Dabbs, Diane Honeycutt, Jennifer Parsley Hubbard, Vanessa Miles, Lora Riddle, Dakeita Vanderburg-Johnson
Davidson – Donna Galinsky, Clark Goff, John Ratliff, Rebekah Sosa
Fort Mill – Stefanie Janky
Gastonia – John R. Bolin, MaryLynne Cloninger, Wendy Eaves, Lisa Huskins, Chad Simpson
Huntersville – Jordan Cook
Lake Norman – Chris Carlin, Mike Carlin, Jill Gibson, Diane Hofert, Naomi Hofert, Stephanie Luther, Alison Matthews, Lee Ann Miller, Anita Sabates, Christina Stone, Catherine Taylor
Lake Wylie – Kippen Lester
Matthews/Mint Hill – Caroline Grossman, Cindy Hope, Joseph McMurry
Mooresville/Lake Norman – Becky Boan, Allyson Burns
Rock Hill – Josh Boyd, Lynne Comer, Sam Davis, Colleen Essick, Reggie Grigg, Hoby Groves, Meredith Haley, Lee Hamilton, Kim Hamrick, J. Robert Hyman, Sherry Jernigan, Michael Lewis, Nate Mallard, Dana Marchand, Jordan Randall Norman, Jenn Turner, Abigail Wilson
Statesville – Mary Dulin, Mary Palmes
HIGH COUNTRY REGION
Blowing Rock – Jaco Gerbrands, Chris Spangler
Boone – Margo Lenmark
HIGHLANDS/CASHIERS REGION
Highlands-Downtown – Pat Allen, Darlene Conley, Julie Osborn
Wildcat Cliffs/Cashiers Road – Dan Doughty, Kelly Ramsay
TRIAD REGION
Asheboro – Kelly Cassell, Mike Dennis, Hannah Hunt
Burlington – David Carter, Sandy Ellington-Graves, Faith Grant, Kelly Osborn, Ken Smith
Greensboro – Tom Arevian, Jay Brower, Elizabeth Burns, Amy Clark, Tia Crouch, Patricia A. Curry, Ashley Fitzsimmons, Erin Henry, Dan Hornfeck, Colleen Long, Eric Marty, DJ McGarrigan, Matthew Millaway, John E. Newman, Jr., Brittany Shermer, Maria Ticra
High Point – Linda Beck, Miguel Carreno, Anne Flater, Kim Frazier, Lee Holbrook Kemp, Carol Milligan, Jennifer Moore, Cristina Ordonez, Vivian Wilborne, Jennifer Wooten
Kernersville – Brooke Cashion
Oak Ridge Commons – Tim Atkins, Delia Knight, Donna Russell, Roberta Wall
Oak Ridge NC Hwy 68 – Michele Davis, Terri Johnson, Salem Marso, Maureena Shepherd
Summerfield – Randall Allred, Jim Duncan, Tonya Gilbert, Betty Smith, Jason Smith, Jeff Smith
Winston-Salem – Teretha Gardner, Clement Little, Pam Matthews, James Patella, Wendy Sloan
TRIANGLE REGION
Apex – AnnMarie Janni, Ashley Morello
Cary – Terri Aves, Meg Swienckowski
Chapel Hill/Pittsboro – Mary Jo Coppola
Durham – Amanda Baker, Jenny Barber, Kelsey Kearney
Lake Royale – Susan Boblett, Dan Gunther, Elisabeth Kane, Barry Wilkins
Raleigh-Falls of Neuse – Colleen Blatz, Jamie Eliahu, Amber Lynn, Ginger Lynn, Judi Margulies, Brian Wolborsky, Jennifer Wolborsky, Mitchell Wolborsky, Phyllis Wolborsky
Raleigh-Glenwood – Lili Ball, Eddie Cash, Graham Dixon, Van Fletcher, Sue Greer, Diane Hayes, Carolyn Swenson
Wake Forest/Rolesville – Meredith Hilbert
UPSTATE REGION
Easley-Powdersville – Jackie Crane, Cheryl Hurst, Derek Rick, Missy Rick
Greenville/Simpsonville – Betina Conway, Alice Salvatore
Greenville-Downtown – Robby Brady, Ellie Kennedy, Susan McMillen, Karl Morrissey, Erica Simonavice
Greer – Keaira Huffman
Lake Keowee North – Sue Pulliam
Lake Keowee-Seneca – Greg Coutu, Melanie Dietterick, Phillip Kalchthaler
Lake Keowee West – Fran Graham
Rochester Hwy – Melanie Fink
Allen Tate, Allen Tate/Beverly-Hanks, and Howard Hanna leaders attending the Realtor Summit include:
Phyllis Brookshire, Senior Vice President – Operations, Allen Tate Realtors®
Brian Cagle, Vice President, Managing Broker, Allen Tate/Beverly-Hanks Realtors
Amy Congdon, Vice President of Strategic Engagement, Howard Hanna Mortgage Services
Annie Hanna Engel, President and COO, Howard Hanna Insurance Services and Chief Legal Officer, Hanna Holdings Inc.
Maggie Evans, Director of Professional Development, Allen Tate Realtors
Stephanie Gossett, Regional Vice President, Charlotte
Amy Hanks, Executive Vice President of Sales, Howard Hanna Mortgage Services
Neal Hanks, President, Allen Tate/Beverly-Hanks Realtors
Tony Jarrett, Regional Vice President, Triad, Triangle and High Country
Adam McCall, Regional Vice President, Upstate
Robin Price, President, Allen Tate Insurance
Katrina Richards, Regional Vice President, Charlotte
Gary Scott, President, Allen Tate Realtors
Jef Stehman, Vice President of Production, Howard Hanna Mortgage Services
DJ Stephan, President, Allen Tate Relocation
Debbie Williams, Executive Vice President, Allen Tate/Beverly-Hanks Realtors
About Allen Tate Companies
Allen Tate Companies is the Carolinas' leading real estate company, based on closed transaction sides, with 71 offices and more than 2,100 Realtors® in the Charlotte, Triad, Triangle, High Country, Highlands/Cashiers and Asheville/Mountain regions of North Carolina and the Upstate region of South Carolina. Allen Tate provides real estate, mortgage, insurance, and relocation services throughout the entire homeownership life cycle. We are committed to providing and protecting quality of life for the communities we serve. For more information, visit allentate.com.
About Howard Hanna
Howard Hanna Real Estate Services is the #1 family-owned and operated independent broker in the country. The full-service real estate company has more than 480 real estate, mortgage, insurance, title, and escrow service offices across 13 states, including Allen Tate Realtors in the Carolinas and The F.C. Tucker Company in Indiana, with more than 15,000 sales associates and staff, including many of the industry's top-producing real estate agents. For more information, visit howardhanna.com.
Visited 1,299 times, 1 visit(s) today