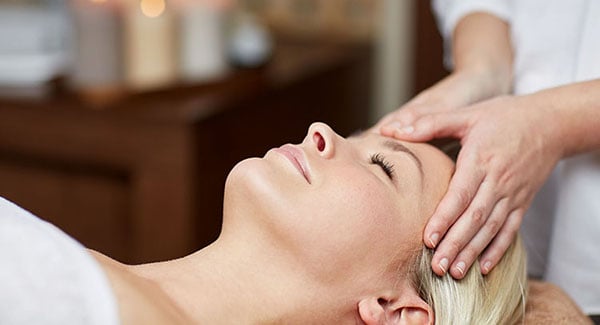 Last Updated on March 29, 2023
Asheville, NC is known as a center for local art, innovative dining, and outdoor adventures. But increasingly, Asheville is also a center for luxury living.
In today's fast-paced world, true luxury is the power to escape. Escape the long lines, escape the demands of the daily grind, and escape the incessant alerts emanating from your digital devices.
You deserve an escape. And Asheville can provide a great one! Take a day to yourself—maybe invite a friend, if you want—and enjoy these luxurious spas in and around Asheville, NC.
Asheville Salt Cave
Ignite balance and healing with a session in Asheville's nature-inspired Himalayan salt cave. The room's enriched microclimate has been tailored to allow the mind and body to gain relaxation. While you're there, enjoy one of the variety of individual and couple's massage services, including pressure point, energy healing, and aromatherapies.
16 N Liberty Street, Asheville | (828) 236-5999 | ashevillesaltcave.com
Poseidon Spa at the Grand Bohemian Hotel
Located within the heart of the hotel, which itself sits at the heart of Biltmore Village, Poseidon Spa offers an intimate and tranquil atmosphere in a luxurious setting. Enjoy a range of soothing treatments, many performed with Asheville-made products. From a body scrub or body wrap to a couple's massage and more, the Poseidon Spa is the ruler of the realm.
11 Boston Way, Asheville | (828) 398-5540 | kesslercollection.com
The Spa at The Inn on Biltmore Estate
If you've ever wondered what it was like to be a guest of the elegant and extravagant Vanderbilts, this is the spa setting for you. The Spa at The Inn on Biltmore Estate is inspired by Edith Vanderbilt's legacy of world-class hospitality and attention to detail. Revitalize your body and spirit with luxurious treatments that incorporate the estate's natural offerings into a soothing, restorative, and unique experience.
1 Lodge Street, Asheville | (828) 225-6772 | biltmore.com/stay/inn/spa
The Spa at The Omni Grove Park Inn
Pamper yourself with specialized aromatherapy oils, herbal steamed towels, and the attention you deserve at Asheville's most iconic luxury hotel. The Spa at The Omni Grove Park Inn offers a variety of massage treatments and enhancements, including hot stone, deep tissue, and couple's massage. While you're there, make it a full-body day of relaxation with a facial, body wrap, or foot treatment.
290 Macon Avenue, Asheville | (800) 438-5800 | omnihotels.com
Recline & Unwind Social Spa
Want the spa experience without waiting days for an appointment? RU Social Spa on Pack Square offers a unique walk-in option. Their one-room spa features multiple Relaxation Stations with heated zero gravity recliners. And with shorter spa services (and the lower prices to match), you can indulge in your favorite service, then get back to exploring the heart of downtown.
20 S Pack Square, Asheville | (828) 348-7650 | rusocialspa.com
Relax & Rejuvenate Massage & Spa
We couldn't very well complete this list without Relax & Rejuvenate in Regent Park Center. Their integrative sessions are offered in a comfortable, friendly environment free of chemical smells. Enjoy nearly two dozen massage options—from shiatsu to sports massage to pre-natal—performed by licensed bodywork therapists without the overhead costs of most spas.
5 Regent Park Boulevard #105, Asheville | (828) 250-9077 | relaxrejuvenate.com
Sensibilities Day Spa
At Sensibilities Day Spa, balance is bliss! Enjoy one of their skin care or massage therapy services, or opt for a spa package. The Harmony for Him package features a 60-minute deep tissue massage and "Tailored for Him" facial. If you have Cause for Celebration, celebrate with a hot stone massage, 5 Elements custom facial, spa manicure, and spa pedicure—with champagne and chocolate included!
The Hilton at Biltmore Park, 43 Town Square Boulevard, Asheville | (828) 687-8760 | sensibilities-spa.com
Shoji Spa & Lodge
Looking for a private hot tub spa, but don't have the time to flit over to Kyoto? Shoji Spa is the only Japanese-style spa and lodge on the East Coast. They offer two rustic lodging options on site, as well as contrast therapies including sauna, double cold showers, private salt hydrotherapy tubs, and massage therapy. Feel like you're a world away at Shoji Spa!
96 Avondale Heights Road, Asheville | (828) 299-0999 | shojispa.com
Spatheology
Located in the heart of Downtown Asheville, Spatheology is dedicated to creating the ultimate spa experience through the healing and therapeutic touch of talented therapists. Their treatment offerings are inspired by a variety of local partners, from French Broad Chocolate Lounge to Asheville Bee Charmer. Enjoy a massage, hydrafacial, wellness soak, and more.
53 College Street, Asheville | (828) 255-4171 | spatheology.com
Still Point Wellness
Find your inner stillness at Asheville's premier EsalenⓇ Massage and saltwater flotation spa. Still Point Wellness has been featured on media ranging from USA Today to "The Late Show with David Letterman" and "Jeopardy." Enjoy a couples EsalenⓇ massage tutorial session, drift away in a sensory deprivation tank, or unlock the wisdom of your body through somatic psychology.
946 Tunnel Road, Asheville | (828) 348-5372 | stillpointwell.com
Live the luxury life in Asheville
With a population of 90,000+, Asheville is the largest city in both Buncombe County and Western North Carolina. Asheville serves as the area's economic and cultural nerve center in many ways. It's a hub for education, healthcare, local arts and crafts, entertainment, night life, and innovative food and drink. Throughout the city, Asheville's neighborhoods are interconnected, not just by our mountains and rivers, but also by our local community centers—those intentionally created and those that have grown organically.
Does that sound like the perfect lifestyle for you? Find Asheville, NC homes for sale here.
Where are your favorite spas in Asheville, NC to relax and rejuvenate? Let us know in the comments.
Visited 1,870 times, 14 visit(s) today