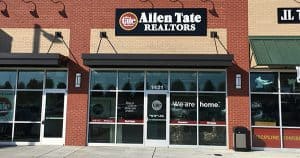 Last Updated on September 29, 2022
Real estate leader opens second location at historic Seagroves Farm
Allen Tate Companies, the Carolinas' leading real estate company, announces the opening of its new Apex, N.C. office.
The new office is located at 1617 Center Street, at the intersection of US 1, on the Seagroves Farm historic site. The one-story home, originally part of a 92-acre tobacco farm complex owned by John H. and Nevada Seagroves, was built around 1910. The home and outbuildings were rehabilitated in 2007 by Cotton Custom Homes, Inc., who donated a preservation easement to Capital Area Preservation. It is designated as an Apex Historic Landmark and is the recipient of an Anthemion Award for excellence in historic preservation in Wake County.
The office is home to Element Realty Group, an award-winning Allen Tate real estate team formed in 2017, with 62 years of combined real estate experience. The team includes Shari Austin, Brooke Jaymes-Canady, Stacey Cummings, Shannon Holland, AnnMarie Janni, Kenisha Johnson, Debbie Komlo, Michelle Mancuso, Ashley Morello, Jason Smith, Erika Stewart and Evan Wright. The office serves clients throughout the Triangle, covering Wake, Orange, Harnett, Lee, Durham, Chatham and Johnston counties.
The new offices feature a flex space design with common work areas, a conference room and center hallway with client waiting area. Private parking is available nearby. Allen Tate Mortgage and Insurance representatives are available to assist clients.
"This property was once a family home and now it is our home," said AnnMarie Janni, team leader, Element Realty Group. "We wanted to create a space where folks would feel welcome and comfortable and our team could work together collaboratively. We want it to feel like home."
"Apex has seen significant growth since 1990 but has managed to retain its small-town feel and charm," said Janni. "This is the perfect location to grow our business and create an amazing buying or selling experience for our clients throughout the Triangle region."
Element Realty Group has been named to the Allen Tate Legends Club, recognizing career production of more than $200 million in closed sales volume. The team has also been recognized in the Top 5% of teams at Allen Tate, and as a Top 25 Residential Real Estate Team by the Triangle Business Journal.
Janni serves as a board member for the Raleigh Regional Association of Realtors. She is a director for NC Realtors and serves on the Diversity Committee.
To contact an agent in the Allen Tate Apex-Center Street office, call 919-389-9782.
Visited 323 times, 1 visit(s) today