Last Updated on April 3, 2018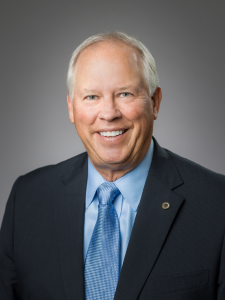 Allen Tate Companies President and CEO Pat Riley has been named to the inaugural class of Most Admired CEOs by the Charlotte Business Journal.
The awards, presented March 29 at The Westin Charlotte, recognized 39 leaders across 14 industry categories who have a strong vision for their companies, have shown commitment to culture in the workplace and have made significant contributions to the community.
Riley has led the Allen Tate Companies since 1992. In 2017, the company recorded 22,273 closed sales transactions totaling more than $5.672 billion. Riley serves on the board of directors for Leading Real Estate Companies of the World®, a global network of 565 premier real estate firms in 69 countries around the world.
Riley exercises a highly collaborative leadership style, empowering his leadership team to make decisions, while remaining present and accessible to them. He is known for his strong work ethic, optimistic attitude and general passion for life. He advocates work-life balance and "Red Penguin" service – a personal touch to make the experience special for agents, employees and customers alike.
"Being an effective leader means always looking behind to make sure you have followers. As a leader, you must have a vision that others are willing to buy into. And you must also have the ability to grow other leaders and help them excel," said Riley.
He has chaired nearly every major civic board since arriving in Charlotte 26 years ago, including the Charlotte Chamber, Arts & Science Council and Charlotte Center City Partners. At Allen Tate, Riley created FUNday, an annual event that has raised more than $4.73 million for public education in the past two decades. The company also supports arts, culture and history and United Way agencies in local communities through its Tate Cares giving initiative.
Visited 48 times, 1 visit(s) today