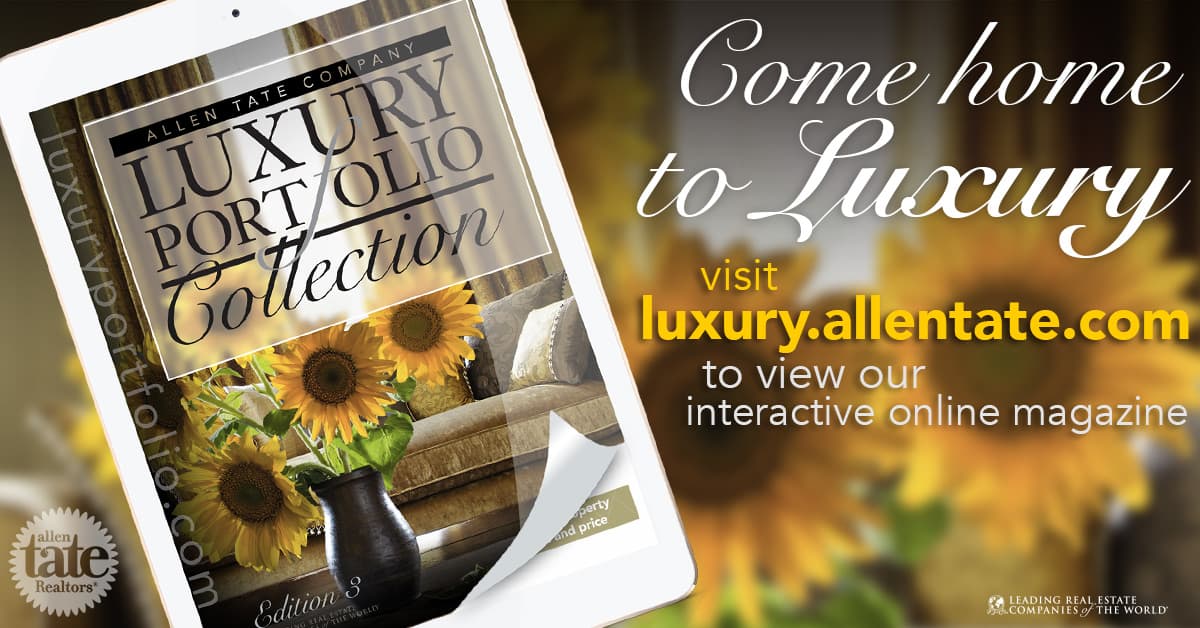 Last Updated on September 1, 2022
Online magazine showcases luxury homes in the Carolinas
The luxury homes market is one of the fasting growing segments of the real estate industry. Transactions involving luxury homes require customized marketing, discretion and privacy, and no company provides more care and consideration to their luxury listings than Allen Tate RealtorsⓇ.
Allen Tate is pleased to present a new product that showcases luxury listings to active luxury buyers, the Allen Tate Luxury Portfolio Online Collection. This online magazine, published every other month, highlights more than 20 available luxury properties from across the Carolinas.
The Allen Tate Luxury Portfolio Online Collection is available through the company website and offers readers color photos and a detailed description of homes priced at $750,000 and above. The magazine links to additional property photos and listing price.
While the magazine highlights a sampling of luxury listings across the company footprint in North and South Carolina, buyers may view all of Allen Tate's luxury listings via the company website.
"This online magazine will give home buyers the opportunity to explore an impressive selection of luxury homes listed by Allen Tate. These homes are unique, and each one has a unique story. Our goal is to paint that picture for our readers," says Phyllis Brookshire, president, Allen Tate Realtors.
"The combination of Luxury Portfolio International™ and Allen Tate creates a powerful network of potential buyers for listed homes, and we use that same network to make sure our clients find the luxury home they've always dreamed of," says Brookshire.
To access the latest edition of the Allen Tate Luxury Portfolio Online Collection or to search for luxury properties, contact any Allen Tate Realtor, or visit the company website.
Visited 22 times, 1 visit(s) today