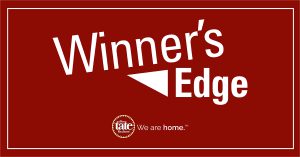 Last Updated on October 20, 2022
Allen Tate Realtors® , the Carolinas' leading real estate company, has announced that the following individuals have graduated from the company's Winner's Edge program:
CHARLOTTE REGION
Natasha Brown, Adrianne Guyon, Logan Plattenburg – Charlotte-Ballantyne
Nadine Morgan – Charlotte-Center City
Kristyn Atkins, Donna Collier, Shannon McCullough – Charlotte-Providence @485 / Union County
Anne-Marie Bullock, Ashley Ginn, AJ Lindsey – Charlotte-SouthPark
Lisa Cramer, Rotem Eckman, Phylicia McCargo – Charlotte-Steele Creek
Scott Platt – Charlotte-University City
Hannah Balentine – Concord
Nikki Calden, Michele Wheeler – Davidson
Rebecca Willis – Gastonia
Brandi Hall, Kristin List, Roger McDaniel – Huntersville
Brittany Bostian, Bradee Cicchinelli, Deborah West – Lake Norman
Matt Nielsen, James Radeke – Lake Wylie
Mariya Panchenko – Lancaster
Sergio DeNichilo, Rachel Kocher, Jeremy Nord – Matthews/Mint Hill
Michael Evans, Caroline House, Courtney Sain – Mooresville/Lake Norman
Tanner Alexander, Blair Haun, Mike Lewis – Rock Hill
Kenny Collins – Shelby
Melissa Jones, Katie Waters – Statesville
Deborah Aitken, Julie Broadway – Wesley Chapel
HIGH COUNTRY REGION
Jordan Foster, Ben Henderson, Vickie Perry – Blowing Rock/Boone
TRIAD REGION
Maurice Graham, Melissa Holcomb – Asheboro
Luisa Cobos, Denise Egidio, Julie Hammontree, Andres Rios, Layni Watkins – Greensboro
Richard Brown, Renee Burger – High Point
Gizelle Boyles – Oak Ridge
Shaina Ellis, Rebecca Whitney – Summerfield
Christina Kearns, Leigh Ann Sterling – Winston-Salem Hanes Mall Blvd.
TRIANGLE REGION
Holly Huseman, Jodi Ross, Evan Wright – Apex
Evan Drake – Chapel Hill/Pittsboro
Janet Novak, Gene Rau, AnnMarie Sullivan – Raleigh-Falls of Neuse
Lara Hadden – Raleigh-Glenwood
Elisabeth Kane, Aisa Pinto-Ramirez – Wake Forest/Rolesville
UPSTATE REGION
Yolanda Edens, Connie Watters – Easley/Powdersville
Laura Blasenak, Paige Lance, Chloe Valentin – Greenville-Downtown
John Grubich – Greenville/Simpsonville
Mandi Ralph, Elizabeth Shirk – Greer
Exclusively for Allen Tate Realtors, Winner's Edge is a required, comprehensive real estate training program. The curriculum includes the latest in national real estate trends, technology, license law, sales and marketing techniques, integrated with detailed information about the local real estate market. As a result of this intensive course of study, Realtors are equipped with the latest tools in the industry in order to serve their clients in a knowledgeable, caring and professional manner.
Since 1957, Allen Tate Realtors has focused on the needs of consumers by providing one-stop shopping with choices in branches located in communities throughout the Carolinas.
(Visited 166 times, 1 visits today)