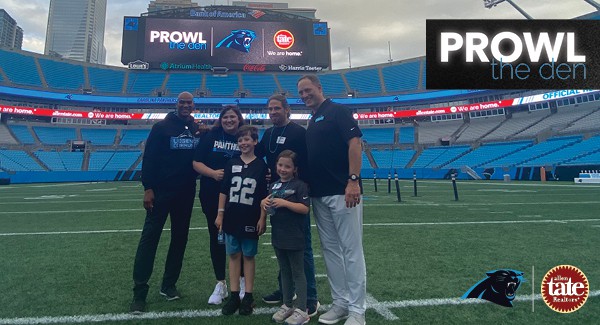 Last Updated on November 9, 2022
For 10 years, Allen Tate has invited Carolina Panthers fans to "Prowl the Den" with the Official Realtor of the Carolina Panthers. During that time, more than 1,000 fans and their guests have enjoyed an exclusive behind-the-scenes tour of the Panthers' home at Bank of America Stadium as part of the Allen Tate Prowl the Den Sweepstakes.
On November 5, Jenna Sheehan joined the roster of this year's Prowl the Den Sweepstakes participants and was selected as the Grand Prize winner.
The Belmont, N.C. resident learned about the sweepstakes from a TikTok video, and never imagined she would be selected as one of 25 tour winners from more than 27,000 entries.
Sheehan made the event a family affair, bringing husband Johnny and children Liam, 10, and Iris, 6, as her three guests. The Sheehans, along with the other winners and their guests, visited the Panthers locker room, training room, PantherVision studio, press area, Gridiron Club, kitchen and other areas usually off-limits to the public, as well as The Vault, the stadium's new field-level event space.
Participants also enjoyed a tailgate party in the Gallery Suites area, with food, on-field games and activities, DJ, photo booth and autograph session with Panthers legends Brad Hoover and Eugene Robinson.
As the Grand Prize winner, Sheehan will receive four suite tickets and field passes for the November 27, 2022 home game vs. Denver and four replica Carolina Panthers jerseys. She hopes to see her favorite players, D'onta Foreman and DJ Moore.
Prowl the Den is one of the many ways Allen Tate celebrates its 16-year partnership as Official Realtor® of The Carolina Panthers.
In addition to Sheehan, this year's Prowl the Den tour participants included:
Vincent Bonasso, Apex, NC
Kalsey Bonecutter, Mooresville, NC
James Cook, Charlotte, NC
Michelle Davis, Murrells Inlet, SC
Leah Drake, Winston-Salem, NC
Andrew Ehrlich, Gilbert, SC
Brittany Gibson, Gastonia, NC
DeNadia Givens, Charlotte, NC
Paige Hailey, Wingate, NC
Matt Hall, Conway, SC
Ikia Hatchett, Hillsborough, NC
Courtnie Johnson, Charlotte, NC
Randy Knight, Benson, NC
Traci Lacy, Columbia, SC
Meghan Mark, Indian Trail, NC
Gabrielle Misiaszek, Little River, SC
Glenda Pressley, Charlotte, NC
Jonathan Small, Lancaster, SC
Timmy Smith, Charlotte, NC
Rosemary Soto, Biscoe, NC
William Sweezy, Charlotte, NC
Jessica Vaughn, Mooresville, NC
Jeremy Young, Winston-Salem, NC
Jamie Williams, Midland, NC
Visited 640 times, 1 visit(s) today