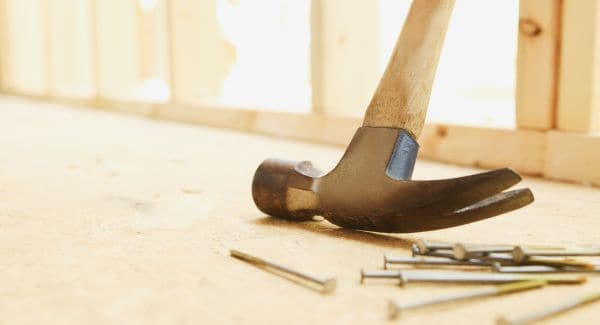 Last Updated on May 11, 2023
You've seen enough renovation projects on HGTV to turn the dynamic duo, Jonathan and Drew Scott of the hit home-renovation show Property Brothers, into a trio.
You know what's trendy yet timeless, tasteful yet inexpensive, and you've got about half of a million Pinterest boards dedicated to the kitchen remodel of your dreams.
You're all set to create the kitchen that will make your friends green with envy, but before you fantasize about sending in the before and after shots to HouseBeautiful, you need to decide if your project warrants pulling a permit.
Work that requires a permit
For many residential renovation projects, permits are required before renovation can take place. While pulling a permit can seem like a frustrating step in the home renovation process, the procedure is designed to ensure updates to your home are made according to code and are safe for occupants.
Structural work—projects that involve things like removing a load-bearing wall or modifying foundational flooring

Changing the roofline of your house

Plumbing or electrical work

Completing an addition to your home

Building decks over a certain height

Replacing a hot water tank

Creating a new opening for a door or window
Keep in mind though, there are many variables that may or may not require you to obtain a permit for renovations. If you're not sure when you will need a permit, it's best to do some research and explore your county's website or call your city's plan examiner.
Why you need a permit
When it comes time to put your house on the market, potential buyers will want to know whether or not the necessary permits were obtained during the renovation process.
It's best to be upfront and honest with potential buyers, because by the time the inspection rolls around, the inspector will easily be able to tell whether or not permits were pulled before renovations took place, as there will be a discrepancy in the public record.
A potential buyer could retract their offer if they find out large renovations were done without a permit, as they are unwilling to deal with unforeseen expenses down the road. In more extreme cases, renovations done without a permit can even prevent the transaction from closing.
Even if you aren't planning on putting your home on the market any time soon, it's still necessary to get a permit before you do the work. Processing a claim against your homeowner's insurance after a fire, flood or other natural disaster, is sure to be a headache if the area affected was built without the proper permits.
More than likely, your insurance company will deny the claim and you're left with a costly mess on your hands.
Forgetting to pull a permit is like forgetting to read the fine print in a contract—it will come back to bite you. Make sure you're in the clear by using the "better safe than sorry approach," and reach out to your city's plan examiner if more clarification is needed.
Visited 1,036 times, 1 visit(s) today