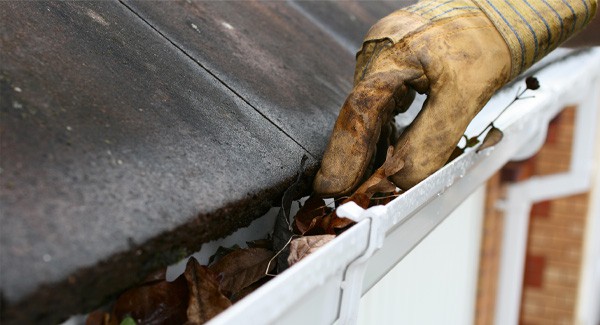 Last Updated on January 26, 2023
Do the words "home maintenance" make you want to crawl under a blanket and hide?
Buying a house is likely the biggest investment you'll ever make, so it's easy to see how taking care of it could seem like a daunting task. But some simple planning makes it all doable.
Your home maintenance checklist for every season
Winter home maintenance
Compared to the fall, winter is a much easier season for home maintenance. Here in the Carolinas we don't need to "hunker down" all winter, but the season is a good time to enjoy the indoors and make sure you're saving money on your heating bill.
One easy way to save on winter utilities is to change the filters on your heating system.
Avoid the hassle and expense of frozen pipes by keeping your thermostat above 55 degrees – even when you're traveling.
While we generally don't need to deal with snowblowers in this area, we can expect to get at least one decent snowfall each winter.
Check your wood supply if you use a fireplace, and make sure you have an adequate supply of bottled water and canned goods in case of a power outage.
You can finally say goodbye to your mower for the year – just make sure you run all the gas out of it before stowing it for the season. For battery mowers, store the battery in a warm place so you don't shorten its lifespan.
After a restful winter you'll be ready for some spring cleaning! This is a great time to open up the house and put some elbow grease into the grimier spots inside and outside your home.
Outdoors, spring is the time to mulch, plant perennials, and fertilize.
If your lawnmower got a lot of use in the summer and fall, consider giving it some TLC by scheduling a maintenance service. It's a small investment ($50-$75) that could substantially extend the life of your mower.
Inspect the outside of your home and schedule or DIY any necessary paint or patch jobs.
For general outdoor cleaning, you probably don't need to use a power washer. Most jobs can be tackled with an attachable cleaning kit on your garden hose.
Give your deck some attention by treating it with borate to prevent wood rot, and use a pump sprayer to give it a good cleaning.
This is the time to stain and seal your deck if necessary. How often to stain depends on many factors but could be as often as every two to three years.
Don't forget to have a professional inspect and service your HVAC system before summer hits.
Daylight saving time comes back in spring, so re-check those smoke and carbon monoxide alarms.
If you use your fireplace, now is the time to get it cleaned.
Finally, celebrate all your hard work by opening your pool!
Summer is the time to sit back and enjoy the fruits of your springtime labor. Home maintenance in the summer months is about upkeep, rather than major tasks.
Check sprinkler systems, making sure the timers work and clearing any foliage that may be blocking the sprinklers.
Do a weekly weeding and deadheading of your landscaping.
Keep your plants hydrated. A good soaking a few times a week is better than a daily drizzle.
Clean your air conditioner filters monthly.
Seal any holes where insects and animals can enter your home. Don't forget to check the attic for invading critters.
Convinced that home maintenance is a priority, but don't know where to start? This seasonal checklist will help you cover all your bases so you can get on with enjoying your biggest investment.
Here in the Carolinas we enjoy a moderate fall (punctuated by the occasional hurricane). You can still enjoy your outdoor living space while making some minor preparations for the winter.
But let's start with the word that comes to everyone's mind when they think of fall:
Leaves – First of all, keep in mind that you don't need to remove every single leaf from your lawn. A light layer of leaves acts like a natural mulch, protecting roots over the winter.
Speaking of mulch, consider ditching your rake and using your mower to deal with fallen leaves. Researchers at Michigan State University found that mulching leaves back into the turf had better long-term results than raking.
Plant trees, shrubs and perennials, and prune existing trees and shrubs. Just make sure you prune after the leaves are done changing color.
Plant bulbs any time before the ground freezes.
Fertilize and reseed your lawn. The key rule here is to follow the instructions on your fertilizer product label, otherwise you risk damaging your lawn and the environment.
When it comes to seeding your lawn, get an early start. If you wait too long into the season the grass won't have enough time to establish.
Stock up on wood if you use your fireplace.
Now is the time to get your furnace and air conditioning system serviced. Proper TLC here is one of the best ways to avoid costly repairs or replacement down the road.
Pool owners should start the process of closing up for the winter.
When you "fall back" for Daylight saving time, use it as a reminder to check your smoke and carbon monoxide detectors.
The National Fire Protection Association reports that three of every five home fire deaths took place in homes with no smoke alarms or alarms that didn't work.
Speaking of fire safety, fall is a good time to clean your dryer vent. According to the U.S. Fire Administration, dryers cause 2,900 fires a year, with many of these fires occurring in the fall and winter.
Near the end of the season, it's time to disconnect and store garden hoses shut off the outdoor water supply, and drain sprinkler systems.
Money saving home maintenance tips
Here are five ways to be budget-friendly year-round while caring for your biggest asset.
Do a home energy audit. You can schedule one with your utility company or do it yourself. This simply means finding the areas where cooled or heated air is escaping. Use caulk, insulation or weather stripping to deal with drafts and you'll see savings on your utilities that will really add up over time.
Plant with shade in mind. Place larger bushes or trees along the southern and western sides of your home. In addition, plants that shade your outdoor AC unit can increase the unit's efficiency by as much as ten percent.
Install and use ceiling fans, especially on the second floor. Ceiling fans are a money-saving complement to your cooling and heating system. Make sure your fan is going the right direction for the season. It should be pushing warm air down during the colder months, and sucking warm air up during the warmer months. Every fan should have a switch that allows you to reverse the direction.
Keep your appliances running efficiently. The refrigerator can be a big energy vampire if you don't maintain it. Clean the coils twice a year, and check the door seal, or gasket, to make sure it's keeping the cold air in.
Check your toilet for leaks. Did you know a leaky toilet can waste up to 22,000 gallons of water each year? While external leaks are obvious (hello, puddle on the floor), your tank could be leaking without showing any evidence. To check for a leaky tank, put food coloring or dye tablets into the tank and see if the water in the toilet changes color. If it does, you have a leak.
Spread your home maintenance jobs out over the course of a year, and you'll find yourself with plenty of time (and extra money) to enjoy your new, and well-maintained, home.
Visited 1,471 times, 1 visit(s) today