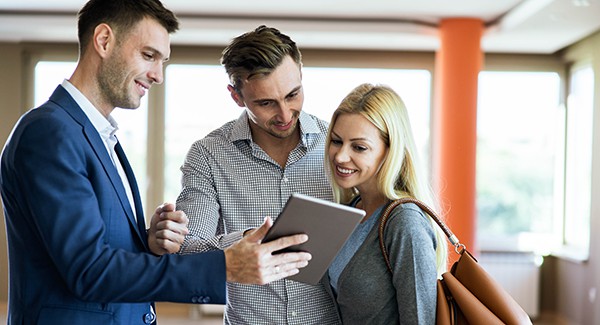 Last Updated on August 26, 2022
Buying a home is an exciting, scrapbook-worthy event, so of course it's going to come with a lot of emotions. But there's one step in the process where objectivity and rationality take center stage, and that's the home appraisal.
It may seem harsh to let a stranger take a few laps around your home and boil your beloved abode down to a single number, but it's actually good to have this unbiased, emotion-free step in the process.
Because the house itself is collateral in a mortgage, the bank or lender needs to make sure there's enough value in the house to recoup the investment if the buyer can't pay back the mortgage.
Basically, the home appraisal is a way of protecting the bank from over investing in a property, which gives the bank the confidence to give the buyers their mortgage, which means the owner gets to sell the house!
So let's dive into the home appraisal – what it is, what it involves, and how to make it work for you.
What's a home appraisal?
The home appraisal is a professional, unbiased assessment of the value of a property (also called the true or fair market value). It's one of the preliminary steps in the closing process.
Home appraisals are almost always used in home purchases (unless the purchaser is an all-cash buyer) and commonly used in mortgage refinancing.
After the seller accepts an offer, the bank giving the potential buyers their mortgage will order an appraisal, which the buyers must pay for.
An appraiser must be certified and licensed to practice in the state where the property is located. They should also be familiar with the property's surrounding town or neighborhood, because, as we'll explain later, the area around the house is a factor in the appraisal.
Another important qualification for an appraiser is impartiality. It is prohibited for an appraiser to have a direct or indirect interest in the transaction for the property being appraised. Since the lender orders the appraisal, it is responsible for finding a qualified appraiser.
How to prepare for a home appraisal
Just like anything else in life, there are some aspects of the home appraisal you can control, and some you can't. One thing you can control as a seller is how prepared you feel on the day the appraiser shows up. Here are some things you can do to be ready.
First, you can order your own appraisal before you even put your house on the market. You'll have to pay for it, but if you think it's worth it to identify potential issues or just have an idea of what the value will be, go for it! You may come away with a list of repairs that can really increase your next home appraisal. At the very least, you'll feel informed and armed with information when you start the closing process and the buyer's bank orders its own appraisal.
The second thing you can do to prepare for a home appraisal is work with your Realtor® to review comparable sales in your neighborhood. These comparable sales, or comps, will factor into your appraisal value big-time, so you want to know what you're working with. Your Realtor can provide you with comps as well as review and interpret the information with you. As you're looking at comps, pay more attention to actual sale prices than list prices. The sale prices tell you more about the current values of the properties in your area.
The third thing you want to do ahead of your appraisal is go around your home, inside and out, and make sure everything is in working order. Check your smoke alarms, replace burned out bulbs, and repair anything that's cracked or visibly broken.
Finally, if you ordered your own appraisal and came up with a list of repairs, or if you know you need to do some major repairs to improve your home value, get those done before the appraisal. Make sure you itemize every repair and improvement, keep receipts, and take before and after photos.
What does an appraiser look at?
There are a few factors that come together to form the overall appraisal, and they cover a lot of territory, including the home's interior, exterior, number of bedrooms and bathrooms, square footage, overall condition, comparable home values and current market trends in your area, floor plan functionality, structure, age, location of your lot, condition of the roof and foundation, construction quality and code compliance.
The appraiser will perform a complete inspection of the exterior and interior of your home, but unlike an inspection, he or she will not test the functionality of things like your heating and air conditioning systems or your chimney.
The appraisal report should be available less than one week after the appraiser's visit. The report generally includes the appraiser's explanation of how he or she arrived at the value in the report, any problems that had a detrimental effect on the value, statements about the neighborhood or area that contributed to the value assessment, a description of market trends that may have affected the value, plus relevant sketches, photographs, and maps.
The majority of appraisers for single-family homes use the Uniform Residential Appraisal Report provided by Fannie Mae.
How much does it cost to get your home appraised?
Unless you ordered an appraisal for your own home, the potential buyer pays for the appraisal after it has been ordered by the lender. Appraisals are several hundred dollars, with most single-family appraisals costing between $300 and $400.
How to get the highest appraisal on your home
Now let's switch from the negative to the positive. How can you get the highest possible appraisal value on your home?
First, as we mentioned earlier, make sure you're prepared. Order your own appraisal if you're very concerned. Review comps with your Realtor. Repair large and small issues and itemize all of your improvements, including before and after photos of major repairs or updates, and receipts for everything.
Take the time before the appraisal to address repairs and improvements inside and outside that you think the appraiser will note. Here are some relatively simple and budget-friendly improvements and tasks to increase your odds of getting an appraisal that makes you happy:
Replace or shampoo old or stained carpet.

Update outdated or cracked tile.

Replace or repair outdated or broken windows.

Treat cracks, peeling paint, and stained walls with spackle and a fresh coat of paint in a neutral, up-to-date color.

Identify persistent odors and eliminate them.

Look for evidence of pests and deal with them.

Declutter the inside and outside of your home.

Get advice from professional home stagers who are experts at preparing homes for showings and open houses. They might have some easy tips that can make a big difference in the overall look and feel of your home's interior.

While it's not necessary to completely re-do your landscaping, it is helpful to remove dead shrubs, clear out weeds, and deal with dead grass patches.

Trim existing trees and shrubs.

Make sure your mailbox and your house numbers are in good shape.

Seal your driveway if it's an eyesore.

Repair walkways and outdoor railings.

Power wash your home's exterior if needed.

Replace your front door mat.

Clear cobwebs away from your front door and give it a new coat of paint if it looks shabby or washed out.

Clean all gutters.

Clean your windows on the inside and outside.

Update bathroom and kitchen fixtures.

Fix leaky faucets.

Clean fireplace exterior.

Update switch plates, knobs, handles and drawer pulls if they're aging your home.
This is a long list, so use the "if it's not broken, don't fix it" rule of thumb and put your resources into those jobs that your appraiser will notice. This isn't the time to do extra things that have been on your list for awhile—especially if you're hoping to move out soon!
What can you do during the appraisal? It's okay to be home during the appraiser's visit, but don't follow him around and don't ask a lot of questions. Make sure the appraiser is comfortable throughout his visit. This means keeping pets away and quiet, and keeping the temperature moderate inside.
While the appraiser is in your home, you can tell him about improvements and unique qualities that may not be obvious. Feel free to share your before and after photos and receipts at this point. Also feel free to "sell" your neighborhood, telling the appraiser about any local improvements and special amenities available to people in your area. If you have a new roof or new insulation, alert your appraiser, since he or she may not be able to tell by looking at it.
What can negatively affect an appraisal?
When it comes to factors that can negatively affect your home's appraisal value, there are some you can control, and some you can't. Let's first look at the ones you have some control over.
Serious issues like a wet basement or a cracked foundation will almost surely knock down the appraisal value. You definitely want to address the big issues in a timely manner to avoid having them negatively affect the value of your home.
Smaller issues can make a difference too. The appraiser will typically note necessary repairs and may knock down the value because of them. These can include structural damage, damage to painted walls, missing handrails, broken screens, and all those little fixes that some homeowners may not even notice after living with them for several years.
The age of your home is a factor that can negatively affect an appraisal. While you can't control the chronological age of your home, you can control the perceived age by updating fixtures, carpet, knobs, handles, and anything else that makes your home look dated.
The curb appeal of your home is another factor that you have some control over. A messy looking lawn, dead foliage or grass, and outdoor clutter will negatively affect curb appeal. Driveways and walkways in disrepair could also knock down the value.
Now to the factors you can't control. First, the market. Hot markets and cold markets can both have a negative effect on your home value for different reasons.
In a hot market where houses are selling left and right, the data used by appraisers for comps may not be up to date, and may therefore paint an inaccurate picture of the value of the homes around you. How do you know if you're in a hot market? Look for homes selling quickly—we're talking homes only staying on the market a few days. Multiple bids on properties are another sign of a hot market.
On the other hand, a cold market, where home sales are few and far between, may provide very few comps for the appraisal. Those comps that are available may be outdated and therefore won't accurately reflect the market.
Foreclosures, bank-owned properties, and distressed sales can all negatively affect the comps used in your home appraisal. Foreclosed properties are those whose owners can no longer pay the mortgage. Sellers who just want to unload a foreclosed property may sell it for a low price that drags down the rest of the comps, thereby dragging down the appraised value of your home.
When a foreclosed property doesn't sell, it becomes a bank-owned, or real estate owned property (REO for short). If an appraiser uses an REO as a comp and doesn't adjust that comp based on the rest of the non-REO market, it can give the impression that homes in your neighborhood have a lower value, which is not a realistic assessment.
A distressed property, such as a property that is being vacated due to a death, may be sold at a lower-than-market price because the sellers just want to get rid of it, rather than waiting for the best offer. While it may be a boon to the buyer of the distressed property, it's doing you no favors when it drags down the average selling price of the comps in your home appraisal.
The appraiser who comes to your property can also be a negative factor, if he or she is inexperienced (they have to start somewhere, but you don't want it to be at your house), or lacks familiarity with your particular neighborhood or real estate market.
The comps your appraiser uses may be just plain bad. They may appear to be similar, but upon further inspection you might discover that their interiors are in terrible condition, or everything inside the home is outdated while everything in yours is updated. The missed comp is another issue that can crop up, when the sale price of a very similar property hasn't been recorded, and therefore isn't accessible to the appraiser.
What should I do if my appraisal is low?
In spite of all your efforts, you may find that the appraisal comes in lower than the contracted sale price. While this is unfortunate to say the least, you do have some options.
First, review the report carefully, looking for errors and making sure the comps are accurate. If you feel the appraisal is incorrect, make your case to the lender and prove that the home, and the local market, are in better condition than the report states.
If an appeal fails, you are allowed to get a second appraisal. This will cost another several hundred dollars and, unless you are completely convinced the first appraisal was wrong, could come back as low as the first one. You may also have to change mortgage lenders.
If you want to stick with the low appraisal, seller and buyer will have to negotiate a solution that works for the lender. The seller can decrease the contracted price, or the buyer can make up the difference by increasing the down payment. Or, the seller and buyer can meet in the middle. If none of these solutions are viable, the transaction will have to be cancelled.
Home appraisal checklist
Ready to tackle the home appraisal? Let this checklist be your ally before, during, and after the appraisal. Before you know it, you'll be on to the next step in the home purchase process!
Before the appraisal:
Research comps with the assistance of your Realtor.
Do necessary repairs and improvements (only for the issues the appraiser will notice).
Itemize all repairs, and keep before and after photographs and receipts.
Order your own appraisal if you think it will be worth the cost.
Prepare your home inside and out by decluttering and sprucing up your landscaping.
During the appraisal:
Tell the appraiser about improvements to your home and your local area.
Don't shadow the appraiser.
Don't ask a lot of questions.
Make the appraiser comfortable by securing and quieting pets, keeping the temperature moderate, and giving him or her space to do the job.
After the appraisal:
Review the report with your Realtor.
If it's low, decide whether you want to appeal, get a second appraisal, or negotiate with the other party in the transaction.
If all goes well, continue the transaction and enjoy checking the home appraisal step off your list!
Visited 197 times, 1 visit(s) today