Last Updated on June 19, 2023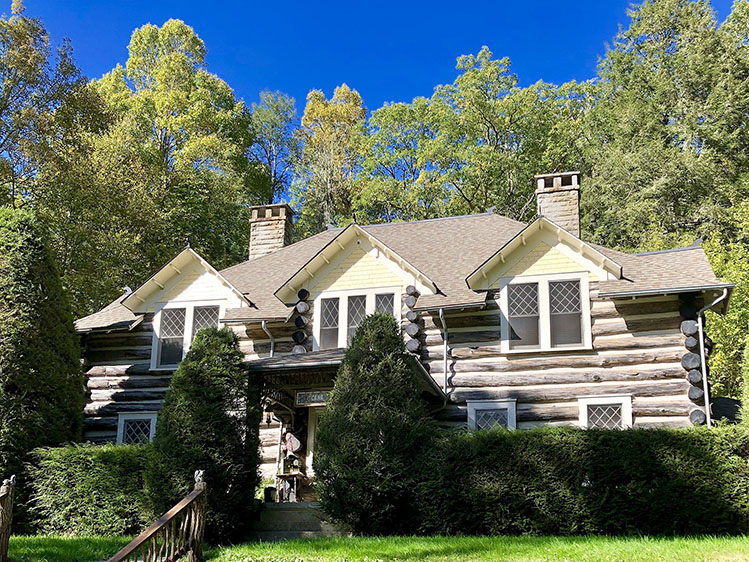 Located 20 minutes west of Brevard in an area historically known as the "Switzerland of America," Lake Toxaway was originally a resort community for wealthy travelers. Families including the Fords, Edisons, and Rockefellers have vacationed along its 14 miles of private shorelines. And with their attention came well-crafted homes, businesses, lodges, and other buildings to the area.

These three historic buildings in Lake Toxaway are each listed on the National Register of Historic Places for Transylvania County. Together, they offer a snapshot of life more than a century ago and convey the charm for which the community was and is still known.

Hillmont
Date Added to NRHP: October 16, 1986

In 1915, Socialite Lucy Armstrong and her husband, George, a prominent Savannah businessman, built the Hillmont estate, also known as the Armstrong-Moltz House. According to the estate's history, "Lucy herself laid out the original structure, with board and batten siding stained grey with white trim and architectural details similar to Swiss mountain chalets she had seen on her trips to Europe." This 2 1/2-story historic home also features flower boxes on all its windows, balconies, and casement windows. These details add to the impression of Swiss-chalet design. In the mid-1980s, around the time the property was added to the National Register of Historic Places, the building was rehabilitated as the Greystone Inn. It was further restored to its former glory and reopened to the public in 2018. Today, the Greystone Inn is open year round with 30 guest rooms, a lakeside restaurant, and a full-service spa.

E. M. Backus Lodge
Date Added to NRHP: June 9, 1988

Like the building above, the E. M. Backus Lodge has also been known by other names over the years, including Camp Toxaway, The Cold Mountain Lodge, and Canaan Land Christian Retreat. This historic hunting lodge was built between 1903 and 1908 and sits on 20.6 acres that are now designated as a national historic district. The two-story rustic building of double-pile chestnut logs features eight rooms on two floors, each grouped around a central hall. Among those who used the lodge in its early years are Thomas Edison, Henry Ford, and Harvey Firestone. In 1922, the property became an exclusive girls' camp known as Camp Toxaway. In 1955, it transitioned to a religious and educational retreat called Canaan Land. Since 1986, the Corbett family have owned and operated the estate.

In addition to the main lodge building, the property also features a contributing log stable (1908, 1922), caretaker's cottage (1908, 1922), guest cottage (c. 1922), barn (c. 1922), and Davis Cottage (c. 1922).

Lake Toxaway Methodist Church
Date Added to NRHP: February 18, 1994

Travel along the north shore of the lake and you'll come across Lake Toxaway Methodist Church, originally known as Methodist Episcopal Church South. In 1901, the damned Toxaway River flooded 540 acres of bottom land to create the lake. When that happened, the previous Methodist camp meeting site disappeared beneath the waters. In 1912, to serve the religious and spiritual needs of the locals, volunteer Methodist farmers donated the pine lumber and building supplies and built this historic Methodist church. They chose a design in the Late Gothic Revival style for the small, one-story structure, and incorporated a six-sided louvered bell tower and a tin roof. The building maintains its original weatherboard, Gothic-arched windows, and belfry, making it both one of the most stylish and best preserved historic churches of traditional frame construction remaining in our area.

Make Lake Toxaway your year-round home!
Lake Toxaway is still a well-known outdoors and wellness destination more than a century later. The area continues to attract renowned architects and home builders. Today, they craft stunning homes and condominiums along the mountain ranges surrounding the lake. The lake itself covers over 600 acres, making it the largest privately held lake in North Carolina. Roughly 5,000 forested acres surround the area, enclosing the lake and community in a private sanctuary.

Does that sound like the perfect lifestyle for you? Find your dream home in Lake Toxaway now!

Visited 10 times, 1 visit(s) today