Last Updated on May 3, 2023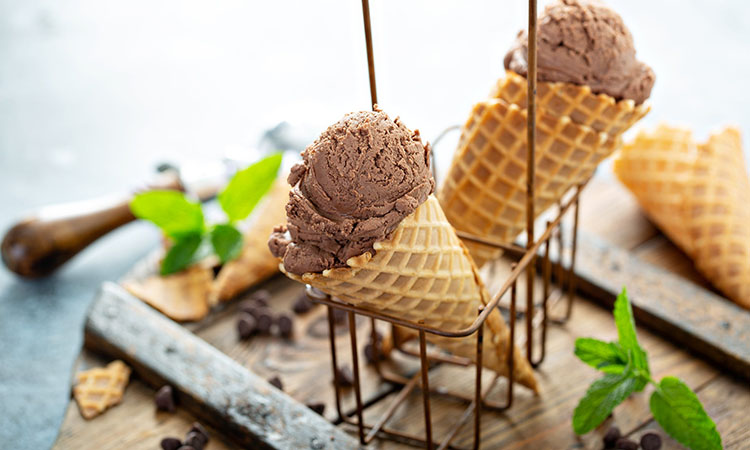 Legend has it that chocolate was introduced to Europe on July 7, 1550. Whether accurate or apocryphal, there's no denying that there's something lucky about 7/7. Perhaps that's why World Chocolate Day is celebrated on this date every year.
This year, we want to offer those local to Haywood County a lucky number of ways to celebrate—something for every taste and sweet tooth! Here are seven sweet ways to get your chocolate fix in and around Waynesville, NC.
By the box: Baxley's Chocolates
Baxley has been "crafting sweet memories" for three generations. This World Chocolate Day, bring those sweet memories home for yourself, family, and friends in the form of their 12-piece or 24-piece signature assortment. You'll all appreciate the unique flavors and textures, as well as the quality, care, and dedication given to crafting small-batch, handmade chocolates. In addition to the classics, choose from a variety of other chocolate coated assortments, including caramels, malted milk balls, catamount paws, or sugar plums.
546 West Main Street, Sylva | (828) 631-3379 | baxleyschocolates.com
On a plate: The Cheesecake Mousse
When a shop makes only one item, you know two things: they're going to be serious about it, and it's going to be amazing. Such is the case for The Cheesecake Mousse, which focuses solely on using the best ingredients and offering exceptional customer service to serve up 24 rotating flavors of seriously good French-style cheesecake. The Reese's and the Java Mocha are great. But don't leave before indulging in the Chocolate Lover's. It's served on a chocolate cookie crust and is filled with a smooth and decadent chocolate cheesecake filling!
40 Delicious Ridge, Waynesville | (828) 283-0156 | thecheesecakemousse.com
As a shooter: Dillsboro Chocolate Factory
The Dillsboro Chocolate Factory was established in 1999 as a place to relax and meet interesting people. Today, it's one of our favorite spots for premier, gourmet chocolates handmade with artisan craftsmanship by hand-picked chocolatiers. The family-owned and operated store offers a wide selection and variety of hand-dipped chocolates, homemade fudge, and much more. But for an out-of-the-ordinary experience, try their chocolate shooters: creamy ganache infused with a touch of alcohol, inside a Belgian chocolate toasting cordial cup.
28 Church Street, Dillsboro | (828) 631-0156 | dillsborochocolate.com
In a cone: Jack the Dipper
Jack the Dipper is a family favorite with five locations in WNC. The old fashioned ice cream emporium offers made-to-order, warm waffle cones in vanilla or cinnamon flavors, paired with 32 flavors of hand-dipped ice cream. You'll find traditional sundaes, shakes, malts, and banana splits on the menu. They also make made-to-order ice cream cakes in varying sizes, shapes, and layers. No time to sit down with your scoop of chocolate? Their Waynesville Plaza location includes a drive-through window.
280 Asheville Highway, Suite 4, Sylva | (828) 586-9441
76 Waynesville Plaza, Waynesville | (828) 246-9766
From the tap: Frog Level Brewing
Head down to Frog Level for what they promise is "the best beer in WNC." They serve some of the smoothest craft beer to touch your tongue. From the bite of their IPA to the smokiness of the Scotch Ale, you can enjoy their menu in the tasting room or get it packaged to take home. And this includes a little something for chocolate lovers—their rich milk stout has notes of chocolate and caramel to satisfy your craving. Stay inside and take advantage of the full kitchen or venture out onto the back deck overlooking the flowing creek.
56 Commerce Street, Waynesville | (828) 454-5664 | froglevelbrewing.com
In a glass: Orchard Coffee
If beer's not to your taste, there's another great way to drink your chocolate. No matter your preference—coffee, tea, chai, mocha, etc.—Orchard Coffee is a great place for the perfect handcrafted beverage. This award-winning coffee bar and bakery plants the seeds for a successful day with specialty coffee drinks and a made-from-scratch breakfast menu. For World Chocolate Day, why not order a hot chocolate with a shot of one of their house-made syrups? Pair it with the sweet or savory Scone of the Day for an added treat.
39 Depot Street, Waynesville | (828) 246-9264 | orchardcoffeeroasters.com
By the barrel: Mast General Store
"From cradles to caskets," the original Mast General Store opened in 1883 to serve a wide variety of community needs. Now the local franchise operates nine locations in three states, plus their original store and annex in Valle Crucis, NC. Mast offers outdoor gear, clothing, home items and accessories, food, toys, and much more. But one section that always delights is their iconic barrels of classic candies. Scoop as much as you want and pay by the pound!
63 North Main Street, Waynesville | (828) 452-2101 | mastgeneralstore.com
Live the sweet life in Waynesville, NC!
It's easy to indulge your every desire in Waynesville every day. High peaks surround the town, once billed as the Gateway to the Smokies and now the seat of Haywood County. But Waynesville's proximity to Asheville offers residents the best amenities of a larger city while still holding on to its small-town atmosphere. For instance, the recently restored Frog Level Historic District is now home to a collection of small galleries, a coffee roastery, and a microbrewery. From outdoor adventures to cozy spots downtown, Waynesville welcomes people from many different backgrounds to visit and stay for life.
Does that sound like the perfect lifestyle for you? Find your dream home in Waynesville now!
Visited 19 times, 1 visit(s) today