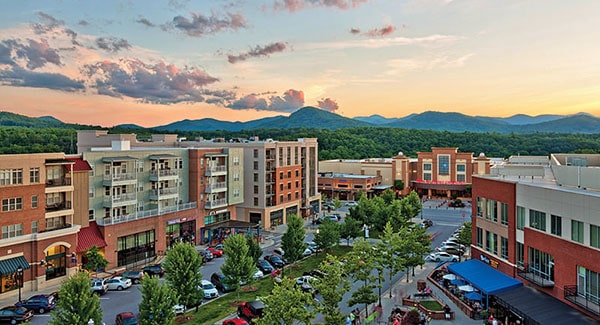 Last Updated on June 9, 2023
Imagine all the conveniences of living in a city center without the challenges. Biltmore Park, located in South Asheville, NC, offers a fresh re-imagining of the main streets of the past. The community was built to meet today's standards of smart growth, green living, and reduced driving.
Here's everything you need to know about Biltmore Park and its bustling Town Square.
Biltmore Park at a glance
Biltmore Park is a master planned community in South Asheville, designed with a new urban concept. The 750 acres of mixed-use commercial and residential real estate mix the charm of neighborhoods of years past with the amenities of a modern community. Biltmore Park is anchored by 120 rental apartments, 156 condominiums and townhomes, and nearby affluent communities (Biltmore Forest, The Ramble Biltmore Forest, and The Cliffs at Walnut Cove). The community attracts more than 8.4 million visitors annually for shopping, dining, and entertainment.
Biltmore Park is the largest mixed-use community in Asheville outside of downtown.
A deeper dive into Biltmore Park's Town Square
Biltmore Park's modern 42-acre Town Square was designed with an innovative urban concept to serve one of the fastest growing areas of town with walkable residential, commercial, and office space. In fact, 2,000 people live and work within the Town Square. The strength of Biltmore Park lies in this vibrant commercial/urban core of the community, which extends outward into the area's many neighborhoods.
Town Square is home to dozens of restaurants, cafes, spas, health clubs, boutiques, and gathering spots. This is a very pedestrian-friendly area—made to meet today's standards of smart growth, green living, and reduced driving. Sidewalks line most of the streets, and a greenway trail is perfect for non-motorized bikes. However, if you are driving in, you can take advantage of the 3,003 free parking spaces, including street parking and four decks.
Consumers and residents alike enjoy catching a flick at the Regal Biltmore Grande Stadium 15 movie theater. Others visit to peruse retailers like REI, LOFT, and Barnes & Noble. Amid these stores are plenty of local, independent businesses and world-class merchants. Biltmore Park is also home to one of the city's most unique breweries, the Thirsty Monk.
Biltmore Park is growing into the future
The Biltmore Park community has grown steadily in the last decade, so developers are planning an expansion. Plans for the additional development are designed to capture the same experience as is currently available in Biltmore Park's Town Square. Plans call for a walkable mix of commercial, retail, apartments, and condos.
The development of Biltmore Park has been a considerable investment for the community and for South Asheville as a whole. As it grows, Biltmore Park is sure to become an even more prominent part of the city.
Allen Tate/Beverly-Hanks is proud to be part of that growth
Allen Tate/Beverly-Hanks has a convenient South Asheville office located in the heart of Biltmore Park Town Square. If you're searching for homes and land in Biltmore Park, our expert real estate agents are available to help.
Live Abundantly in Asheville's Biltmore Park Town Square
Biltmore Park is a microcosm of community, innovation, and entertainment. It's a joy to live in this mixed-use community, but additional residential areas adjoin the neighborhood. Best of all, Biltmore Park is within minutes of the city's other amenities, including shopping, dining, and the nightlife of Downtown Asheville. The community is conveniently located near Interstate 26 and the Blue Ridge Parkway, a sightseer's and cyclist's haven. When it is time to play, you can choose basketball, tennis, the playground, swim club, and the YMCA.
Does that sound like the perfect lifestyle for you? Find your dream home in Biltmore Park now!
Visited 165 times, 1 visit(s) today